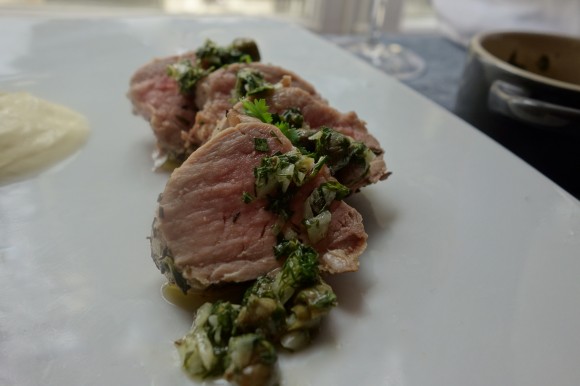 this little piggy
oven-roasted pork tenderloin with
herb-caper salsa
This week's post is inspired by a visit to 6 Paul Bert in the middle of a three day French visa adventure (which I will tell you about). My meal at 6 Paul Bert was definitely the highlight and I nearly licked my plate clean, which is why I call this post "this little piggy" (as well as the fact that the subject of this week's recipe is pork). This week we are making oven-roasted pork tenderloin with herb-caper salsa.
à table !
LM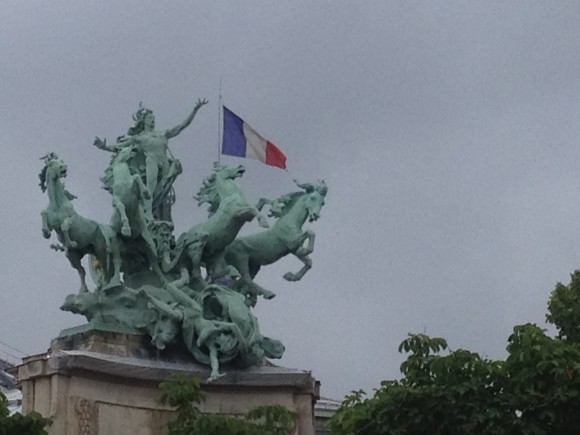 I put it off for a week. Finally, I decided that it must be done: turn in the additional paperwork for my carte de sejour (my French visa). In double-checking my list of additional paperwork I realize I forgot the extra photos and a utility bill. No problem. I have a copy of the bill at my apartment and there is a photo booth in the metro station. I head out. It is 9:30 am.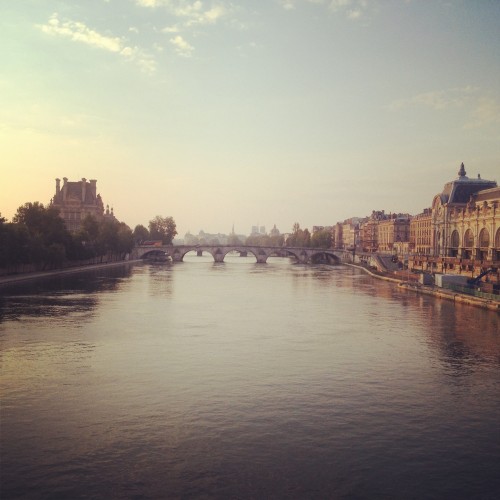 The photo booth is, well, so very French. When I sit down there is a list of requirements as to what I can and cannot do. Do not wear hats or eyeglasses. Do not smile. Do not look away. Do not make any facial expression. I get a little panicked knowing that if I fail to comply with one of these photo rules someone will tell me the photos "are not acceptable" and turn me away. C'est comme ça (it is just like that).
I pass 10 minutes in the photo booth analyzing the position of my head and eyes only to be interrupted by a hand placed in front of my face from a woman standing outside the photo booth asking me for money pour manger (to eat). I tell her I don't speak French. It was a lie. She repeats her question in perfect English. Caught. I give her one euro and the hand leaves as quickly as it appeared.
The first two photo takes are disastrous and I have the expression of someone in a police line-up. The third time is a charm. Not pretty, but it meets the regulations.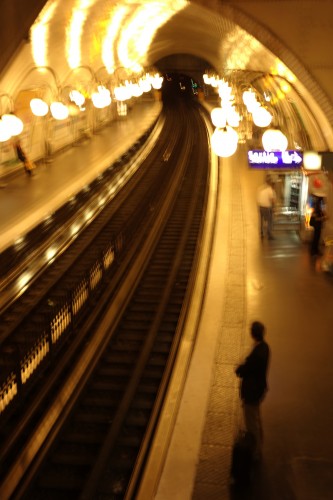 I take two metro lines and end up at the end of line 4 in the north 18th arrondissement (a section of Paris that I would not be so comfortable in after dark). I walk for twenty minutes in one direction and then the other because the address numbers are different on the opposite sides of the street (which always makes me crazy). I know that I have to get a medical exam as part of my visa adventure and I have already made up my mind that if they are going to ask me to do it here, I am going to ask if the doctor in my apartment building can do it instead (in Paris many doctors actually have their offices in residential buildings).
I arrive at the address but there is no signage to indicate that I am in the office. However, there are lines, a security check point and detectors to walk through and two signs, one for students and the other for driver's licenses. It does not seem correct but it is the most official looking place in the area which is filled with discount stores selling luggage, fingernail polish for 1 euro and questionably "fresh" produce.
After the lines and the scan I am told that this is not the place I am looking for. A student in back of me (who clearly had been through the visa process) comes to my rescue and says that the office I need is in the Bastille area. The information refreshes the memory of the security guard and she gives me an address. I thank them both and on my way back to the metro I call to reserve a place for lunch at 6 Paul Bert located close to where I need to go. Even visa paperwork cannot interfere with dejeuner (in some ways I have become very French).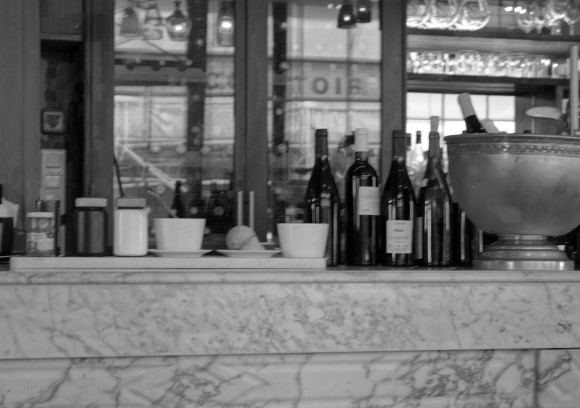 My morning journey took me from the west side to the far north to east side of Paris. When I sit down for lunch it is 12:30. By 13h (1 pm) the place is packed. My lunch and the service are fabulous comme d'habitude (as usual). I have a new lease on life with my three-course meal on my belly and I head off to the second address to deliver my paperwork.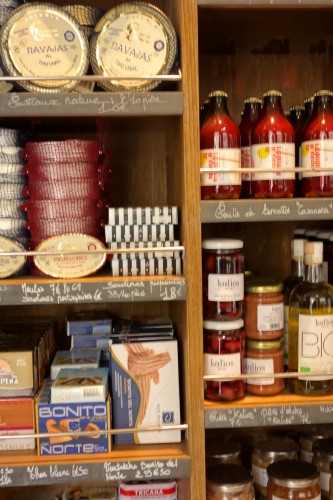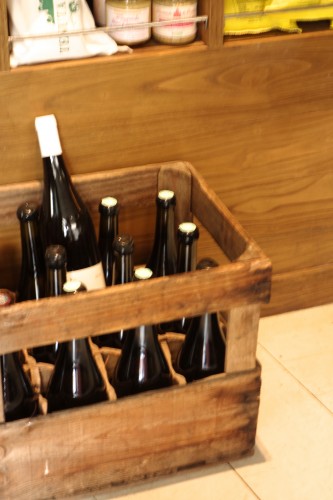 I find the street but have the same problem with the addresses. Different on one side of the street versus the other. There is 31. There is no 32. It is now pouring (again). I ask a man emerging from the 31 address if he knows this office and he walks me across the street and down to the corner. I am grateful. It is the second time in one day someone has corrected misinformation. Correct signage, hoards of people sitting in hard plastic chairs holding little pieces of paper with a number …I am getting close and I can smell bureaucratic success coming my way.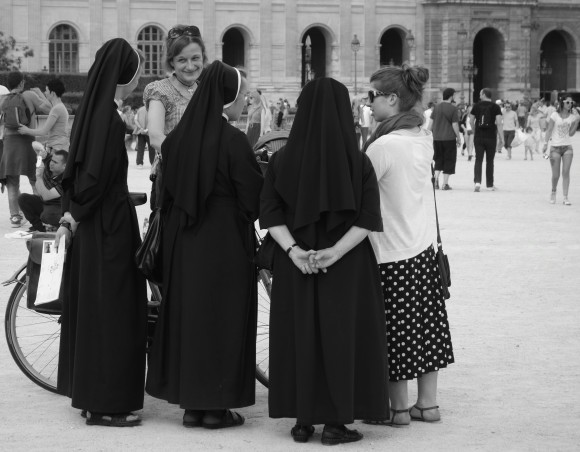 The woman at the counter tells me I am in the wrong place. Sigh. I tell her I am not and show her my papers from the French Embassy. She is defiant that all of the carte de sejours are handled by la préfecture de police. I argue with her in French. She is not happy with me because I am wasting her time and holding up the line which now is extending outside the doors. Two nuns standing next to her try to be helpful and tell me that the la préfecture de police is by Nôtre Dame. I pause. I want to retort that I am in the right place and I know where the police station is, but they are nuns who are trying to be helpful and the last thing I need is to be cross with nuns (that would certainly send me in a most southerly direction).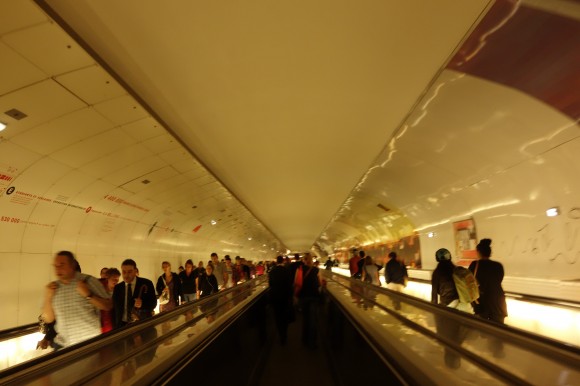 I leave the second office because there is nothing else I can do and there are nuns there. It is pouring. I am soaked. My head is pounding. I will tackle the third office tomorrow morning.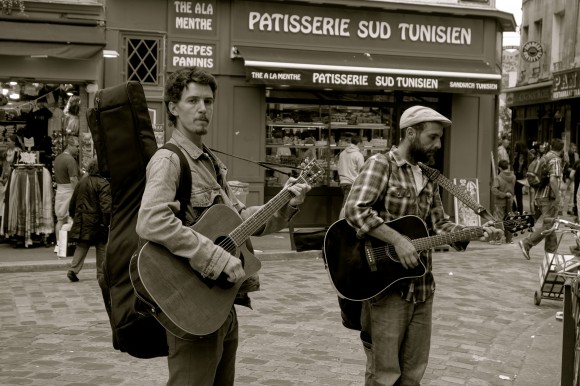 The next day I arrive at la préfecture de police. I go through the security check points, stand in lines and I am directed to an office where they clearly process carte de sejours as I see people with visa-type paperwork.
There are two people in front of me in line. The man who is up indicates that he cannot speak French. The desk clerk shrugs her shoulders and responds to him in French. His face bears a blank expression of confusion (we have all been there). All he says is that he plays music and moves on arms to indicate. She finds it both annoying and amusing. "You play music? Anyone else here play music?" She calls out to those surrounding. People laugh. I empathize with him trying to get on in a country that is not the place of his birth. He leaves humiliated and empty-handed. Embarrassment and frustration need no interpretation.
It is the next man's turn and he "profits" from the humiliation of the musician to gain favor with the woman at the desk. He jokingly says that he does not play music as he hands over his paperwork and they chuckle.
It is my turn. The clerk asks me if I play music. "Parfois," (sometimes) I quickly respond to shut down the joke. I ask her about my carte de séjour compétences et talents. She leaves to consult with her co-workers. Five minutes later she tells me to go upstairs. I do. It is quiet. There are more waiting rooms with hard chairs. I cannot figure out which metal door I am supposed to go through and luckily someone directs me to "door number 1." I sit in the shiny red, hard plastic chair. I am optimistic. My number is called.
The woman tells me that carte de séjour compétences et talents are now handled at a particular office in the Bastille area. My expression and heart sink. I tell her that I was there yesterday. She consults with her supervisor whom agrees that the Bastille office is where I need to be. I ask for her name and number and I tell her I am going to call her from that office if I am turned away again. She laughs as I think she understands my frustration. She wishes me bon courage (good luck) and I leave.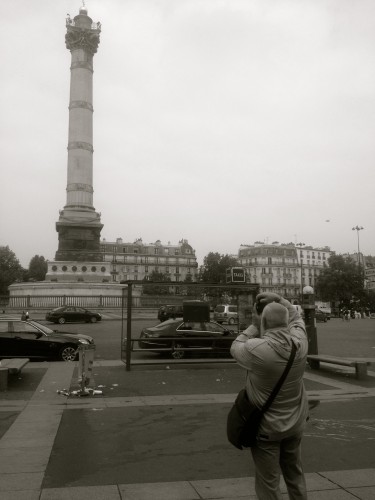 Day three of adventure visa. I return to the office in the Bastille. To my joy there is a man at the desk, not the cranky woman. The security guard recognizes me from yesterday and says bonjour. The man at the desk is gracious and confirms that I am in the right place (I look at the security guard with a "I told you so" grin). The man calls upstairs and a woman gets on the phone and asks to speak with me. She gives me instructions on what to do. I leave all of the documents for my file with this man, with a copy of my visa and passport and she will call me to tell me what happens next.
Out of all the documents I do have, I don't copies of my passport (not on the Embassy list). I head out in the rain to make a copy. The post office down the street is closed today for no explicable reason. 30 minutes later in the rain I reach the nearest Office Depot. I find the copy machine (after discovering that "tampons" in French have nothing to do with personal hygiene…they are personalized stamps). I make the passport copy and decide to make copies of everything I am leaving just in case all of the paperwork becomes lost (which I have found in France, at least with insurance companies, happens more often than not). When I return, the man at the desk asked what happened to me and explain that the post office was closed. "Pourquoi? (why). I shrug my shoulders as if to say "who knows." I leave my paperwork. I don't know what happened to the woman I saw at the desk that first day, but thankfully everyone else at the office is lovely.
No doubt, the highlight of this little French adventure (and let me tell you, there are many like this) was my lunch at 6 Paul Bert. 6 Paul Bert is a bistrot and épicerie located at 6 Paul Bert in the Bastille area of Paris (for more information see [here]).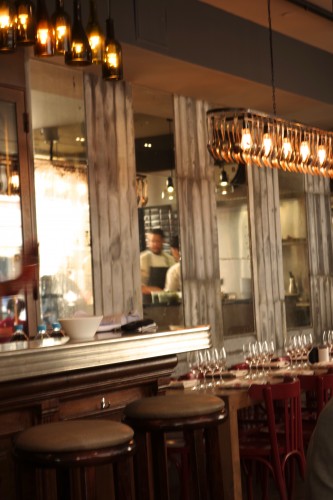 For lunch you select one of two entrées (starter), one of two plats (main course) and then a dessert or cheese. One of the starters was a roasted pork with zucchini, watercress and a caper salsa. Pork is a meat I probably least cook both personally and professionally for no reason really in particular. This entrée reminded me of how delicious (and easy) roasted tenderloin can be. This week's recipe is an adaptation of that meal.
Typically pork is paired with something sweet such as dried or fresh fruit (caramelized apples or sautéed peaches or apricots). This meal spoke to me because it uses things I am fond of using (fresh herbs and capers). It is light. It is low in calories (the cool and creamy crème fraîche served on the side is only a little and it is a perfect contrast to the salty salsa). This meal is perfect for warmer weather. It can be served warm or at room temperature. It makes wonderful leftovers for sandwiches the next day.
How did the visa adventure turn out? It is not over. The three day adventure has become a saga: the gas bills were not current enough, the translated birth certificate was not sufficient and had to be translated by a certified French translator. The file was finally deemed "complet," and transferred to the la préfecture de police who informed me while I was in the south of France that they also need a translated copy of my divorce decree. Sigh. It is Grand Vacances in France now so nothing will happen this month.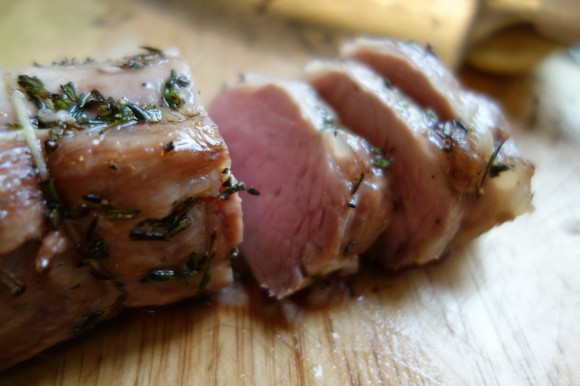 If only everything was as easy and satisfying as this week's recipe …
bon appétit !
LM
oven-roasted pork tenderloin with
herb-caper salsa
serves 6
you need:
3 pd pork tenderloin, trimmed and tied
kosher salt (as needed)
freshly ground black pepper (as needed)
2 garlic cloves, thinly sliced
1 tablespoon minced fresh rosemary needles
1 tablespoon minced fresh French thyme
1-2 tablespoons of olive oil
quality crème fraîche (as needed)
salsa
6 tablespoons capers, rinsed and drained
5 tablespoons quality olive oil
2 tablespoons freshly minced dill
1 tablespoon freshly minced coriander (cilantro)
2 tablespoons freshly minced Italian parsley
2 tablespoons finely chopped onions
½ teaspoon Dijon mustard
½-1 teaspoon fresh lemon juice
how to:
Make salsa.

Drain and rinse capers well. Combine the capers, olive oil, mustard, onions, and herbs in a bowl. Mix well. Add lemon juice to taste. Refrigerate until ready to serve.
Prepare Meat

. Cut small incisions in the meat. Insert the garlic slices into the incisions. Salt and pepper meat. Combine olive oil with rosemary and thyme. Rub mixture over the meat. You can do this ahead and cover the meat in plastic wrap and place it in the refrigerator. However, let the meat come to room temperature before roasting.
Preheat Oven

. Preheat oven to

400 degrees Fahrenheit (gas mark 6).
Roast.

Roast meat for about 15 minutes until the meat registers an internal temperature of 140 degrees Fahrenheit on a instant read meat thermometer. Remove from the oven and cover meat with aluminum foil to keep warm. Let meat rest for about 10 minutes (the carry overcooking should raise the temperature to 145 degrees Fahrenheit). Remove the kitchen twine.
Serve.

Slice the meat in ¾-1 inch slices. Serve with a side of salsa and a dollop of crème fraîche.
Tags: 6 Paul Bert, Paris (Paris), pork tenderloin, salsa