lights, camera, crab
 spicy crab toasts 
Hand to mouth food is what you want at gatherings where everyone's focus will be on the television. The red carpet and easy appetizers for your Oscar party inspired this week's simple pleasure: spicy crab toasts.
Hungry and I recently ate at David Myer's Asian-inspired new restaurant in Century City. One of the entrées we enjoyed was a spicy crab crostini with cucumbers. Miam (yum). Crab meat (for me, canned) is one of those things I try to keep on hand at home because it is light, protein-rich and can be used for a quick snack or meal. This week's recipe is a combined adaptation of Myer's entrée and the version I make at home when I want something quick with a kick.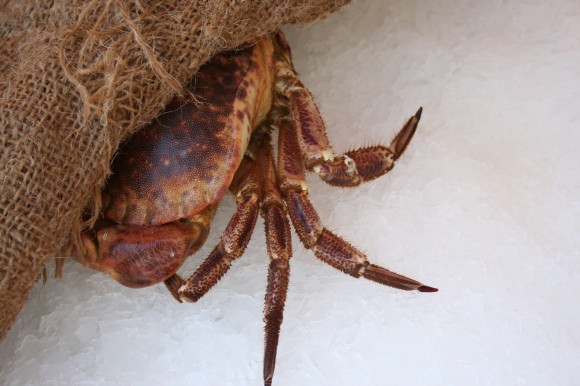 As written, the recipe is not very spicy (to appeal to more people). If you want to bump up the spice factor, add a few additional pinches of cayenne pepper or piment d'espellete if you have it. Although fresh crab meat can be expensive, you can use canned crab meat. Chicken of the Sea (in the refrigerated section) is my favorite canned crab meat and it comes in a 16 ounce can (enough for two recipes).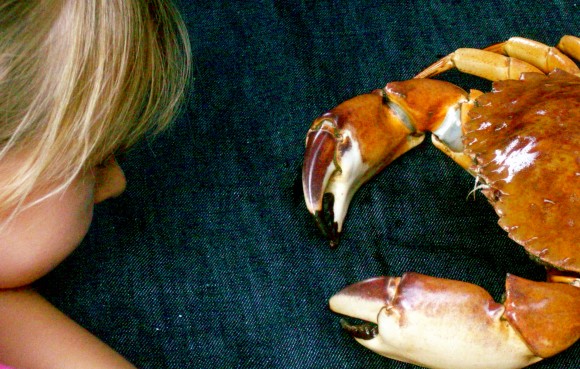 The spicy crab recipe can be made in advance and I did reduce the quantity of mayonnaise as I believe mayonnaise, when used, should act as a binder, not a primary ingredient. Toast the bread and add the crab before service. I wrote the recipe with sandwich bread because most people have sandwich bread at home; however, you can use crostini or small leaves from a head of Butterhead lettuce (which is my personal favorite). This spicy crab recipe makes a yummy sandwich (or wrap) too should your focus be on what to take to the office on Monday, not on the Oscars.
In the interest of time, I have included the recipe below. And, as always, I wish you a 
bon appétit !
LM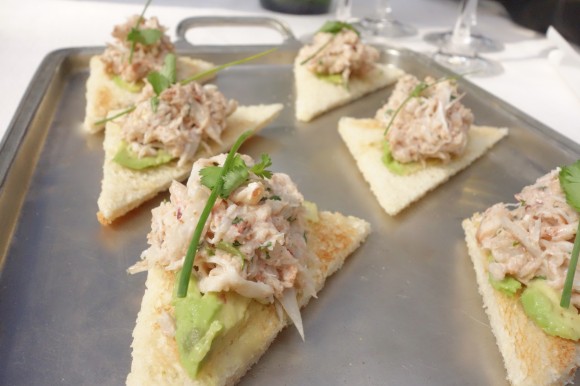 spicy crab toasts
makes 12 toasts
what you need:
6 slices sandwich bread (crostini, or Butterhead lettuce leaves)

 1 avocado, sliced

 8 ounces crab claw meat (fresh or canned)

 1 tablespoon minced fresh cilantro
2 tablespoons quality mayonnaise 

½ teaspoon concentrated tomato paste 

½ teaspoon fresh lemon juice 

⅛ teaspoon ground coriander  

⅛ teaspoon cayenne pepper (and to taste) 

⅛ teaspoon kosher salt
how to:
Combine Ingredients.

Place the mayonnaise, tomato paste, lemon juice, spices and salt in a bowl. Combine. Add crab meat and cilantro. Mix well. This can be done in advance.
Toast Points.

Before service, toast bread slices. Cut off crusts and cut center squares in half on the diagonal.  (NOTE: if you want to eliminate the bread, leaf a small head of Butterhead lettuce and use the leaves as lettuce cups in lieu of the bread). 
Serve.

Place a slice of avocado on each bread slice (or in each lettuce cup) and a dollop of spicy crab on each toast point. Serve immediately.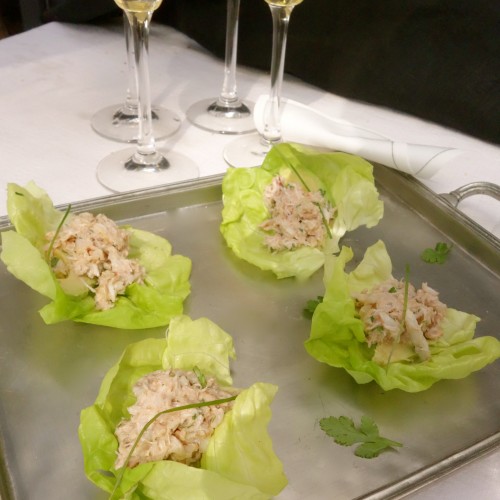 Tags: crab, easy appetizers, gluten free, simple starters, spicy