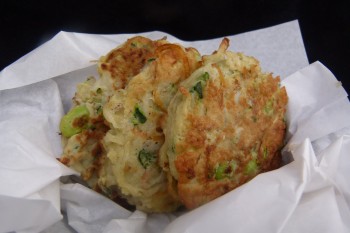 Spring vegetable pancakes
stats:
makes 8-10 pancakes
what you need:
1 tablespoon olive oil
1/4 cup finely minced fennel bulb
1/4 cup soybeans (fresh or frozen), shelled
1/4 cup spiral cut carrots (or grated)
1 cup grated potatoes, large grate with skins
1 cup grated zucchini, large grate with peel
1/8 cup fresh lemon juice
2 eggs, mixed
3 tablespoons King Arthur unbleached white whole wheat flour
2 tablespoons garbanzo bean flour
1 teaspoon baking powder
vegetable or canola oil (as needed)
1 1/2 teaspoons kosher salt  (and as needed)
1/4 teaspoon freshly ground pepper
1/4 cup crème fraîche
how to:
Blanche Soybeans

. Cook the soybeans in salted boiling water for 1-2 minutes.  Remove soybeans from the water with a mesh colander and place them in an ice bath.  Drain and set aside.
Sauté Fennel.

Place olive oil in a hot sauté pan.  Once oil is warm, sauté fennel until tender (about 2 minutes).  Remove from heat and set aside.
Spiral Cut Carrots

. Spiral cut carrots with a growing-shredder.  Set aside.
Grate Potatoes And Zucchini.

Grate Potatoes and Carrots and toss in lemon juice.  Let them sit in the lemon juice in a bowl for about 15 minutes.  The moisture will come out of the vegetables and the starch will settle to the bottom of bowl.
Make Batter

.  While potatoes and zucchini are resting, use a whisk to combine eggs, salt, pepper, baking soda, and flours in a separate bowl. Mix until there are no lumps.
Decant.

Remove potatoes and zucchini from the bowl.  Squeeze excess moisture from the grated potatoes and zucchini.  Set aside. Pour off the liquid (watered-down lemon juice) from the bowl that held the potatoes and zucchini. Leave the white starch on the bottom of the bowl undisturbed.
Mix

. Place the fennel, carrots, soybeans, zucchini and potatoes in the bowl with the starch and toss in the starch.  Add the batter to the mixture and combine.
Form.

Use a spoon to remove  a scoop of the vegetable batter and form pancakes.
Fry

.  Place a cast iron skillet or fry-pan over medium-high heat.  Once warm, add oil.  When oil is hot add pancakes and fry on both sides (about 2 minutes each side) until golden brown.  Remove and place on a paper towel to absorb excess oil.  If you cook in batches cover the cooked pancakes with aluminum foil and place in a warm oven.  Continue to fry pancakes until all of the batter is gone (wipe out the pan with a paper towel and add fresh oil to the pan in between batches if necessary).
Serve.

Serve pancakes warm with side of crème fraîche.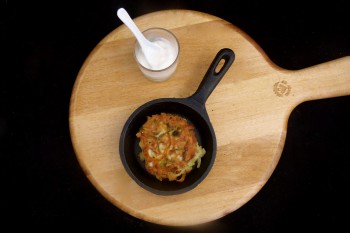 Tags: carrots, fennel, potatoes, savory pancake, soybeans, zucchini