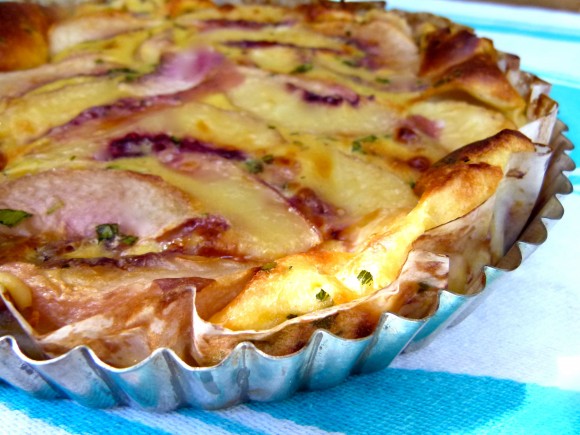 peach and tarragon clafoutis
(clafouti aux pêches et estragon)
Clafouti is a custard fruit dessert made popular in Limousin, France (central southwest area of France). Clafouti aux cerises is made with cherries, which are plentiful in Limousin, and the dessert always signals the beginning of summer and the warm months to come. The pits are left in the cherries imparting an almond flavor to the cherry custard.
Here, we are cherishing the end of summer (but keeping the almond flavor). In this recipe we use end of the summer peaches with a little fresh tarragon and almond extract (which pairs well with the peaches and buttermilk). If you do not have almond extract (or do not care for almonds) use Kirsch (typically used in Clafouti) or vanilla extract instead. Also, you can swap the buttermilk out for whipping cream or fromage blanc if you prefer. However, there is little sugar in this recipe (less than typically used) so make sure to use flavorful, sweet peaches because if you use flavorless ingredients your clafouti will be flavorless as well (and who wants that?)
serves 6-8 happy people
what you need:
batter
1 cup reduced fat milk
1/3 cup reduced fat buttermilk (or heavy cream)
4 tablespoons granulated sugar
¾ cup all-purpose flour (I suggest King Arthur's unbleached)
2 eggs, room temperature
1 yolk, room temperature
2 teaspoons almond extract (or Kirsch or vanilla extract)
1-2 ripe, beautiful fresh peaches, pits and skins removed (can be yellow or white peaches)
1 teaspoon minced fresh tarragon
dish
1 teaspoon unsalted butter
2 teaspoons granulated sugar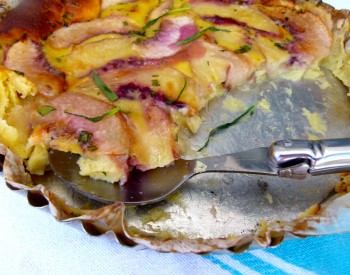 how to:
Prepare Baking Dish.

Butter and sugar dish your baking dish (you can use a pie plate, a baking dish, an ovenproof pan or soufflé cups). Set aside. NOTE: if you use a tart form with a removable bottom (as shown above) place parchment paper

under

the removable form bottom and set the tart form on a baking sheet. Do not remove the tart form from the baking sheet until the clafouti is baked (and batter is set) or the batter will seep under the bottom of the tart form when you try to move it without the flat surface to hold it in place.
Make Batter.

Combine buttermilk, milk, sugar, eggs, yolk, flour and extract with a whisk (or an immersion blender). Whisk just until incorporated. Do not over-mix. Stir in tarragon.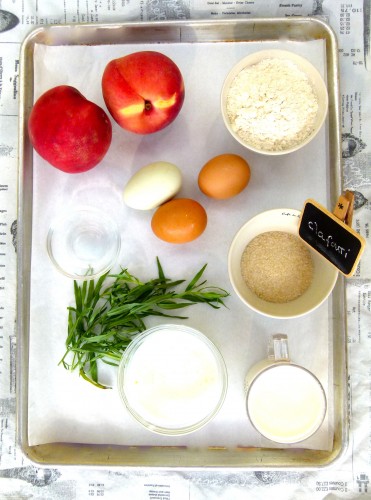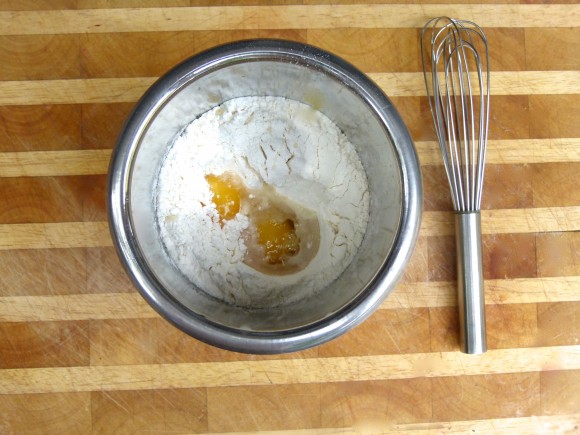 Chill.

Let the batter rest for at least 30 minutes (or overnight in the refrigerator but let batter come to room temperature before baking it).
Peel And Slice Peaches.

Place a saucepan filled with water over a medium-high flame. Bring to a boil. Add peaches and

boil peaches for 1 minute.

Carefully remove peaches from the boiling water with tongs. Place in an ice bath (a bowl of ice with water). Remove the peaches from the water once cool. Peel peaches and discard the skins. Cut peaches in half and remove the pits. Discard the pits. Slice peaches into wedges and arrange wedges in the prepared baking dish.
Add Batter.

Shake the batter, or use a whisk, to remix it. Pour batter in the dish, over the peaches.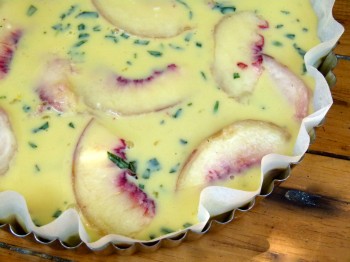 Bake.

Place in an oven preheated t

o

375 degrees Fahrenheit (180 degrees Celsius

).

Bake until puffed up and golden brown. (about 30 minutes)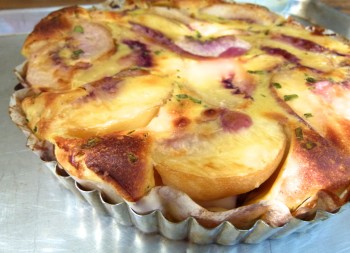 Serve.

Can be served hot or cold. The batter will rise when hot and fall when it begins to cool. It becomes more custard-like the cooler it becomes. Serve with quality caramel or vanilla ice cream.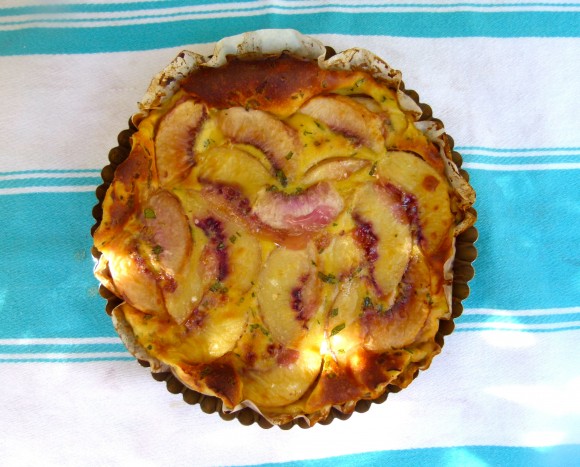 Tags: clafouti aux pêches, clafoutis, custard, easy dessert, estragon, peach, tarragon