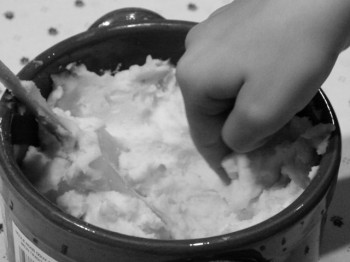 perfectly mashed potatoes
The mistake home-cooks often make at Thanksgiving is trying to do too much.  Too many items.  Too many new recipes.   Too many ingredients.  In an effort to do everything, the basics are neglected (and the host is left stressed and exhausted). This is unfortunate because when it comes to Thanksgiving, what people want is simple:  they want a turkey that is not dry; stuffing that is neither soggy nor tastes like sawdust; and they want good mashed potatoes. Cranberries and vegetables are usually left-over, people are trying to move away from eating gravy, and if given the choice of yams or mashed potatoes, most people would choose mashed potatoes. While you may make the best gravy or perfectly brulée the marshmallows on the yams, if the mashed potatoes are gummy and the turkey is dry, no one will remember the gravy or the yams, they will remember the dry turkey and gummy potatoes.   My advice is to focus your efforts on perfecting the basics: the turkey, stuffing, and mashed potatoes, and build your  meal from there given your talents and time (i.e., if it is a question of making the stuffing or a pumpkin pie, focus your efforts on the stuffing and ask someone else to bring the pie or find a quality bakery where you can buy one).
Although turkey and stuffing may be enjoyed primarily during the holidays,  Americans'  sincere affection for mashed potatoes lasts throughout the year. Mashed potatoes should be light, creamy, soft, rich and buttery without being greasy.   Sadly, that is not often how they end up.    The key to understanding how to make perfect mashed potatoes is to understand what can go wrong and how to prevent it (or correct it).
Below is a "do" and "do not" summary followed by my mashed potato recipe.   There are only three ingredients in this recipe:  potatoes, butter, and cream.   My favorite potatoes to use are Russian Banana Fingerling but I provide suggestions of several other potato varieties that will produce equally wonderful results.   As important as using quality potatoes is using quality butter and cream.  You will notice that I provide a range of how much butter and cream to add.   Use the low range for lighter and "healthier" potatoes, use the higher range if you want richer, more restaurant-like potatoes.  If you follow these easy steps, you will have mashed potatoes that your guests will remember long after  Thanksgiving and will be requesting all year long.
Je vous souhaite un bon appétit !
LM
basic rules of mashing potatoes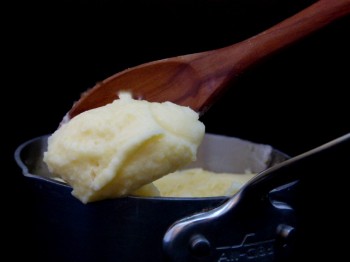 use the right potatoes
Use fresh starchy-floury potatoes.  Do not use use potatoes that are green or old (i.e., sprouting eyes, soft, or have wrinkly skin).  If you use potatoes that are "waxy" opposed to starchy, they will be harder to mash and the cream and butter will not be well-incorporated.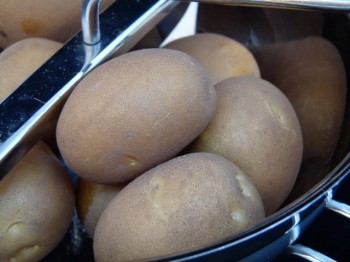 cut the potatoes evenly
Cut the potatoes into pieces roughly the same size to ensure even cooking.  Do not not cut them too small or the potatoes will absorb too much water and will be soggy.
cook properly
Start potatoes in cold water for even cooking and cook the potatoes just until done (a fork can be inserted).  Over-cooked potatoes will begin to fall apart and will taste mealy and watery.  Under-cooked potatoes are lumpy.
remove moisture
Excess moisture is the enemy of mashed potatoes.  Boiled potatoes should be well-drained and then returned to the same warm pan you cooked them in to eliminate  moisture.   Never place cooked potatoes in water or an ice-bath.
use the proper equipment
Use a china cap, food mill, or a potato ricer to mash the potatoes.  Do not use anything with a steel blade (i.e., an immersion blender, blender, or food processor) or your potatoes will be gluey and gummy.
mix gently with warm ingredients
Gently incorporate warm butter and cream.  Cold ingredients are more difficult to incorporate, result in over-mixing and cold potatoes.  Over-worked potatoes will be gummy.
the recipe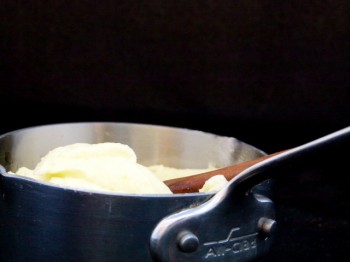 perfectly mashed potatoes
Serves: 4 to 6
(approx. 333 calories per 3 ounce serving)
what you need:
1 pound (16 ounces) perfect Russian Banana Fingerling (Sierra Gold, Yukon Gold, Onaway, or Russet)
4 – 6 ounces clarified, quality unsalted butter, warm
2 – 3 ounces ounces heavy cream, warm
1 teaspoon kosher salt (and  as needed)
freshly ground  pepper (as needed)
pinch of freshly ground nutmeg (optional)
how to:
Clarify Butter

. 

Place butter in a sauce pan over low/medium flame. Let it melt gently (do not brown).  The milk solids and water will separate and rise to the top, leaving the butterfat on the bottom. Remove the milk solids and water (it will look milky white) from the butterfat (which is yellow).  This can be done ahead and stored in the refrigerator (cooled, the butterfat will solidify and any residual milk solids and water will sink to the bottom, making it very easy to separate).
Prepare Potatoes

. 

Wash the potatoes and dry well. Peeling is optional (I leave the skins on for cooking purposes. It is easier and you get the benefit of the vitamins in the skin. The skins except for a few tiny pieces, will not pass through the perforations of the food mill or the china cap).  Dice potatoes into 2″ cubes

.
Cook Potatoe

s.

Place potatoes in a pan of

cold

water.  Bring to a boil and cook potatoes

j

u

st until a fork can be inserted.
Strain and Remove Excess Moisture

.

Use a colander to strain potatoes (you can reserve the potato water and save it for pastas, soups, sauces, or your pan gravy).  Return the potatoes to the

pan in which they were cooked

. Cover with a

lid

to keep them warm and let the moisture evaporate from the potatoes. Check the top of the lid and wipe off any condensation with a towel so it does not drip on the potatoes. Do not let the potatoes cool.
Mash

.

Pour potatoes into a potato ricer, food mill (using the large disc), or china cap.  Place the warm pan in which the potatoes were cooked underneath to catch the mashed potatoes. The peels will separate from the flesh. If the potatoes are difficult to pass through that means they are not cooked enough (you can remedy this by putting the potatoes in the microwave for a few seconds). If the pan is no longer warm, you can place it on stove over low heat.
Add Warm Butter

. 

Once potatoes have been mashed, lightly fold (in an upward motion) the warmed butter and salt into the potatoes (the folding will incorporate air into the potatoes). Do not over-mix the potatoes or they will be gummy.
Add Warm Cream

.  Once the butter is incorporated, gently fold the cream into the potatoes (do not worry that it seems like too much cream, the starch in the potatoes will absorb it).
Adjust Seasonin

g.

Season to taste with salt and pepper. White pepper is traditionally used for mashed potatoes because you cannot see it. You can add a touch of nutmeg as well.
Serv

e

immediately

while warm.

ideas for left-overs
Assuming you have any mashed potatoes left-over, you can do several things with them, including: (1) make a turkey soup and place a dollop of mashed potatoes at the bottom of the bowls as a special surprise; or (2) make a Thanksgiving Shepherd's Pie by mixing left-over turkey (and vegetables) in the mashed potatoes.  Place the mixture in a casserole dish and cover with stuffing.   Drizzle butter or olive oil on top and heat in the oven at 350 degrees Fahrenheit until warm and the top is browned.
where to buy
My potato suggestions are available in some grocery stores and at Farmer's Markets.  If you live in Los Angeles, the Santa Monica Farmer's Market on Wednesdays  (8:30 a.m. to 1:30 p.m.) and Saturdays (8:30 a.m. to 1:00 p.m.), located at Arizona and Third Street in Santa Monica, is where you can find potaotes from the following farms:
Weiser Family Farms
www.weiserfamilyfarms.com
Weiser Family Farms sells Russian Banana Fingerling as well as many fingerling varieties (French Fingerling,  Red Thumb Fingering, Ozette), Purple Peruvian, German Butterball, and other potato varieties.  Weiser is also at the Venice and Topanga Farmer's Markets on Friday as well as other markets throughout the week, including Pasadena.  Check their website for all locations and times.
Windrose Farm (Wednesdays only)
5750 El Pharo Road
Paso Robles, CA 93446
805.239.3757
www.windrosefarm.org
Windrose Farm sells Onaway as well as Carola and colorful varieties such as Cranberry Red and All-Blue.  You can purchase their produce at their  farm.  Check their website for  details, including additional  locations where you can find their produce.
Rutiz Family Farms (Wednesdays only)
1075 The Pike
Arroyo Grande, California 93420
www.rutizfarms.com
Rutiz sells Sierra Gold potatoes.  You can also purchase their produce at their farm.  Check their website for  details, including additional  locations where you can find their produce.
food for thought . . .
It is said that the potato was named pomme de terre
("apple of the earth") in an effort to popularize the potato
which the French then believed caused leprosy
and was only suitable for pigs to eat.
Tags: Carola, french cooking recipes, mashed poatoes, pommes puree, Russet, Russian Banana Fingerling, Sierra Gold, simple, simple pleasures, Thanksgiving, Thanksgiving left-overs, Yukon Gold