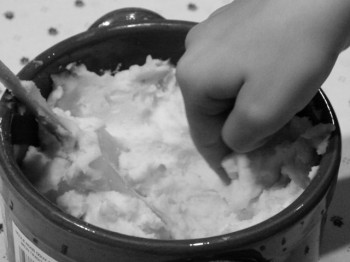 perfectly mashed potatoes
The mistake home-cooks often make at Thanksgiving is trying to do too much.  Too many items.  Too many new recipes.   Too many ingredients.  In an effort to do everything, the basics are neglected (and the host is left stressed and exhausted). This is unfortunate because when it comes to Thanksgiving, what people want is simple:  they want a turkey that is not dry; stuffing that is neither soggy nor tastes like sawdust; and they want good mashed potatoes. Cranberries and vegetables are usually left-over, people are trying to move away from eating gravy, and if given the choice of yams or mashed potatoes, most people would choose mashed potatoes. While you may make the best gravy or perfectly brulée the marshmallows on the yams, if the mashed potatoes are gummy and the turkey is dry, no one will remember the gravy or the yams, they will remember the dry turkey and gummy potatoes.   My advice is to focus your efforts on perfecting the basics: the turkey, stuffing, and mashed potatoes, and build your  meal from there given your talents and time (i.e., if it is a question of making the stuffing or a pumpkin pie, focus your efforts on the stuffing and ask someone else to bring the pie or find a quality bakery where you can buy one).
Although turkey and stuffing may be enjoyed primarily during the holidays,  Americans'  sincere affection for mashed potatoes lasts throughout the year. Mashed potatoes should be light, creamy, soft, rich and buttery without being greasy.   Sadly, that is not often how they end up.    The key to understanding how to make perfect mashed potatoes is to understand what can go wrong and how to prevent it (or correct it).
Below is a "do" and "do not" summary followed by my mashed potato recipe.   There are only three ingredients in this recipe:  potatoes, butter, and cream.   My favorite potatoes to use are Russian Banana Fingerling but I provide suggestions of several other potato varieties that will produce equally wonderful results.   As important as using quality potatoes is using quality butter and cream.  You will notice that I provide a range of how much butter and cream to add.   Use the low range for lighter and "healthier" potatoes, use the higher range if you want richer, more restaurant-like potatoes.  If you follow these easy steps, you will have mashed potatoes that your guests will remember long after  Thanksgiving and will be requesting all year long.
Je vous souhaite un bon appétit !
LM