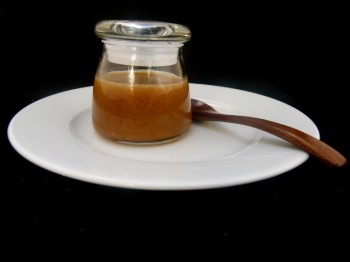 apple and persimmon caramel with fleur de sel
Easy and delicious.  Make the most of those special persimmons and apples you found at the farmer's market.  This caramel is great to have on-hand and the perfect companion to a range of treats:  yogurt, vanilla ice cream, warmed pears, or formage blanc.  You can also brush the caramel on roasted fall vegetables (i.e., carrots or parsnips).  If you are worried you will run out, preserve it and it will last until next year when brown sugar persimmons and caville blanc d'hiver apples reappear.
Je vous souhaite un bon appétit !
LM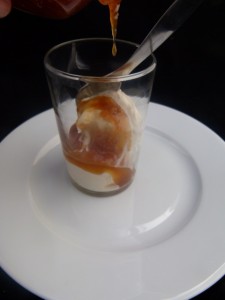 apple and persimmon caramel with fleur de sel
stats:
yield:
what you need:
8 ounces diced Caville Blanc d'hiver apples (or Granny Smith ), cored
4 ounces diced brown sugar persimmons
4 ounces diced Fuyu persimmons
10 ounces light brown sugar
juice from one lemon
2 ounces (4 tablespoons) unsalted butter, cold
1 tablespoon heavy cream
1/2 teaspoon fleur de sel (more as needed)
how to:
Macerate Fruit

.  Wash fruit and then completely dry.  Cut off the calyx from the persimmons (where the fruit attached to the tree) and remove any seeds.   Dice.  Core apples.  Dice apples.  Leave peels on.  Place in a bowl.  Add sugar and lemon juice.  Toss to coat.  Place in refrigerator overnight.
Boil

.  Remove the fruit from the refrigerator and pour the contents of the bowl into a sauce pan over medium-high heat.    Bring the contents to a boil.
Simmer

.  Once you reach a boil, reduce heat and simmer.  Continue to simmer (about 2 hours) over a low-medium flame until  the sugar is a syrup consistency, the fruit is tender and the peels are beginning to collapse and crinkle.
Strain and Remove Peels

.  Use a food mill fit with a fine disc.  Pour the cooked sugar and fruit into the food mill and pass through the mill.  The peels will separate from the flesh.   Put the strained fruit and sugar back into the pan you used to simmer the fruit.  Over a low-medium flame, cook until the mixture thickens to a sauce consistency (about 10-15 minutes). Remove from heat.
Add Butter

.  Off of the heat, swirl in the cold butter.
Add Cream.

Stir in cream until incorporated.
Season

.  Add fleur to sel to taste.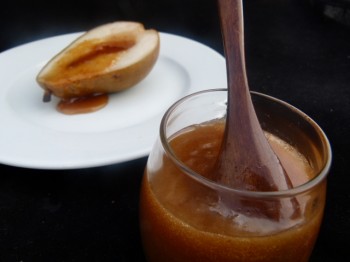 Tags: apples, brown sugar persimons, caramel, caville d'hiver, dessert, french cooking recipes, persimmons, simple pleasures