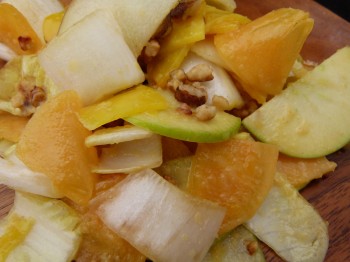 persimmon, endive, apple, and beet salad with creamy dressing
stats:
serves 4
you need:
salad
2 Belgian endives, sliced sideways into 1" strips
1 ripe Fuyu persimmon, peeled and thinly sliced
1 medium golden beet, roasted and thinly sliced
1 Mutsu (or Crispin) apple, thinly sliced
1/4 cup walnuts pieces, toasted
dressing
1 tablespoon Xérès (or Sherry) vinegar
1/2 teaspoon orange zest
3 tablespoons walnut oil
1/4 cup diced persimmon
sel de Guérande to taste
1- 1 1/2 teaspoon quality honey
how to:
Toast Walnuts

. Place walnut pieces in a pan over a medium-high flame and toast until golden brown and the oil in the nuts is beginning to release. Remove from flame. Set aside to cool.
Roast Beet

. Remove the ends of the beet. Wrap the beet in aluminum foil and place on a baking sheet lined with parchment paper. Roast in an oven preheated to

400 degrees Fahrenheit

. Roast until a knife can easily be inserted into the beet. Remove from the oven. When cool enough to touch, but not cold, remove the skin (it should easily come off). Set aside to cool.
Slice Beet

. Using a mandoline, slice the beet into circle slices 1/8" thick. Cut slices into quarters.
Slice Apple

. Cut the top off of the apple creating a flat surface. Using the mandoline, slice the apple into circles 1/8" thick. Cut circles in half (they should be semi-circles). Remove seeds and core. Rub with lemon juice to prevent discoloration.
Slice Persimmon

. Remove Calyx and root from persimmon and remove skin. Using the mandoline, slice the persimmon into circle slices 1/8" thick. Cut into quarters.
Mix

. Place the endive pieces, persimmon slices, beet slices, and apple slices in a bowl.
Make Dressing

. Place vinegar, oil, zest, persimmon, salt, and honey in food processor or deep bowl. Use the food processor (or immersion blender if using a bowl) to purée mixture until creamy smooth.
Adjust Seasoning

. Season with salt to taste. If persimmons were not sweet, you may need to add a little more honey too.
Dress Salad

. Pour half of the salad dressing on the inside of the salad bowl. Add nuts. Use your hands to incorporate the dressing into the salad, making sure to separate the fruit slices (they will stick together). Add dressing as needed.
Serve

. Serve salad immediately after dressed.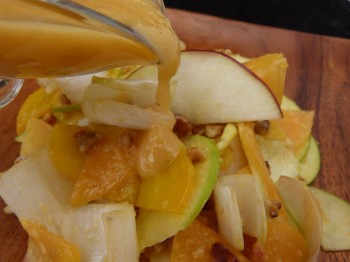 Tags: apples, beets, Belgium endive, endive, light salad, no cream dressing, orange zest, persimmons, simple salad, walnuts, Xérès vinegar