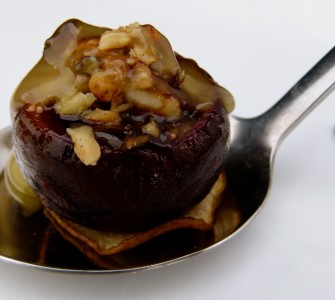 "seasonal" depends upon your dirt:
two light recipes for fall using the
seasonal ingredients in your market
Fall is a time to enjoy the warm flavors it offers. However, what do you do when you want to eat seasonally, but the season is uncharacteristically hot? What do you do if the season is short and you cannot find the ingredients? Inspired by ways to create light dishes with a variety of fall flavors, this week's simple pleasure is twofold: (1) roasted figs stuffed with a St Agur and basalmic vinegar reduction, garnished with French honey and served on a roasted pear slice; and (2) persimmon, endive, apple, and beet salad with creamy (creamless) dressing.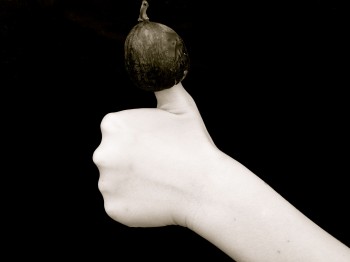 Why two recipes this week? I just returned from France where the markets are over-flowing with figs, apples, and pears. However, in Los Angeles, while the farmer's markets still have figs, the grocery stores are running low (apparently the commercial supply of figs was low this year), but the persimmons and apples are well-supplied. So, if you cannot find figs, you can make the other recipe and vice-versa. Both recipes are simple to make.
First, while it is common to roast figs and combine them with cheese, in this recipe the figs are not sliced in half lengthwise or poached whole but the tops are removed and a little of the center is also removed. Roasted until they puff and served on roasted pear slices, we stuff the figs with a reduced balsamic vinegar and St. Agur (creamy blue cheese) mixture, letting the residual heat of the figs warm the cheese filling. Toasted walnuts and a honey garnish bring the dish together. Although you could serve the roasted figs as a starter, the honey makes them sweet so I would serve them in a set of 3 for a light dessert. If you want to add something else to them, serve them with a small quenelle of mascarpone or vanilla gelatto. If you want to serve them as passed appetizers, serve them on a spoon or a small dish so they can easily be eaten by hand.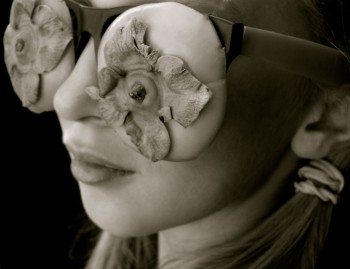 With respect to the salad (posted separately for printing ease), the bitter endive leaves are balanced with tangy apples and sweet beets and persimmons. The salad dressing is creamy but it is made with no cream or mayonnaise so although its smooth texture coats the salad, it is light and will not weigh you down in the fall heat.
Je vous souhaite un bon appétit !
LM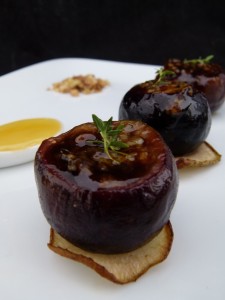 roasted figs stuffed with a St Agur and basalmic vinegar reduction, garnished with French honey and served on a roasted pear slice
yield:
serves 4 as a dessert (3 figs each) or
serves 6-8 as an appetizer
what you need:
12 figs
1 pear (i.e., Bosc or red Bartlett) thinly sliced in circles, seeds and core removed
olive oil (as needed)
4 tablespoons quality balsamic vinegar
1 teaspoon light brown sugar
4 ounces St. Agur cheese (or another quality blue cheese or Silton)
1/4 cup small walnut pieces, toasted
quality French honey (i.e., Le Grand Miel or Miel l'Apiculteur) as needed
sel de Guérande (as needed)
how to:
Prepare Stuffing

. Place the balsamic vinegar and brown sugar in a small saucepan over a medium-high flame. Reduce by half. Remove from heat and let it cool. When reduction is at room temperature, incorporate it into the cheese, but do not over-mix.
Prepare Figs

. Sit the figs right side up and cut off the tops 1/3 of the way down from the stem. Using an apple corer or small spoon, remove a small scoop of the fig flesh. Set aside.
Prepare Pears

. Slice off the top of the pear (with the stem). Discard. Using a mandoline, slice the remaining pear into circles about 1/8" thick. Leave the pear skins on. You should easily have twelve slices without using those with a large part of the core and seeds. However, if you need to use those, remove the seeds and tough core with a knife.
Roast

. Using a brush or your fingers, rub a small coat of olive oil on the figs (inside and out) and on both sides of the pear slices. Place figs upside down on a baking sheet lined with parchment paper. Place the pear slices on the same parchment sheet. Roast both in an oven preheated to

400 degrees Fahrenheit

. After a few minutes, turn the pears over and continue to roast. The pear slices are done when the edges are curling but not brown. The figs are done when they look swollen and juice is running out of the bottom. You may have to take the pear slices out of the oven first depending upon the size of the figs.
Stuff figs

. While the figs are warm, place a fig rightside up on a pear slice. Place a spoonful of cheese mixture inside the fig. Top with a pinch of toasted walnuts
Garnish

. Garnish each fig with a couple of pieces of salt and a drizzle of honey and serve warm.
Tags: basalmic vinegar, figs, French honey, healthy snacks, roasted figs, roasted pears, simple desserts, simple starters, St. Agur, Stuffed Figs