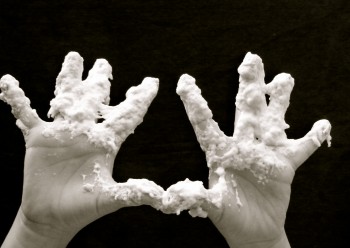 10th run, 10 dollars, 10 times:
giving (and receiving) a little early this year
In one month from today, on November 6, 2011, I will run my 10th marathon in the "Big Apple." It will be my third New York marathon. Normally I do not run marathons for a charitable cause. It is not because the many causes are not worthy or I am uninterested but because I never wanted to feel as if I let someone down (i.e., if I was not fast enough or strong enough…what if I fell?). Well, I have fallen in a marathon, a few times (once almost trampled in New York) and I still finished. Assuming that I will be able to do that again, and in the spirit of Thanksgiving a little early, this year I am making an exception, of course, the exception is culinarily linked. That exception is the St. Joseph Center in Venice, California. Their creed is "planting hope and growing lives." They do. Here is your connection (and mine) and the what, why, and how of the "be a 10" challenge.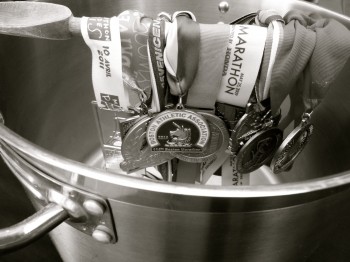 what
Your part is relatively easy. I will send you original recipes for your Thanksgiving meal (not be posted on the simple pleasures website) in exchange for your $10 donation to the Saint Joseph Center and a "like" on my chef morgan facebook page which announces this challenge in hopes others will join as well.
Here is the real challenge: if I beat my fastest time (3:31:05 in Venice, Italy), you have the option to 10 times your $10 donation, for a total donation of $100 to Saint Joseph Center. If you take the "10x challenge" you will not only receive some Thanksgiving recipes, but a companion shopping list and a preparation schedule for your meal which will spell out exactly what you need to do to have a successful day (culinary speaking, of course, I cannot give advice on family relations or whom to invite). I will give you recommendations as to where to find the ingredients as well. In the event you would like to receive these items and make a $100 donation to the St. Joseph Center without it being contingent upon my time, of course you may do so and I will send you the additional materials.
why
St. Joseph Center, located in Venice, California and serving the Westside community, is focused on breaking the cycle of poverty. Their mission is to provide working poor families, as well as homeless men, women, and children of all ages, with the inner resources and tools to become productive, stable and self-supporting members of the community. They achieve this mission in immediate, long-term, and preventative ways. For example:
The

Culinary Training Program

, particularly dear to my heart, is a ten week class, wherein individuals are taught how to work in the food industry and 70% of program graduates obtain jobs doing just that;
The

Bread and Roses Café

is a restaurant-style program wherein homeless families and individuals are served sit-down meals with the respect and dignity all people deserve; and
The

Family Center and Food Pantry

provides food and case management assistance to families struggling with poverty.
This short list does not do St. Joseph Center justice because it provides so many programs for low-income and homeless families, individuals, seniors, and veterans. All of their services aim to combat the effects of poverty and get people back on their feet for good. The Center not only feeds people who hunger, it feeds their hope and helps build a brighter and more promising future. With Thanksgiving rapidly approaching, there could be no better time to reach out to our community and share what we have. I do not want to sit down for a Thanksgiving meal without knowing that I did everything I could to make sure others can enjoy a Thanksgiving meal as well. I know that I am not alone in this sentiment.
***
How safe is your $90? Honestly, probably pretty safe but I will try my best and hope I do beat my fastest time but my last two races were not promising. Just so you can assess your risk: you read about the Los Angeles marathon in my March 24, 2011 post where I was so cold I dreamt of taking a bath in rendered duck fat or being baked in a salt shell. The Paris marathon, a few weeks later, was even worse: it was uncharacteristically hot, I did not get to a water station for the first seven miles and dropped my salt packets, all which resulted in severe dehydration from mile 17 on forcing me to walk some (and I will spare you the details but … I still finished and did not have to be carried off in an ambulance like so many others that were dropping like flies in the Bois des Boulogne as the ambulances hauled them away).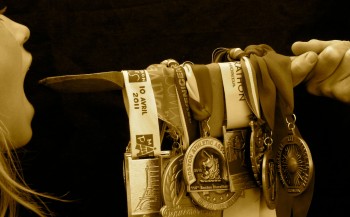 how
and
If you would like to 10x your donation click the option "I would like to meet the Chef Morgan Challenge and donate $10 to St. Joseph Center now and $90 more if she beats her best time" (for a total of $100 to St. Joseph Center).
If you would like make a $100 donation regardless of my time, there is a button for that option as well.
Recipes, grocery lists, and timeline will be mailed on November 6, after the marathon. It is critical that you do both or you will not receive your materials.
a little treat now
For the marathon I have tried to cut back on my sweets and cheese intake (very difficult) and eliminate foie gras (even more difficult since I am in France right now). However, that does not mean you should. In a companion post I provide a simple snickerdoodle recipe. In Nice this past summer I had some "cinnamon cookies" from one of my favorite cookie spots in the old village. The cookies reminded me of snickerdoodles except with more punch. I wrote the following recipe as a result. The cookies are incredibly moist with lots of flavor. They are easy to make, the dough stores in the refrigerator (so you do not have to bake them all at one). They also store well in the freezer so you can pull them out to enjoy on a moment's notice.
Thank you for your consideration in helping St. Joseph Center and, as always,
je vous souhaite un bon appétit !
LM
Tags: 10th Marathon, St. Joseph Cen, Thanksgiving meal, venice california