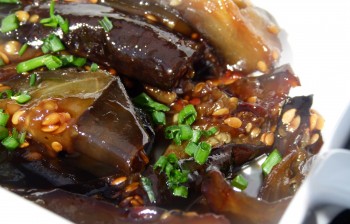 go ahead, give me a little flax: honey and soy-roasted eggplant with flaxseeds
September comes with a renewed energy in the air. Vacations are over and children go back to school. Getting back into a routine, we look at our quick-filling calendars and our lives with new vigor. Often that vigor includes the desire to eat better foods, try new things, and develop healthier habits. I am often asked about ways to incorporate specific food items into home-cooked meals that are easy to make for the whole family. Flaxseeds are one of those ingredients and it is the desire to incorporate this healthy ingredient into our new Fall repertoire that is the inspiration for this week's simple pleasure: honey and soy-roasted eggplant with flaxseeds.
By now everyone has heard that flaxseeds are good for you. In his book, "Anti cancer a new way of life," Dr. David Servan-Schreiber discusses how the food we eat can make either a friendly terrain within our bodies for cancer cells, encouraging their growth, or, an unfriendly terrain which discourages and protects our bodies from the development and spread of cancer. On page 145 he writes that "inflammatory factors [are] fertilizers for cancer [and] are provided by our diet[.]. [M]ajor dietary fertilizers are: refined sugars[and] insufficient amounts of omega-3s." It is one of my favorite books (and not just because he is a Frenchman who makes food analogies). My small paraphrase does not give it justice.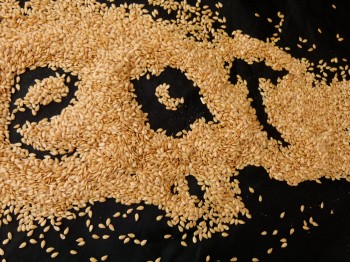 He recommends including flaxseeds (opposed to flaxseed oil) in our diets. Flaxseeds, high in omega-3s and lignans, are linked to lowering cholesterol, fighting inflammation (good if you have joint pain, rheumatoid arthritis, inflammatory disorders), and fighting cancer, particularly breast and colon cancer (as for prostate cancer the results are inconsistent).
How much flaxseed should we be eating? Dr. Servan-Schreiber recommends a limit of 1.6 ounces per day (which is about 1/4 cup). I have seen recommendations for 2-4 tablespoons per day. However, from a non-medical and pure cooking point of view, when you are preparing food for others my rule is as follows: add the benefit without making it a curse. As such, I generally do not use more than 2 tablespoons of flaxseeds at a time in an entire recipe. The high fiber in flaxseeds makes things run smoothly and consuming too many may make things run a little too smoothly… (I do not know how else to delicately say that). The point is to be mindful about how much you are putting in people's food. As with most nuts and seeds, store flaxseed in your refrigerator.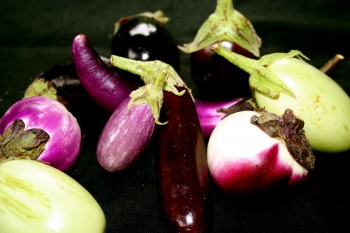 For whatever reason, the inclusion of flaxseeds in cuisine seems to be limited to baked goods (such as muffins…more processed sugar and flour which defeats the purpose of the flaxseed) or breakfast cereal or granola. Not this one. Here, we use all natural ingredients with the flaxseed: fresh eggplant, honey, soy, ginger, orange juice, and olive oil. Toss. Roast. Forty minutes later you have a delicious and healthy dish that not only positively feeds your terrain, but may help you keep that vigor.
For more information on the studies done on flaxseeds visit the American Cancer Society webpage. http://www.cancer.org
Je vous souhaite un bon appétit !
LM
honey and soy-roasted eggplant with flaxseeds
stats:
serves 6
what you need:
7-8 small japanese eggplants, cut into wedges
1 teaspoon kosher salt
1/2 cup olive oil
2 tablespoons soy sauce
1/2 cup honey
2 tablespoons fresh orange juice
pinch of ground ginger
2-3 turns of pepper mill
2 tablespoons golden flax seeds (I use Bob's Red Mill)
2 tablespoons minced chives
how to:
Macerate Eggplant.

Cut the tops off of the eggplants. Discard tops. Cut the eggplants into wedges and place wedges in a bowl. Sprinkle with salt and toss. Let eggplant set for about 1 hour. Drain excess water from bowl.
Make Dressing.

Place olive oil, orange juice, ginger, pepper, honey and soy in another bowl. Mix well.
Coat Eggplant.

Toss eggplant and flax seeds in the soy dressing. Pour sauce and eggplant into a small baking dish/casserole dish.
Roast.

Place dish in an oven preheated to 375 degrees Fahrenheit and roast until the eggplant is very tender (about 30-40 minutes). Occasionally toss the eggplant in the sauce to keep it from sticking to the bottom of the dish.
Garnish.

Remove from the oven when eggplant is very tender. Garnish with fresh minced chives.
Serve

. Can be served hot or at room temperature.
Tags: Dr. David Servan-Schreiber, eggplant, flaxseed benefits, flaxseeds, ginger, healthy sides, honey, japanese eggplant, soy, Vegan, vegetarian