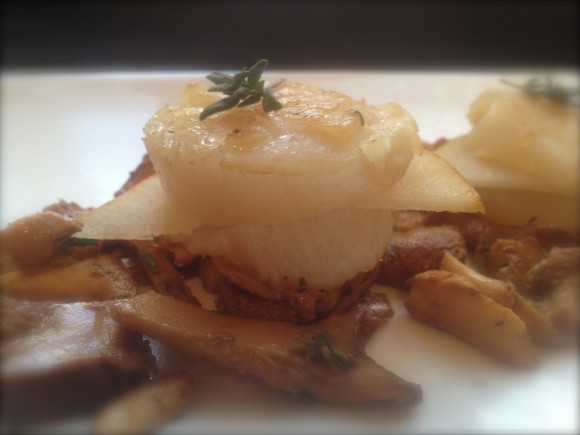 seared scallop macarons with chanterelles and thyme
serves 4
what you need:
sauté
1-2 tablespoons unsalted butter
4 cups sliced chanterelles and champignons de Paris (or white mushrooms)
½ teaspoon fresh French thyme leaves
1 teaspoon minced fresh Italian parsley
⅛ cup dry white wine (or Grappa)
kosher salt (as needed)
freshly ground black pepper as needed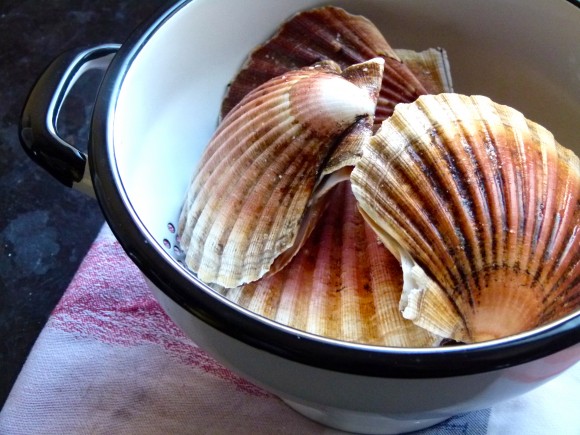 scallops
1 tablespoon of unsalted butter (or oil)
12-16 large scallops
kosher salt (as needed)
freshly ground black pepper (as needed)
1 beautiful, ripe pear
fresh French thyme (as needed)
1 fresh lemon
truffled olive oil, walnut or hazelnut oil (optional)
how to:
Sauté Mushrooms.

Place a sauté pan over medium-high heat. One pan is hot, add butter. Add mushrooms and thyme. Add a pinch of salt. Once mushrooms are beginning to stick to the pan, add white wine and reduce au sec (until the wine has been cooked out of the pan).
Adjust Seasoning.

Season to taste with salt and pepper. Add a little lemon juice if necessary. Remove the mushrooms from the pan and cover with aluminum foil to keep them warm while you cook the scallops.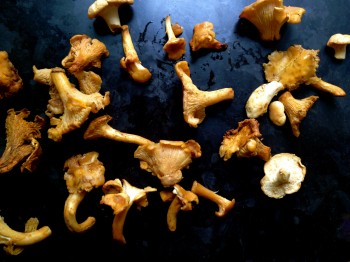 Season Scallops.

If the foot is still attached to the scallop muscle, remove it. Season both side of the scallops with salt and pepper.
Sauté Scallops

. Place the sauté pan you used for the mushrooms back on the stove over a medium-high flame. Working in batches of 4-6, sear each side of the scallop for 2 minutes (they should still be translucent in the center). Remove and add to mushrooms and keep them warm until all the scallops have been cooked.
Slice Pear & Scallops

. Slice a pear in half. Place the cut side down on a flat surface. Thinly slice the pear half (in any direction). If a slice has core/seeds, trim that off. Slice all of the scallops in half horizontally. Place a pear slice in between the two halves of the scallop.
Plate

. Place mushrooms on each plate with 3-4 scallop "macarons" on top in a decorative way.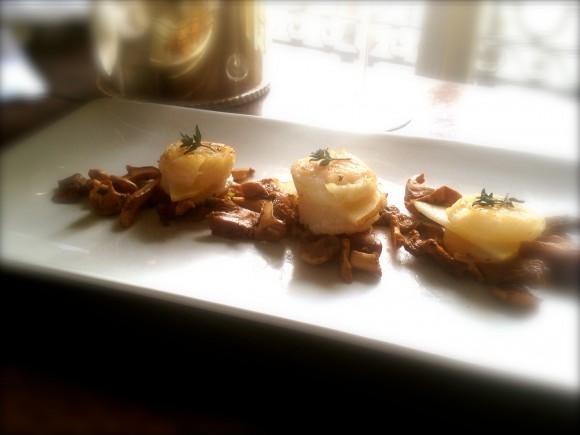 Tags: autumn, chanterelles, french cooking recipes, Paris (Paris), pear, scallops, thyme, white mushrooms