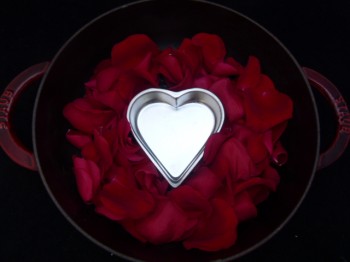 stomach en route to heart:
winter tomato soup au gratin,
spicy espresso tournedos on creamy almond and leek risotto hearts,
and fresh tarragon green salad
If it is true that the way to a person's heart is through his or her stomach, then Saint Valentine's Day is a foodie's dream for both the food preparer and the diner. Accordingly, this week's simple pleasure is devoted to some Valentine's treats: a winter tomato soup with a gratinée heart-shaped crouton, chili-espresso tournedos on heart-shaped beds of creamy leek and almond risotto, and a fresh tarragon green salad. If this sounds complicated, I can assure you that it is not. Below are some production and ingredient notes. The recipes are in separate entries so they can easily be printed.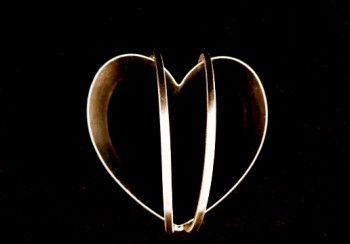 gratinée heart of love
This soup takes tomato soup and a grilled cheese sandwich and reconfigures it, keeping the comforting elements we want: a little cheese, a little bread, and a warm satisfying soup. The soup takes about 30 minutes active time. It uses ingredients most people already have on hand: canned tomatoes, shallots, garlic, carrot, and olive oil. It is hearty enough for a meal or you can serve it as a first course. It is the perfect "go to" dinner when you need something quick to prepare. We give the soup an additional touch of love for Valentine's Day by cutting the bread in the shape of a heart (you use can use a cookie or biscuit cutter). If preparing the soup for children, it is better to gratin the croutons separate from the soup bowls so little ones do not burn their fingers. Simply top the heart-shaped croutons with cheese and place on a baking sheet.  Once the cheese is melted and bubbly add the croutons to the soup.
With respect to the cheese, my favorites to use are semi-firm cheeses from the Basque region of France. They melt well and are rich in flavor but mild enough that children love them because they so not have that swiss cheese bite you find in Gruyère and Comté cheeses (usual choices for gratinées). The two I recommend for this soup are: (1) Basque d'Argental (a semi-firm sheep's milk cheese rubbed with pepper, but it is not spicy at all); and (2) Onetik Pilota (a semi-soft cheese made from cow and sheep's milk with a flavor more pronounced than Ossau-Iraty Brebris).  You can purchase both at The Cheese Store of Beverly Hills (www.cheesestorebh.com). However, a combination of Gruyère and Comté are also delicious.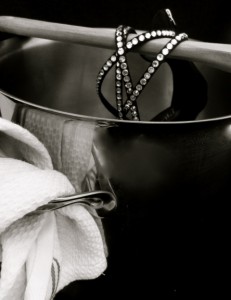 tournedos: turning up the heat
Tournedos are ideal to prepare for special occasions because they are a quality cut of meat that you cook stovetop 15 minutes before you serve dinner. Tournedos refers to the cut of meat, rather than its preparation although there is disagreement as to where the name tournedos actually came from (for reference, tourner is the french verb "to turn" and le dos is French for the "back"). Some sources say that it was when the Italian composer Gioachino Antonio Rossini asked a waiter for a fillet with foie gras and truffles (the preparation of which is now named Tournedos Rossini). The waiter was so surprised with the decadent request that he served it "behind the backs" of the other diners. The other version which both the Dictionnaire de l'Académie des Gastronomes and Larousse cite as the source is that it was a restaurant analogy to the "tournant le dos ", the back storage stalls of the fish pavilion at Les Halles (the former food market in Paris) where the freshness of the fish stored there was questionable (this was 150 years ago). By analogy, when restaurants had beef that had been stored for a few days, it was referred to as tournedos alluding to the "tournant le dos" type storage. The tournedos name accidentally appeared on a menu and a guest, not knowing the old fish analogy, ordered it and on the menu the name stayed.
Notwithstanding the name or its origin, tournedos are an elegant and delicious dish which is simple to make. Tournedos are 1 inch thick and 2 1/4 inches in diameter cut from the "heart" of  beef tenderloin (where filet mignon comes from). A beef tenderloin is a long cut of meat that is large at the "head" and gradually gets smaller as it reaches the "tail." The center is what you generally use for roasting because it is equal in diameter and does not require tying. For tournedos you can use either the center or the tail. While you can ask your butcher to cut the tournedos, it is quite simple to cut yourself. Buy  a tenderloin or 1 inch thick fillets (but if you buy it already in fillet form it will be more expensive). Once you have the fillets, use a ruler or round biscuit cutter as a guide and cut circles out of the center of the fillets. Use kitchen twine to tie the exterior of the circles so the tournedos keep their shape during preparation and cooking.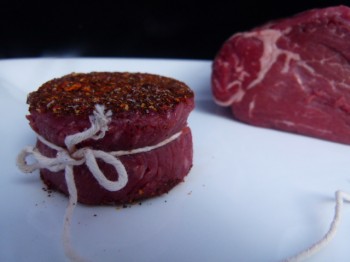 Tournedos take on a variety of preparations, garnishes and modes of presentation. They can be sautéed, grilled, broiled, or roasted. They are garnished with everything from mushrooms, truffles, artichoke hearts, puréed peas, and anchovies. Because of their size they are often served on a bed of something cut roughly the same size as the tournedos (i.e., fried croutons, rice, artichokes, mushroom caps, grilled eggplants, or potato cakes). They are usually served with a meat sauce; however, sauces ranging from a Madeira base to a classic Bearnaise are used. Tournedos à la d'abrantès and tournedos archiduc are two preparations which use paprika. I like the idea of using a little spice for Valentine's Day so this recipe calls for dredging (not rubbing) the tournedos in an espresso-chili combination (with a tad of cocoa powder) and then frying them. It takes 8 minutes to cook the tournedos and while they are resting you make a meat sauce from the meat drippings. Very simple.
risotto and salad
To balance the spice (and taking into account the cheese used in the soup), the risotto is made without cheese. It is simmered in almond milk and given a creamy texture with the addition of puréed leeks. Use only the white portions of the leeks or your creamy risotto will be as green as food in a Dr. Seuss book. If you are pressed for time, you can partially cook the risotto the day before and finish it the night of your dinner. The soup can also be made ahead, saving the au gratin portion to do right before your meal. If you do not want to make risotto, mashed potatoes also works well (see my November 19, 2010 blog on how to make the perfect mashed potatoes). The salad is a simple green salad with fresh herbs. The fresh and delicate greens are a perfect compliment to the meat and the risotto. If you cannot find mâche (also known as lamb's lettuce), you can use all butterhead lettuce, but do not use iceberg lettuce or romaine; too watery; too white.
Perfect for Valentine's Day, but a delicious, easy meal for every day. If food is the way to a person's heart, consider this meal your cupid's arrow.
Je vous souhaite un bon appétit et beaucoup d'amour !
LM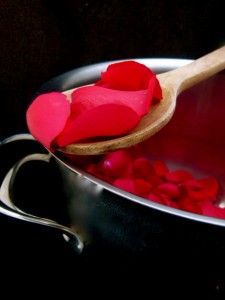 food for thought
"Life without Love
is like a tree without blossom and fruit."
Kahlil Gibran
Thoughts and Meditations
Tags: valentine's day