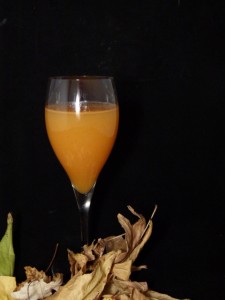 Thanksgiving Bellini 2010
When hosting a dinner party, regardless of the size, there should be house cocktail.  One apéritif that sets the tone for the evening and makes things easy for the host and the guests.  Thanksgiving 2010 is all about the Bellini (at least, this seasonal version).
The Bellini is a classic Italian champagne-style cocktail invented in Venice, Italy and named for the painter Giovanni Bellini. It is traditionally made with peach purée and sparking Italian wine.  The season for peaches is long gone and while you could use preserved or frozen peaches, no one wants a peach in a season filled with the warm flavors of pears, chestnuts and cranberries.   Instead of peaches, this "Bellini"uses Fuyu persimmons which are in abundance in October and November. Fuyu persimmons are sweet, warm, and wonderful.
There are several varieties of persimmons but only two are generally seen at the market: the Fuyu (which is non-astringent and can be eaten before and after it is ripe); and the Hachiya (which is astringent and bitter and can be only eaten after fully ripe).  The Fuyu persimmon can be eaten like an apple. The riper it is, the sweeter it is.  When puréed it has the consistency of a peach or an apricot nectar and orange flesh visually compliments this season of  the harvest.  The persimmon's honey overtones pair well with the lightness of the prosecco (which has hints of apple and fruit).   As an added bonus,  prosecco is much more cost friendly than champagne (although you can use champagne if you want).
Persimmons will continue to ripen after they are picked and should be stored at room temperature.  When buying persimmons, they should be  bright orange with unblemished skin, and slightly soft.
This Bellini is a unique, delicious (and pretty) way to start your Thanksgiving festivities and after Thanksgiving they will be gone.  Did I also mention that it is ridiculously simple to make?
à votre santé !
LM