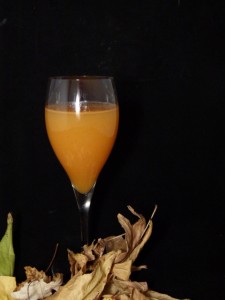 Thanksgiving Bellini 2010
When hosting a dinner party, regardless of the size, there should be house cocktail.  One apéritif that sets the tone for the evening and makes things easy for the host and the guests.  Thanksgiving 2010 is all about the Bellini (at least, this seasonal version).
The Bellini is a classic Italian champagne-style cocktail invented in Venice, Italy and named for the painter Giovanni Bellini. It is traditionally made with peach purée and sparking Italian wine.  The season for peaches is long gone and while you could use preserved or frozen peaches, no one wants a peach in a season filled with the warm flavors of pears, chestnuts and cranberries.   Instead of peaches, this "Bellini"uses Fuyu persimmons which are in abundance in October and November. Fuyu persimmons are sweet, warm, and wonderful.
There are several varieties of persimmons but only two are generally seen at the market: the Fuyu (which is non-astringent and can be eaten before and after it is ripe); and the Hachiya (which is astringent and bitter and can be only eaten after fully ripe).  The Fuyu persimmon can be eaten like an apple. The riper it is, the sweeter it is.  When puréed it has the consistency of a peach or an apricot nectar and orange flesh visually compliments this season of  the harvest.  The persimmon's honey overtones pair well with the lightness of the prosecco (which has hints of apple and fruit).   As an added bonus,  prosecco is much more cost friendly than champagne (although you can use champagne if you want).
Persimmons will continue to ripen after they are picked and should be stored at room temperature.  When buying persimmons, they should be  bright orange with unblemished skin, and slightly soft.
This Bellini is a unique, delicious (and pretty) way to start your Thanksgiving festivities and after Thanksgiving they will be gone.  Did I also mention that it is ridiculously simple to make?
à votre santé !
LM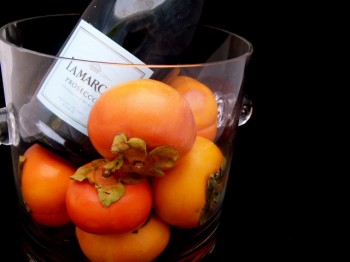 Thanksgiving Bellini
stats:
Yield:  6 Bellini
Serves: 6 (approximately 150 calories each)
what you need:
1  bottle very cold prosecco
6 very ripe Fuyu persimmons
how to:
Prepare Persimmon

s.

Peel persimmons.  Remove seeds, if any.   Dice flesh and place in a blender.
Purée

.  Holding down the top of the blender, turn blender on high.  Purée persimmons until smooth and no lumps remain.    You should yield 12 ounces purée (If your persimmons are not puréeing, they are not ripe enough. Add a tablespoon of water and a couple pinches of granulated sugar to taste).
Pour

.   Pour  2 ounces puréed persimmon into each champagne flute or wine glass.  Add 4 ounces of prosecco in each glass.  Mix gently
prosecco notes
I suggest the following proseccos: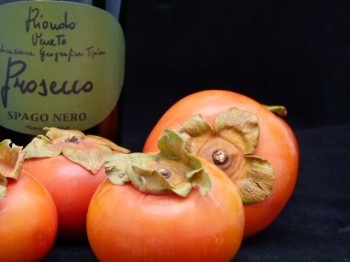 Cantine Riondo Spago Nero Prosecco
Robert Parker Score: 90
Country: Italy
Region: Veneto
Varietal: Prosecco
Vintage: NA
Producer: Cantine
Price: 12.00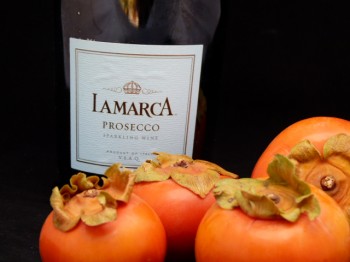 La Marca Prosecco
Wine Spectator Score: 90
Country: Italy
Region: Veneto
Varietal: Prosecco
Vintage: NA
Producer: La Marca
Price: 16.00
where to buy
My prosecco selections can be found on the internet.  If you live in Los Angeles, my selections may be purchased at:
The Wine House
2311 Cotner Avenue, Suite B
Los Angeles, California
310.479.3731
www.winehouse.com
persimmon notes
If you live in Los Angeles, persimmons are available in some grocery stores and Farmer's Markets, including:
Santa Monica Farmer's Market
Wednesdays 8:30 a.m. to 1:30 p.m.
Arizona and Third Street, Santa Monica

Penryn Orchard Specialities
Placer County, California 9566
www.penrynorchardspecialities.com
Penryn  Orchard Specialities also has brown sugar as well as cinnamon persimmons, both of which are delicious.   Check their website for detailed product information and availability.
Peacock Family Farms
Dinuba & Nipomo, California
www.peacockfamilyfarms.com
For more information on persimmons in California, contact:
CALIFUYU
California Fuyu Growers Association
P.O. Box 1301
Valley Center
CA 92082
jlbathgate@worldnet.att.net
If you live in California, you can also pick persimmons at the following San Diego area farms (but call ahead to confirm availability):
Fentiman Farms
10808 Reidy Canyon Trail
Escondido, 92026
760.746.1420.
Bathgate Farm
28888 Pleasant Knoll Lane
Valley Center, 92082
760.749.3359
Bar 2 Ranch
14797 Hwy 76
Pauma Valley, 92061
760.742.3614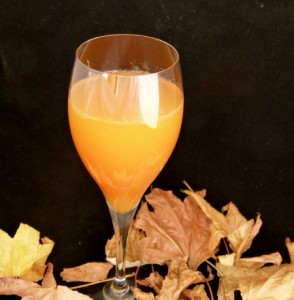 Tags: Bellini, cocktail, Fuyu persimmons, persimmon, prosecco, Thanksgiving