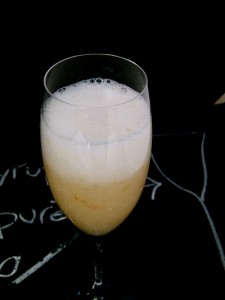 Valentine's Day champagne apéritif with rose syrup and lychee purée
makes 5 apéritifs
what you need:
1 bottle very cold champagne (or prosecco)
1 ¼ cup lychee purée (from fresh or canned lychees)
1 tablespoon rose syrup
granulated sugar (as needed if using fresh lychees)
rose petals (as needed for garnish)
how to:
Purée.

Peel lychees. Dice flesh and remove pits. Place in a blender or food processor with the rose syrup. Purée until smooth. Taste. Add a little sugar to sweeten if necessary.
Add Champagne.

Pour 2 ounces of the purée into each champagne flute or wine glass. Add 3 ounces of prosecco in each glass. Mix gently.