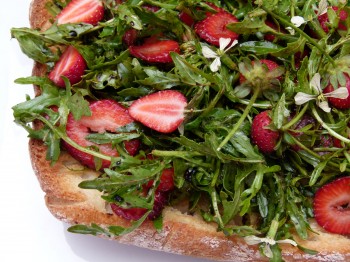 wild arugula and strawberry salad on a Ciabatta plank
serves 4
what you need:
1 loaf of quality fresh Ciabatta bread (or pan de mie or country bread)
from the farm
1 cup sliced strawberries, stems removed
2 generous handfuls of wild arugula, trimmed
½ cup rapini leaves
red or green mustard frill leaves (as needed)
fresh arugula flowers (as needed)
small strawberries with stems
dressing
1 packed tablespoon light brown sugar
¼ cup balsamic vinegar
½ teaspoon sel de Guérande (or sea salt)
2 tablespoons quality olive oil
how to:
Prepare Crust.

Carefully, with a serrated knife, slice the loaf of Ciabatta lengthwise about ½ -¾ inch from the bottom. Rub the cut side of the bottom slice with olive oil and lightly sprinkle with sea salt. Place slice on a baking sheet and place under the broiler in the oven until the slice is toasted, a light golden brown (you can also do this in a large pan stovetop…that day we placed it directly on the electric burner dry). Remove and cool on a cutting board.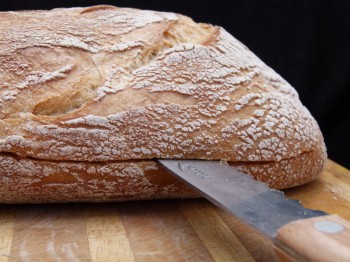 Make Salad.

Remove the stems from the strawberries and thinly slice. Trim the large stems from the arugula and rapini. Place arugula, rapini (and mustard frill leaves) and sliced strawberries in a bowl. Set aside.
Make Dressing.

Place sugar and balsamic vinegar in a saucepan over a medium-high flame. Reduce by about ⅓ to a syrup consistency (do not reduce too much or it will become a sticky solid). Pour one tablespoon of the reduced balsamic into a small bowl with the salt and olive oil. Whisk together well. Reserve the remaining reduced vinegar to garnish the salad.
Dress Salad.

Slowly incorporate the dressing into the salad with your hand (add the dressing in increments, not all at once)
Plate.

Decoratively place the salad on the toasted bread.
Garnish.

Garnish with fresh arugula flowers and same stemmed strawberries in a beautiful way.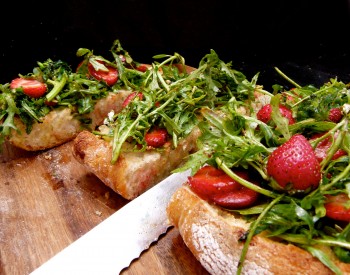 Tags: arugula, balsamic vinegar, Ciabatta, organic, organic salad, rapini, Red mustard frill leaves, salad, sea salt, strawberries