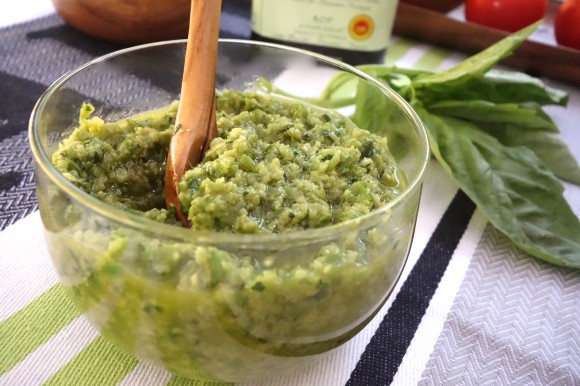 green olive tapenade with steamed cod
Tapenade is great for appetizers, served with bread, over tomatoes or grilled vegetables. Steamed fish is only one example and you can use a variety of white fish instead of Cod (i.e., Halibut, Swordfish, Lingcod). You can make this tapenade with any quality olives. Outside France you are unlikely to find la salonenque olives from Les Baux. If  you want a bright green color, try Castelvetrano olives from Sicily.
makes approximately one cup 
what you need:
tapenade
4 ½ ounces olives, pits removed (about 25 large olives)
2 anchovy fillets, rinsed
1 garlic clove, finely minced
1 heaping tablespoon minced fresh basil
2 teaspoons minced fresh Italian parsley
¼ cup + 1 tablespoon quality olive oil
1 teaspoon fresh lemon juice
fish
4-6 beautiful Cod fillets
kosher salt (as needed)
freshly ground black pepper (as needed)
1 lemon rind
1 bay leaf
fresh Italian parsley (as needed)
olive oil (as needed)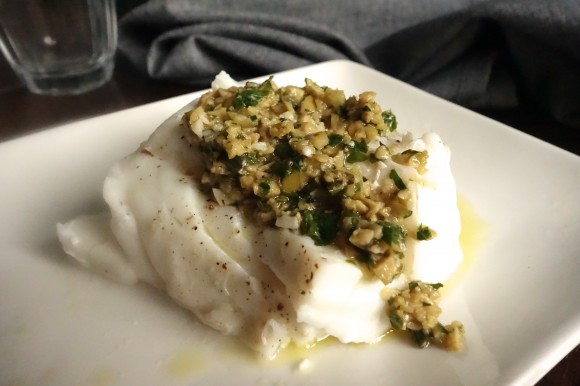 how to:
Tapenade.

Remove pits from olives. Rinse anchovy fillets. Use a knife to chop the anchovy fillets and then use the side of the knife to smear the fillets across a cutting board to create a paste. Put all of the ingredients in the bowl of a small food processor. Pulse to combine until you achieve the consistency you want. Place tapenade in an airtight container and store in the refrigerator. If you do not have a small food processor you can finely mince the olives with a chef's knife and combine all ingredients in a bowl. 
Steam Fish

. Season the fillets with salt and pepper. You can steam the fish en papillote in the oven (see here) or stovetop with water. To steam using water, place some water in a pot over a medium flame. Add a bay leave, some fresh italian parsley, and a lemon rind to the water. Place a perforated pan or steam basket in the pot with the water. The pan should not touch the water. Add the fillets to the perforated pan/steam basket. Cover with a lid. Steam until the fish is done (fish is no longer opaque). Do not oversteam.