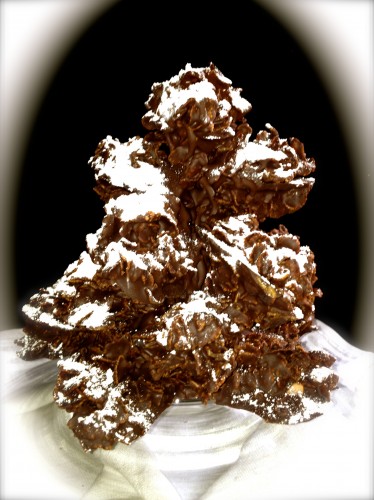 celebrating the season with chocolate

holiday tree of chocolate
(sapin de Noël au chocolat)
I could not believe my eyes when I saw holiday decor in the Los Angeles stores before Halloween. While I understand the excitement, that two month vendor jump on the holidays does not exist in Paris. In Paris, the holiday decor does not go up until the first week in December (with the exception of certain tourist streets such as the Champs Élysées) and it stays up until the Epiphany (January 6). This week the pine trees have arrived. There are no Christmas tree "lots." Instead, the corner florists and grocery stores sell them and the decorated trees are beginning to embellish store fronts, hotels, and apartment buliding lobbies. The gardienne for our apartment building put our lobby pine tree up yesterday. Covered in white flocking with white ornaments, it is a welcome sight and smell coming in from the 40 degree (Fahrenheit) chill and it was the inspiration for this (very) simple pleasure: holiday tree of chocolate (sapin de Noël au chocolat).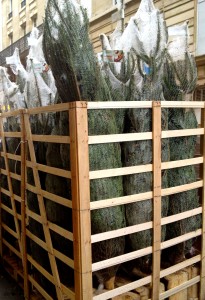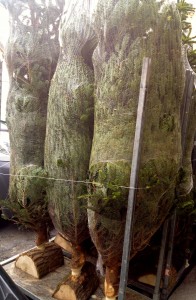 Holiday decor is not limited to pine trees and lights but expressed in a culinary way as well. Bûches de Noël, a rolled cake resembling a fallen forest tree, is a favorite this time of year. Another is sapin de Noël au chocolat  (a chocolate Christmas tree). It is a pine tree made out of chocolate and not used just for Christmas but also to celebrate the  impending New Year. This treat is super easy to make and is a fun project for you and your children as it requires very little time and ingredients.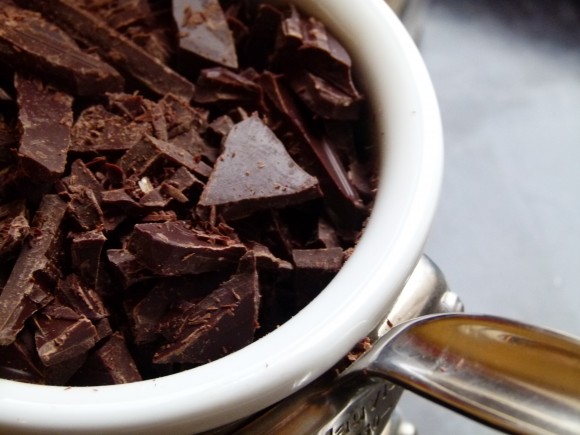 Melt your favorite chocolate (you can flavor it with spices or extract if you want) and mix the melted chocolate with nuts, praline, or your favorite breakfast cereal to give the tree structure. After you mix the two together, shape the branches and assemble them to represent a tree. Your chocolate tree is bound together with melted chocolate and set by hardening the chocolate in the refrigerator. By using the refrigerator to set the chocolate you do not have to temper the chocolate (but I include instructions for tempering as it allows the chocolate to set at room temperature, without the use of the refrigerator, and gives the chocolate a nice sheen, should you prefer this route).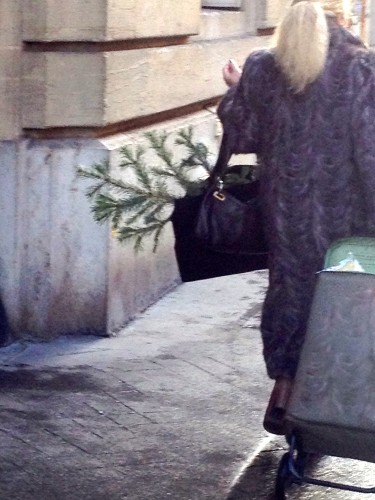 For this recipe I combine bittersweet chocolate with corn flakes (the flakes resembled tree branches to me). Consider the recipe my way of sending a little France to you in an American way. As for the sapin du chocolate that was inspired by the tree in my buliding lobby, I gave it to the gardienne and her family. I could not decorate a tree for her, but I could make her one out of chocolate.
 simple pleasure: holiday tree of chocolate (sapin de Noël au chocolat).
LM
Tags: choclate, chocolate tree, christmas, dessert, Paris (Paris), sapin de Noel