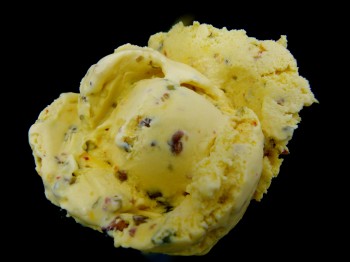 Celebrating spring and the
sameness of our ingredients:
rose water and saffron pistachio ice cream 
I have Persian neighbors and friends in both Los Angeles and Paris. Soon (March 19 in Los Angeles, March 20 in Paris) the Persian community will celebrate Nowruz. Nowruz is not a religious holiday but it celebrates the first day of spring and the beginning of the Iranian calendar new year. Although my gardeners pruned my roses to the nub, this week a singular rose burst open as if it was announcing the onset of spring, and I thought of how rose water is used in both Persian and French cooking. From this rose bloomed this week's simple pleasure just in time for Nowruz: rose water and saffron pistachio ice cream.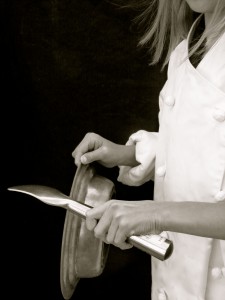 Nowruz
Similar to Los Angeles, the west side of Paris, primarily the 16th and 8th arrondissements have large Persian communities. To me one of the best things about urban living is the exposure to other cultures and perspectives (I grew up in a very small town so I did not have this advantage as a child). I particularly find the various culinary expressions and traditions to be inspiring (and delicious).
In sum, Nowruz is a celebration of life. It is a time for renewal of ourselves, our relationships, our hearts, and our homes. It is time to set things straight and start anew. I am not Persian but growing up we undertook this ritual every March which my mother referred to as "out with the old and in with the new."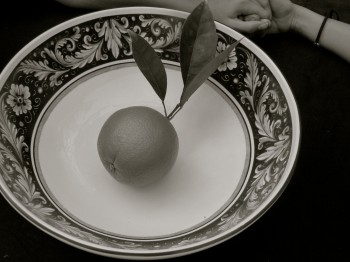 Nowruz honors the moment of the passing of the old year into the new year. The celebration takes place around a table which is covered with several foods all of which symbolize something (reminding me of gros souper, the Christmas eve dinner in Provence, which includes a spread of 13 Christmas desserts all dictated by tradition).  The preparation for Nowruz includes special meals and desserts and if there is not enough food preparation for Nowruz, after the twelve days of Nowruz has concluded there is an Outdoor Thirteen Picnic which includes more food (and a picnic)! I am thinking that this may be my favorite holiday: it celebrates humanity through food and what is not to love about that?
 rose water in food 
Rose water is not only fragrant but signifies cleansing – perfect for celebrating the onset of spring. In France, rose water (and/or rose petals) is often combined with fruit, used in apéritifs, custards, honey, cakes, sauces, desserts, ice, tisanes, rose vinegar, confiture (rose-petal jam and gelées). In Persian cooking, rose water  is used  in loukoum, nougat, raahat, baklava as well as many desserts made in preparation for Nowruz, including nun-e-khameyi (cream puffs), nun-e-gerdui (walnut cookies), nun-e-nokhodchi (four leaf clover cookies), and my favorite tut (almond cookies). Rose water can be found in the baking aisle at the grocery store or ordered online. 
Rose water and saffron pistachio ice cream is a Persian classic treat (Mashti Malone's in Hollywood is known for theirs). Although it not something traditionally made for Nowruz, after teaching the art of the French macaron and baking over 50 dozen macarons (and then making another 5 dozen for a friend's birthday), I could not stand the thought of making tut this week (which is similar to a French macaron without the meringue).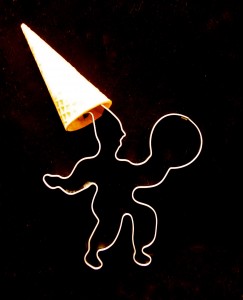 ice cream
The history of ice cream is linked to the Chinese and then the Arabs. Then it was more like sweetened ice. It was not until the 19th century that the French made this frozen treat  the thicker and creamier frozen ice cream we know now. It was also at that time that ice cream became something to be served at significant meals. Thanks to American Nancy Johnson, in the 1850's ice cream became available to the masses when she invented the hand crank freezer. Since then ice cream has become a universal favorite (although Americans consume far more ice cream than they do in Europe). 
production and ingredient notes
To welcome spring, we are making this Persian classic à la Française and with a Parisian twist. We start with a crème anglaise base (using cream and egg yolks).  You can cook the crème anglaise over direct heat but I suggest using a bain marie that way you have more control over the heat and it is more forgiving should the household distract you while you are cooking.  I use less rose water then what is typically used to make this treat. However, if the rose water is too fragrant for you, substitute orange blossom water (and use orange zest in lieu of the saffron). 
Saffron is a spice that is derived from hand-picking the stigmas from the purple saffron crocus flower.  Saffron is expensive because there are only 2-3 stigmas in each flower. Saffron is slightly bitter in taste and the crimson threads give food a warm, golden hue. The saffron balances the fragrant rose water. If you want a more pronounced saffron flavor and/or color add another ¼ teaspoon of saffron threads, but do not add more than that or it will be the only thing you taste (the adjoining photographs use ½ teaspoon saffron threads). You can find saffron in grocery stores and even at Trader Joes.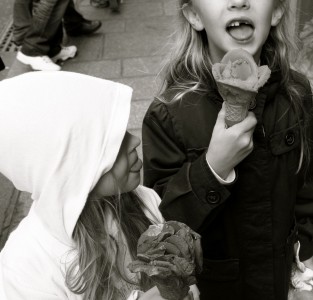 "Overrun" is basically the churning of ice cream. I prefer a shorter overrun which will result in a creamy, luxurious ice cream (like a gelato). A longer overrun results in lighter, fluffier ice cream because more air cells are created inflating the volume (similar to American ice cream). The Parisian twist is a nod to Amorino gelato shops (12 in Paris alone) and their signature presentation of scooping the frozen treat in the shape of a rose.
Two quick notes about freezing ice cream. First, always press plastic wrap over the top of the ice cream to prevent freezer burn. Second, the ice cream tastes best if you let it freeze 24 hours before consuming it. 
**
As a private chef, I am in many peoples' homes and I see first-hand how people are in an unguarded, private setting. While I will never write about my clients (I do not cook and tell), I can tell you that while I feel I have seen everything I find that people at their core (their ingredients, if you will) are fundamentally the same regardless of their geographic and economic placement or cultural heritage. While some can communicate it better than others, we all want basically the same things, a safe place for our families to live, food to eat, security, respect, and to be loved and feel needed. We all welcome spring and sleep under the same blanket of sky. Aren't we all like rose water finding expression in different ways? Or, as Gertrude Stein (another American woman who lived in Paris), said "a rose is a rose is a rose," meaning we, like roses, are all the really same despite our different heritages, genders, and colors. 
The rain is on its way out and spring will be officially here soon: let's celebrate spring and our humanity with a little ice cream. I wish all of my Persian friends and neighbors, and everyone, a very happy and prosperous new year, a festive Wild Fire Eve, and of course,  
Je vous souhaite un bon appétit!
 LM
 Dedicated to Y. M., S.Z., S.T., B.T., P.S.,
and especially, A.N. who recently helped me craft a gift card
in Farci.  Merci encore, ma belle.  LM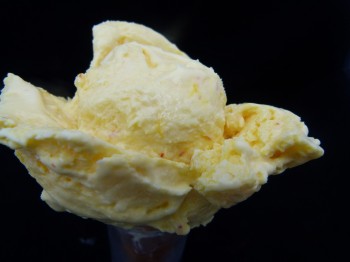 rose water and saffron pistachio ice cream
 yield: makes  4 cups
what you need:
1 cup organic whole milk 
½ cup superfine granulated sugar
4 large organic egg yolks 
2 cups organic cold heavy cream
5 teaspoons rose water
¼-½ teaspoon saffron threads
¾ cup (shelled) roasted pistachios
how to:
Dissolve Saffron.

Place the saffron threads in the rose water and use a spoon or a pestle to crush the threads. Set aside.
Crush Nuts.

If you are using whole roasted pistachios, place the nuts in a sealed plastic bag and crush the nuts with a meat tenderizer or between two cutting boards. Place the nuts in a sieve to remove the flour/fine particles from the nuts. Set the nuts aside.
Mix. 

Whisk egg yolks and half of the sugar (¼ cup) together in a stainless steel bowl. Set aside and place next to the stove.
Scald.

  Place the milk, rose water with saffron, and remaining sugar (¼ cup) in a saucepan over a high flame. Use a bain marie to control the heat. Bring to a  scald.
Temper.

Use your left hand to slowly pour the hot milk mixture into yolk mixture. As you pour, use your right hand to constantly whisk the two together (this will slowly raise the temperature of the eggs so you do not scramble them)
Make Custard. 

Pour the entire mixture back into the saucepan and cook (over low heat or a bain marie) until the mixtures thickens to  à la nappe stage (it coats the back of a spoon and reads at least 180 degrees Fahrenheit on a thermometer).  
Cool.

Remove the saucepan from heat and immediately it cool by placing the pan in an  ice bath. Once cool (at least 44 degrees Fahrenheit, but I suggest 41 degrees), stir heavy cream into custard. At this stage, you can place the un-churned ice cream in the refrigerator in a sealed container for up to 24 hours before churning it. This will allow the flavors to develop and give the ice cream a smoother texture.
Churn.

Pour the mixture into an automatic ice cream/sorbet maker and follow manufacturer's instructions. Churn until thick and creamy (for lighter ice cream, churn longer).
Add Pistachios.

Fold the pistachios into the ice cream.
Freeze. 

Place ice cream in an airtight container.  Press plastic wrap over the top of the ice cream and cover.  Place in the freezer.
Serve. 

To make a rose shape, use a flat ice cream scooper or a large flat spoon. Place a scoop in the center of the cone in the shape of a ball. This is the rose center. To make the petals, take a scoop (a flat scoop, not a ball) and press it against one side of thte rose center. Repeat three times around the outside of the center, overlapping each petal scoop by ¼ inch.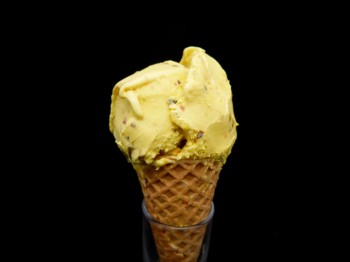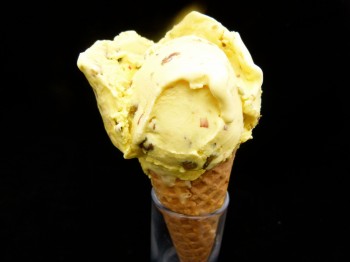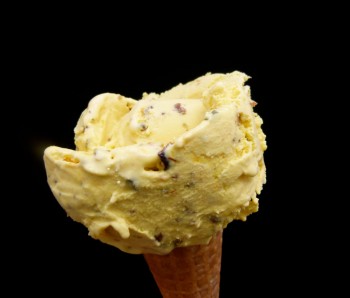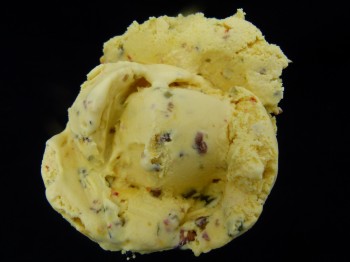 food for thought
 People are like ice cream: we all need a little sugar (a little love) to soften us or we would just be rock-hard frozen cream. It's true.
Tags: ice cream, Iranian New year, Nowruz, Nowruz celebration, Persian, pistachios, rose water, saffron