summer peach mousse with crushed almonds and rose biscuits
serves 4-6
what you need:
mousse
1 ½ pound fresh diced (yeelow or white) peaches, peeled and pits removed
3 ounces granulated sugar
2 teaspoons fresh lemon juice
2 gelatin sheets
1 cup heavy cream
1 tablespoon granulated sugar
squeeze of fresh lemon juice
garnish
crushed roasted almonds (as needed)
crumbled rose biscuits (as needed)
how to:
Make Coulis. Place diced peaches, sugar, and lemon juice in a saucepan over medium heat. Cook until the sugar has dissolved and the peaches are soft and loosing their shape (about 8 minutes).
Purée.

Use an immersion blender to purée the peaches until smooth. Strain through sieve or strainer to make sure you have a smooth texture. This should yield 1 cup coulis.
Bloom And Dissolve Gelatin.

Bloom gelatin sheets by placing them in cool water. Once soft, remove them from the water and gently squeeze to expel excess water. Dissolve the gelatin sheets by adding them to the warm coulis. Use a whisk to incorporate. Set aside to cool slightly.
Add Cream.

While coulis is cooling, place heavy cream in a bowl of a stand alone mixer fit with a whisk attachment. Turn on high speed. After 1 minute, rain in (slowly pour in) one tablespoon of granulated sugar. Whisk cream on high until peaks are formed.
Coulis Into Cream. Incorporate ⅓ of the whipped cream into the coulis. Fold in the remaining whipped cream.
Chill.

Pour the mixture evenly into cups or bowls and place in the refrigerator for at least 4 hours to chill (can be made the day before).
Garnish.

Add crumbled biscuits (or macarons) and/ or crushed almonds as a garnish before service.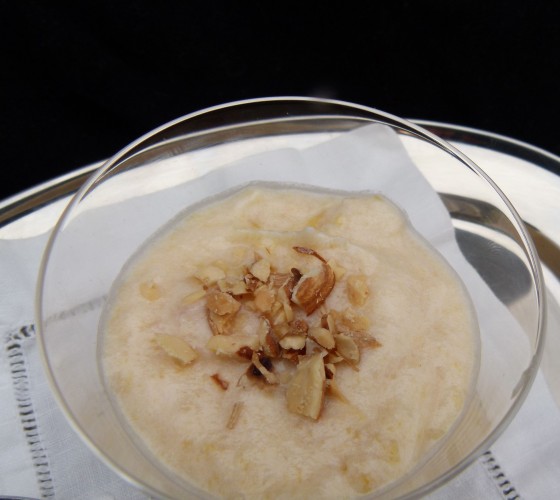 Tags: almonds, dessert, french cooking recipes, mousse, peach mousse, peaches, rose biscuits, simple pleasures