venez avec moi en Normandie: Omaha Beach,
a war approach to food, and making the most of a peach
This last week marked the 68th anniversary of the day the Allies landed in Normandy, France: D-day, June 6, 1944. En route to the D-Day sites, the flags of the Allied forces are flown along the roads and posted everywhere from public buildings to the windows of the small country farmhouses, particularly in the month of June. You cannot come to Normandy and tell me that the French dislike Americans.
My uncles fought in World War II. My father is also a war veteran. I read and re-read Stephen Ambrose's book D-Day and Cornelius Ryan's The Longest Day. I have seen Saving Private Ryan and Band of Brothers more times than I can count but I have always wanted the touch the ground we landed on 68 years ago. One summer after teaching classes in Normandy, I finally did. The inspiration for this week's simple pleasure, soupe de pêches au gingembre frais (peach "soup" with fresh ginger), was my journey to Omaha Beach. The recipe is in a companion post but before you go there, venez avec moi en Normandie (come with me to Normandy): Omaha Beach.
LM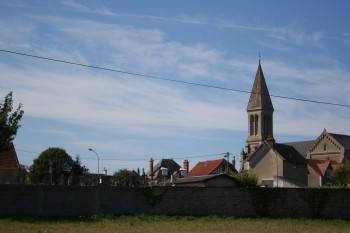 background of D-Day
In 1943, several countries decided to make coordinated landings by sea and air on the northern coast of Basse-Normandie in the spring of 1944. The mission was called "Overload."
To create confusion, there would be a bombardment, 45 minutes prior to the landings, of Germany's "Atlantic Wall" (non-connecting fortifications built by the Todt organization for the Germans). The air landings had to be done in a full moon (so the paras could see) and the landings by sea needed to occur midway through a rising tide (due to the water depth and the spikes planted underwater). To ensure an element of surprise, the bombardment had to occur in the very first light of dawn. To meet the conditions of moon, daybreak, timing, and tide, the attack had to occur between June 5-7 1944. Overload was ultimately implemented on June 6, 1944.
There were two airborne attacks (by three divisions) via glider and parachutes: (1) the American attack (to protect the Utah Beach landing); and (2) the British attack (to protect against a Germain counter-attack between the Caen Plain and the Dives Marshes).
Beginning at 6:30 a.m.,135,000 men (and about 20,000 trucks) landed on five beaches in Normandy. The beaches were designated: "Utah" (Sainte-Marie-du-Mont); "Omaha" (Colleville-sur-Mer, Saint-Laurent-sur-Mer and Vierville); "Gold" (Ver-sur-Mer); "Juno" (Courseulles-sur-Mer); and "Sword" (Saint-Aubin-sur-Mer to Ouistreham). The American troops landed on Utah and Omaha, the British landed on Gold and Sword, and the Canadians landed on Juno. The greatest losses were suffered at Omaha Beach. From the beaches, the intended targets were the cities of Caen, Bayeaux, Isigny, and Carentan.
The battle of Normandy lasted 3 months.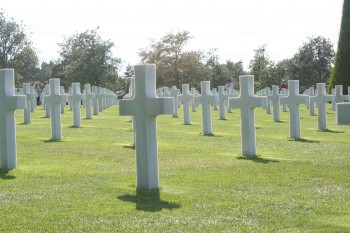 overview of the D-Day sites
There are 29 D-Day sites which include Atlantic Wall sites, landing and battle sites, museums, and cemeteries. For purposes of planning a trip, know that the majority of these sites line the north coast of Basse-Normandy in between Cherbourg (at the most northern /western point) to Mont Canisy furthest east (just west of Honfleur and Pont l'Evéque). There are five D-Day sites which lay south of this west-east route and include:
Musée <<June 44>>;
Mémorial de Montormel;

Musée de la Percée du Bocage

;
Mémorial de Caen; and
Musée de la Bataille de Tilly-sur-Seulles.
There are 8 chronological driving routes, marked "Normandie Terre Liberte", which take you from the beach assault on June 6 to taking of the port in Cherbourg then southerly to Alençon and then up to L'Aigle and Caen.
In the event there is a D-day subject or site you are particularly interested in, they are broken down as follows:
The Atlantic Wall
These are batteries, fortifications, and locations where important battles took place, including La Point du Hoc where the American 2nd Battalion of Rangers scaled the summit in a few minutes to capture this important German fortification. The Atlantic Wall sites include:
Batterie d'Azeville

(in Azeville);
Batteries du Mont Canisy (in Béneville-sur-Mer);

Site Hillman

(in Colleville-Montgomery);
La Pointe du Hoc (in Cricqueville-en-Bessin);
Musée Radar de Duvres (in Douvres-la-Délivrande);
Batterie de Maisy (in Grandcamp-Maisy);
Batterie de Longues-sur-Mer (in Longues-sur-Mer);

Musée de la batterie de Merville

(in Merville-Franceville);

Musée du Mur de L'Atlantique

(in Ouistreham); and
Musée de la Batterie de Crisbecq (in

Saint-Marcouf-de-I'Isle

).
The Airbourne Attacks
There is a D-Day site devoted to each attack. The Mémorial Pegasus, in Ranville, memorializes the British air attack, and the Centre Historique des Parachutistes US du Jour-J in Saint-Côme-du-Mont for the American air attack.
Cemeteries
There are 16 British cemeteries, 2 Canadian cemeteries, 2 American cemeteries, 1 Polish cemetery, 1 French cemetery, and 4 German cemeteries. The American Cemetery in Colleville-sur-Mer is the largest.
Museums
3 museums cover the overall events of the Normandy Battle: the Musée Mémorial de la Bataille de Normandie in Bayeux; the Musée "Juin 44" in L'Aigle (has wax figures with voices to match portray 13 different critical moments in WWII); and the Mémorial de Montormel in Montormel overlooks where the defeated Germans were encircled by the Allies in August 1944.
The Mémorial de la Liberté Retrouvée in Quinéville is by Utah Beach and presents the realistic scenes of daily French life during WWII.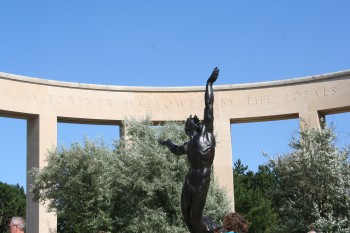 The American Effort
5 museums honor the American effort and include:
Musée de la Libération

(in

Cherbourg

);
Musée des Rangers (in Grandcamp-Maisy focuses on the battle at P

ointe du Hoc

);
Musée Mémorial d'Omaha Beach (in

Saint-Laurent-sur-Mer

);
Musée du Débarquement Utah Beach (in Sainte-Marie-du-Mont); and
Musée D-Day Omaha (in Vierville-sur-Mer).
To avoid confusion, Omaha Beach includes 3 beaches, from west to east: Vierville-sur-Mer, Saint-Laurent-sur-Mer, and Colleville-sur-Mer.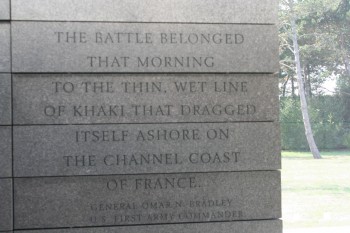 The British and Canadian Effort
6 museums honor the British and Canadian effort:
Musée du Débarquement (in Arromanches),
Centre Juno Beach (in Courseulles-sur-Mer),
Musée N. 4 Commando (in Ouistreham),
Musée de la Percée du Bocage (in Saint-Martin-des-Besaces);
Musée de la Bataille de Tilly-sur-Seulles (in Tilly-sur-Seulles); and
Musée America Gold Bach (in Ver-sur-Mer).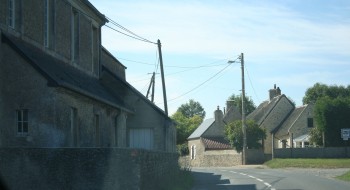 my destination: Omaha Beach
The ability to have a free 8 hours was a pleasant surprise. I did not have time to see nearly all I wanted to see but I did have time to drive to Omaha Beach and back to Rouen to return to Paris on the 8:10 p.m. train.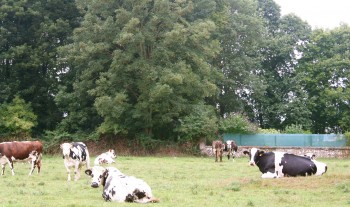 I stuffed myself and my culinary gear in my tiny rental car (which was noticeably closer to the ground due to my new acquistions of copper antique pots, several bottles of Calvados, cider, cider vinegar, butter biscuits, various kitchen truc, cheeses from artisan farms I visited, and books.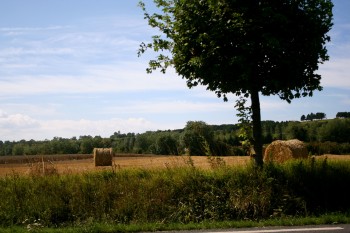 I set out on the A13 toward Caen, without a map or a GPS, but I had gas in the car, my French cell phone, and lots of French rap on the radio to keep me company.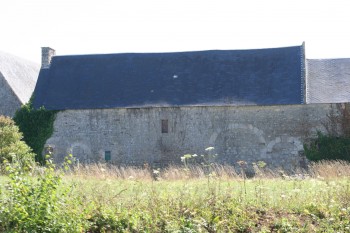 While Normandy's seascape – its rough sea and looming bluffs – is dramatic and powerful, Normandy overall is quiet country life with apple orchards, grazing cows, rolls of hays, and small farmhouses dotted throughout the green fields. As I drove, I tried to imagine what these country farmers felt during the war when their quiet country was overrun with Germans and then liberated by the Allies. The sound alone must have been overwhelming.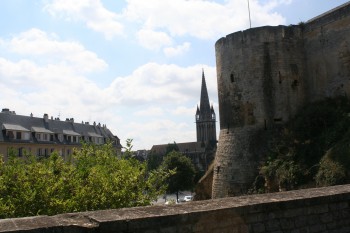 I stopped in Caen to lunch (and get a map and figure out how exactly to get to Omaha Beach). Before its liberation by the British and Canadian troops in July 1944, much of Caen was destroyed. It was rebuilt but the city was changed. Caen seems to center around the Château de Caen, built by William the Conqueror. The Château houses the Musée des Beaux-Arts de Caen and Musée de Normandie. After exploring the Château, I followed a road just to the west, Liberation du Vaugueux, lined with quaint restaurants and bistros: including Avenue 21 (no idea if it was related to the one in Monte Carlo), La Poterne, L'Insolite, Le Bistrot. I chose a little bistro where I heard only French: P'tit B.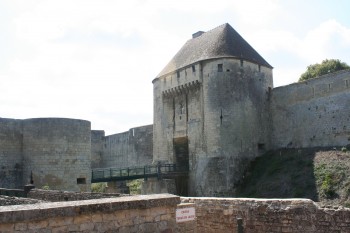 The food was beautifully presented, delicious, and true to the flavors of the region. Rondelle-sliced blood sausage with sautéed apples and a hint of cinnamon on top of a light sable, chicken from the nearby Auge Valley in a light mushroom cream sauce and steamed potatoes. For dessert, peach and basil soup (It was the sixth time I had peach "soup" this summer and I enjoyed seeing everyone's different interpretation of a simple closure to a meal). After I befriended four Rouennais whom were eating lunch next to me, I walked off my lunch and found a tourist office and double checked the train times (I still had to return the rental car in Rouen which was nowhere near the train station).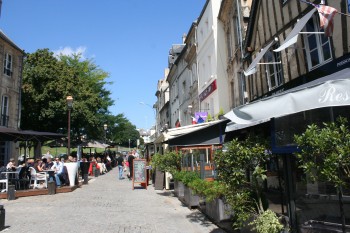 From Caen, I took the N13 to Bayeux. Bayeux was one of the cities targeted by the Allies and now has the Musée Mémorial de la Bataille de Normandie which documents the landings and the unfolding battle after the landings. Bayeux is also known for its tapestries (230 feet of embroidered cloth which tells the story of the Norman Conquest in 1066 exhibited in the Musée de la Tapisserie de Bayeux) and its cathedral (Cathédrale Notre-Dame de Bayeux).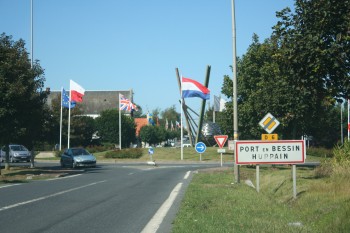 From Bayeux, you take the D6 toward Port Bessin then the D514 to Colleville-sur-mer.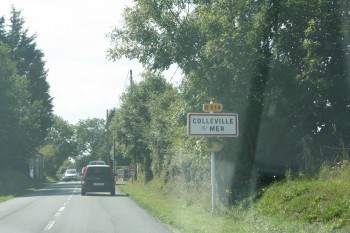 The route to the American cemetery was a little country road, flanked by modest country homes, restaurants and wild flowers.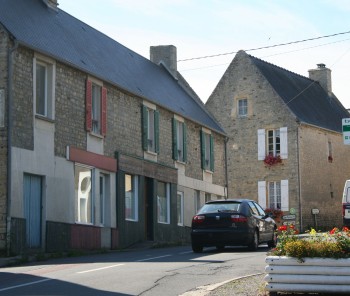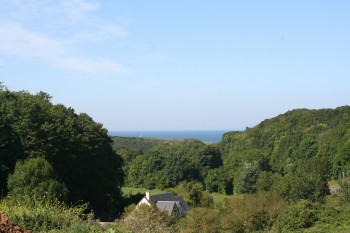 The American Cemetery and Omaha Beach
(Vierville-sur-Mer, Saint-Laurent-sur-Mer, and Colleville-sur-Mer)
The American Cemetery and Visitor's center are at Colleville-sur-mer. You first enter the Visitor's center and then you walk west to the cemetery. The cemetery covers 172.5 acres and has 9,387 American graves. A memorial: "The Spirit of American Youth Rising from the Waves" is on the east end facing the headstones. On the west end are granite statues of the American and French figures representing the United States and France, forever intertwined. Next to the memorial is a garden of the missing with a list of names of those missing in action.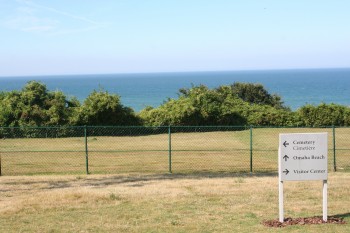 When you walk in the visitor's center you are handed a brochure which reads:
Plot:_____
Row:_____
Grave:____
It is easy to write about food. It is not easy to write about how you feel while at this sacred and solemn place.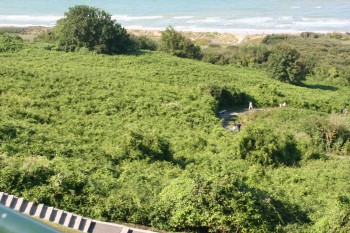 The American cemetery is on the bluffs and paths lead to the beach where the 1st and 29th Infantry landed. The open-exposed beach of 200 yards beach is far, far below the plateau. There is an overlook a little north of the memorial which gives a panoramic view of Omaha Beach. I stood here. Stupidly, I thought that if I had a belly-full of French food in Caen, I would be less affected by what I saw here. I was wrong. I should know of all people that a full stomach will not comfort an aching heart or a worried mind. Despite my lunch, I felt sad and a little angry at humanity for creating such loss.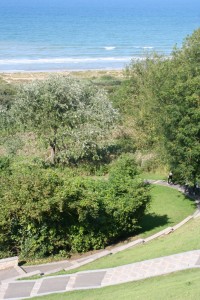 When I stared down at the beach I wondered how those men, already sick, tired, cold, under attack and scared, with swamped boats, ever got on these beaches and made it up these bluffs? I thought of the words of another American, Ernie Pyle, who was there, 68 years before.
On June 12, 1944, in one of his D-Day columns, Ernie Pyle described the landing on Omaha Beach and I recalled those phrases: "one-hundred foot bluff," German troops hidden in trenches, "hidden machine gun nests," "barbed-wire entanglements with mines," mines attached to buried logs, "machine guns firing from the slopes," "underwater obstacles," "fields of evil devices under the water," an "inhuman wall of fire from the bluff." Pyle wrote that it was "a pure miracle that [the outnumbered Americans] ever took the beach at all" and they did "it with every advantage on the enemy's side and every disadvantage on [theirs]" but the Americans had the spirit that "wins battles and eventually wars."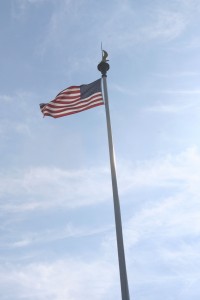 Pyle wrote the column for the purpose that others would know "and appreciate and forever be humbly grateful to those both dead and alive who did it for [us]."(Ernie's War: The Best of Ernie Pyle's World War II Dispatches, edited by David Nichols, pp. 277-80). Mission accomplished.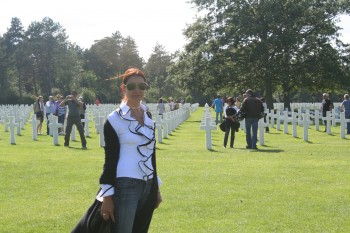 While the cemetery was filled people, the majority were not American. I went to a private side garden to call my father to share the moment with him. No answer. I called again. No answer. It was like the ending to a French movie. I sat on that cement bench and thought about my uncles and the other men that fought on D-Day.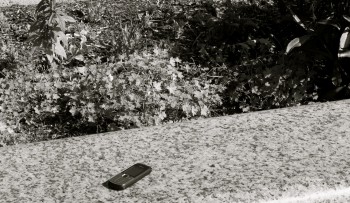 While I have hopelessly be drawn to France all my adult life, I am, proudly, an American. So with a belly full of French food and a heart full of American pride, I headed back to Rouen in record time to get gas, park the car in the after-hours lot, walk to a random hotel to deposit the car keys, and catch a cab (because they was no way I could carry all the copper and Calvados for miles) to the train station.
I literally stepped on the train at 8:09 (departure time 8:10) with my copper jam spoon falling from a bag and glass Calvados bottles noisily announcing my arrival. Three French train employees laughed at the clumsy display and as they helped me, they said: "C'est pas besoin de vous dépêcher. Nous ne partirons pas sans vous." (Don't hurry we would not leave without you). With my face flushed from the luggage struggle, I responded: "Merci. Alors, c'est très sympa mais tout le monde pourrait s'inquiéter qu'il y ait une grève des trains maintenant ! " (that is nice of you but everyone would worry that it was the beginning of a train strike). They laughed because the reference was timely (there was a major airport strike only two weeks previously). As we stuffed my bags on the baggage containers, my French phone rang cock-a-doodle-doo-ing (my American phone quacks like a duck … the animal rings keep me in the relevant time-zone). Other passengers stared at me and as I reached for my phone, I explained: "Je suis un chef du cuisine, " (I am a chef) . They nodded as if the explanation for the rooster ring was logical and returned to their business and the train took me to my second home, in Paris.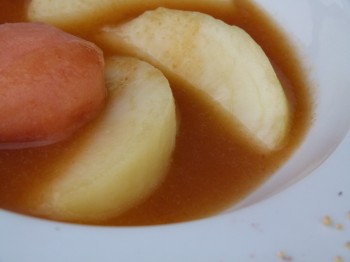 the war and food and making the most of a peach
When I lunched in Caen, I wondered if France's approach to food (of conservation, appreciation, and utility) was shaped by its history of revolution and wars? I thought of this because my grandfather's family was affected greatly in the Great Depression (as were many Americans) but it was this loss that shaped his approach to food. My grandfather had an appreciation for food, especially quality food, he made things last and there was no waste. I remember my grandmother canning, puréeing, and stirring ketchup on the stovetop into all hours of the morning so not one tomato was wasted. My grandfather held-on dearly to that special brandy or port bringing it out to savor in small quantities at a time and only on special occasions. Food was rationed, unconsciously,…portions were what they needed to be.
Despite the tragedy of 9/11 (and the rations we had here during the World Wars), the United States has not known war the way France has in the last 100 years where on more than one occasion their entire country was ravaged by war. The manner in which the baby boomers, my generation, and subsequent generations approach food stands in stark contrast to that of my grandfather's and that of the French, and is, quite honestly, wasteful with an emphasis on quantity and abundance: it is getting as much as you can for as little as you can. I find the opposite is true in France. In France, you take what you need for hunger and no more. There is a genuine appreciation for food and especially for making the most of quality ingredients in a special, thoughtful way. Is it because they, like my grandfather, know what it is like to be without it?
This week's recipe was inspired by the peach soup I had in Caen (although peach soup is popular throughout France). This "soup" is nothing but peaches prepared three ways: juiced, puréed, and sliced raw. There is no added sugar. It is embellished with only freshly grated ginger and freshly squeezed lemon juice.
Make sure to fully chill your peach mash before putting it into your ice cream/sorbet maker. If you do not have one, you can make peach ice by placing the mash in the freezer, taking it out to break up the frozen mash with a fork and then return it to the freezer. Repeat 2-3 times
LM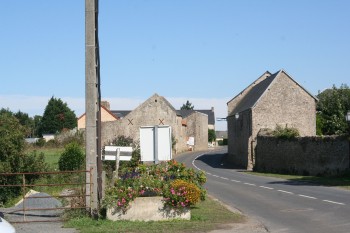 tours and more information on D-Day sites
There are many tour services which provide group or private tours of the D-Day sites. The tours can last one half day or up to two days. They can begin in various cities in Normandy or Paris. For more information:http://www.overlordtour.com or http://www.wellarrangedtravel.com
The information for the sites and historical recounting of the Landings, except as otherwise noted, were gathered from "The D-Day Landings and the Battle of Normandy: Exploration and Emotion" produced by the Association Normandie-Mémoire and the tourist boards. You can find more information at: www.normandiememoire.com
Association Normandie Memoire
88, rue Saint Martin – 14000 Caen
info@normandiememoire.com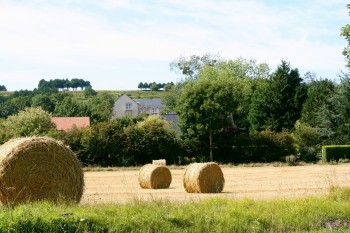 other day trips in the Calvados region
(non D-Day related)
If you are driving in this region, you should know that there are many driving day trips that are unrelated to the D-Day sites and can be added to your agenda. All these routes are well-marked on the road and take you through the Augeron area which is beautiful. La Route du Cidre (accessible from the N13 and N175), is a marked tourist path which leads you to about 20 producers of cider, Calvados, and Pommeau (a mixture of cider and Calvados and enjoyed as an apéritf. Other marked routes include La Route des Gorges de la Vire (40 mile route focuses on the landscapes of the rivers Vire and Souleuvre throughout the Vire Bocage which is really beautiful); La Route de la Suisse-Normande (40 mile route covers rocky and terrain and gorges and goes through towns and offers outstanding views of Normandy landscape and there are a castles and museums included on the route); La Route des Moulins (the 22 mile windmill route is just south of the D-Day landing beaches you can see rivers windmills, churches); and La Route des Traditions (40 mile route that reflects the Norman craft and local resources and you can learn about local production and sale of everything from honey, cider and snails to their religious traditions exhibited by their chapels and monastic life). For more information see:
www.calvados-tourisme.com
www.vire-tourisme.com
www.ot-suisse-normande.com
www.courseulles-sur-mer.com
Tags: d-day, Normandie, Omaha Beach, peach soup, soupe de pêche, The American Cemetery, The battle of Normandy, World War II