soupe de pêches au gingembre frais
(peach "soup" with fresh ginger)
serves 8
what you need:
sorbet
2 cups fresh peach juice from yellow peaches
3 cups chopped ripe yellow peaches
1 teaspoon fresh lemon juice
1 teaspoon fresh ginger zest
peach soup
4 beautiful white peaches, cut into 8 wedges
3 cups fresh peach juice from yellow peaches
garnish
melange de pain d'épice (as needed) or ground cinnamon
pink and/or golden sanding sugar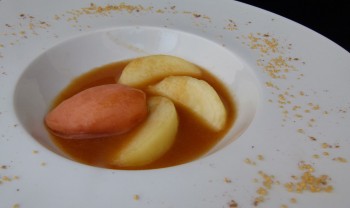 how to:
prepare sorbet
Make Peach Juice.

Place peaches in a food mill fit with a large disc or use your hand (or a wooden spoon) to press a peach half through a sieve. Discard the skins caught in the mill or sieve. You need to yield 2 cups juice.
Simmer.

In a saucepan, combine peach juice, lemon juice, and the diced peaches. Simmer until peaches are tender (about 20 minutes).
Mash/Strain.

Carefully pass the cooked peaches and juice through a food mill (using the fine disk) or a sieve. Discard peach flesh fibers caught in the sieve or mill.
Chill.

Place peach mash in refrigerator until it is cold at least 2-3 hours.
Make Sorbet.

Place chilled peach mash into a pre-frozen ice cream/sorbet maker and follow the manufacturer's instructions. Do not over-churn or the sorbet will be frosty and a little dry.
Freeze.

Remove the sorbet from the ice-cream maker with a spatula and place in an air-tight container. Before you put the lid on, place plastic wrap over the top of the sorbet to prevent ice crystals from forming. Sorbet is best when enjoyed within the week.
assemble soup
Cut Peaches.

Wash white peaches well. Cut 8 wedges from each peach. Remove the skins. Arrange 4-5 peach wedges in a shallow (chilled) bowl or rimmed (chilled) plate in a decorative way.
Add Sorbet.

Place a quenelle of peach sorbet in the center of each bowl.
Add Juice.

Pour ⅓- ½ cup peach juice in each bowl.
Serve.

Serve soup immediately while chilled.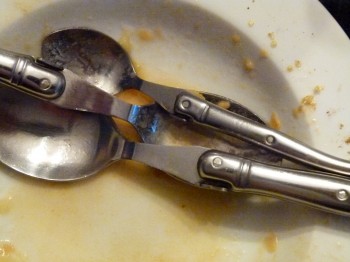 Tags: french cooking recipes, ginger, healthy dessert, healthy snacks, hello peaches, peach sorbet, peach soup, simple pleasures, vegetarian