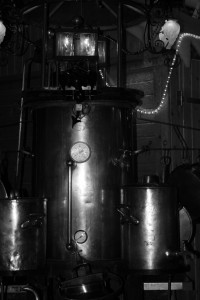 vin chaud
Le vin chaud (hot wine or "mulled wine") is a warm, festive treat for the holidays that is easy to make (the simmering wine makes your home smell good too).  Here are a few suggestions to help you with your preparation.
First, I like to toast the spices and fruit in a dry pan before adding the wine because that intensifies their flavor.   Once the spices are fragrant and a fond from the fruit has begun to form on the pan bottom, I add a touch of brandy and then immediately add the wine. The brandy adds a nice depth to the wine and releases the fond from the pan (however omit the brandy if you are simmering cider instead of wine).
Second, simmer the wine for about 45 minutes.   Do not boil the wine or simmer longer than one hour or the wine will become bitter.  Do not simmer for less than 30 minutes because the spices will not have been infused.  You can add additional spices to your taste (I often I add licorice root as well); however, do not add any ground spices or your wine will be chalky and cloudy.
Third, most mulled wine recipes add sugar to the wine (anywhere from 1/4 to 1 cup per bottle).   I omit the sugar completely.   It is not necessary and wine already has sugar in it.  However, I do add a couple of dried cherries (you can use raisins if you want) which slightly sweeten the wine and compliment the fruit overtones in the wine.
Fourth, with respect to the wine, avoid earthy Bordeauxs and full-bodied Cabernets.  Use a medium-bodied red wine such as a Pinot Noir or Red Zinfandel (although Merlot and Shiraz could work as well).   I include two Pinot Noir recommendations below (thanks to my friend Mark at The Wine House).  The Cloudline (from Oregon) is more fruit forward while the Santa Maria Pinot is more of a subtle, classic Pinot Noir.  Choose according to your taste preference.
Lastly, I am always asked how much money to spend on a bottle of wine with which you are going to cook.  In my opinion, you can neither select nor eliminate a wine based solely upon price  (price is also subjective).   Instead, my rule of thumb is that you should buy a wine that you would drink and enjoy but not a wine that you would sip and savor.
Santé !
LM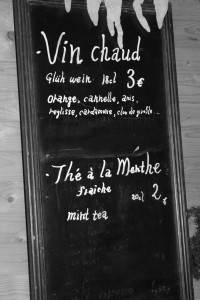 vin chaud
stats:
Yield: 4 glasses
Serves: 4
what you need:
1 bottle red wine  (Pinot Noir, Merlot, or Red Zinfandel)
2 cinnamon sticks
1/2 vanilla bean pod
6 whole cloves
6 cardamon pods (white or green)
2 strips orange zest (about 2 inches in length with no pith)
1 star anise
1 hazelnut, halved
4 dried cherries (or raisins)
5 pink peppercorns
1 tablespoon brandy
how to:
Toast Spices.

Place spices, hazelnut, cherries, and orange rind in a sauce pan over medium heat.  Toast until fragrant and the cherries and orange begin to stick to the pan.
Deglaze.

Add brandy to pan and immediately turn down the heat to a low flame.
Simmer

.  Add wine to the pan.  Simmer until flavors are infused about 45 minutes.   Do not simmer longer than 1 hour or less than 25 minutes. 

Do not boil

.
Strain

.   Pour wine through a strainer.   Discard spices, nut, and fruit.
Serve

.  Serve wine warm.  Strained wine can be stored and reheated.  Do not serve cold.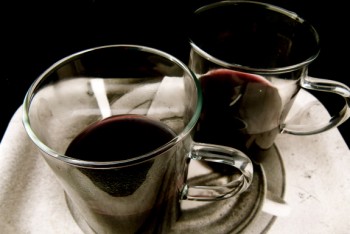 wine notes
Here are some Pinot Noir suggestions: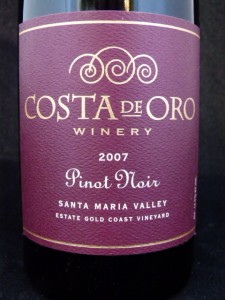 2007 Costa de Oro Pinot Noir Santa Maria
Country: United States
Region: Santa Maria, California
Varietal:  Pinot Noir
Vintage:  Pinot Noir
Producer:  Costa de Oro
Price:  18.99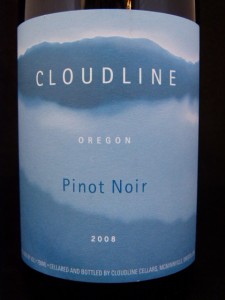 2008 Cloudline Pinot Noir Oregon
Country: United States
Region:  Oregon, Willamette Valley
Varietal:  Pinot Noir
Vintage: Pinot Noir
Producer: Cloudline
Price:  17.99
where to buy
My wine selections can be found on the internet.  If you live in Los Angeles, my selections may be purchased at:
The Wine House
2311 Cotner Avenue, Suite B
Los Angeles
310.479.3731
www.winehouse.com
Tags: cider, cloudline, costa de oro, french cooking recipes, holiday drink, hot wine, mulled wine, pinot noir, red wine, simple pleasures, spices, vin chaud