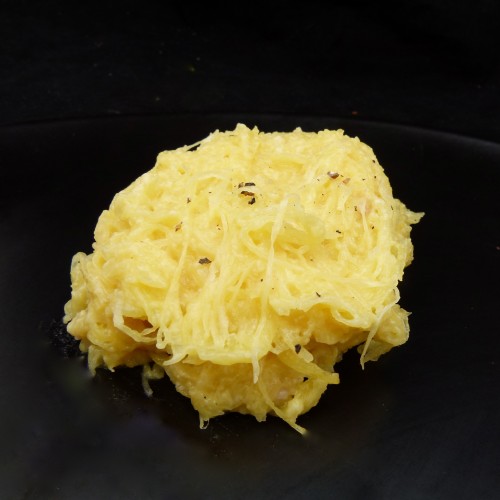 from a special cheese to a brasserie on Saint Dominque,
comfort food perfect for the season:
spaghetti squash à la carbonara
I held in my hand a beautiful ewe's (sheep) milk Italian cheese, Pecorino Rustico Pepato, I got from Norbert (The Cheese Store of Beverly Hills). The cheese, spiked with black pepper, reminded me carbonara. Eager to use the cheese but hesitant to use it on routine spaghetti pasta with little nutritional value, a basket full of winter squash caught my eye. Inspiration for this week's simple pleasure was found: spaghetti squash à la carbonara.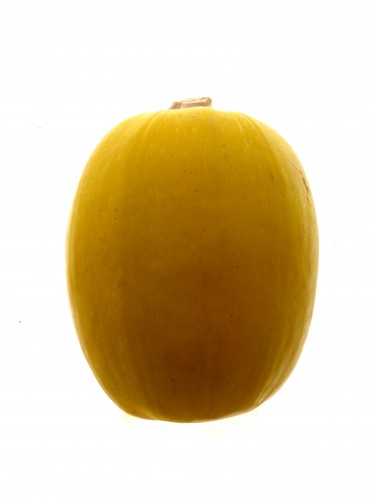 My disclaimer is this: this dish is not the light, fresh, protein-rich dish which is my usual fare. It is not a marathon preparation favorite nor am I the first person to turn a fruit (vegetable) into a creamy, cheesy delight of warm peppery and bacon goodness. This is what I would call unabashed comfort food. Cold weather food (comfort food probably on your "enjoy in moderation" dish, just like foie gras soup or braised pork belly roulade with sautéed Calvados flambléed apples). Something that says autumn and winter and has nothing to do with turkey.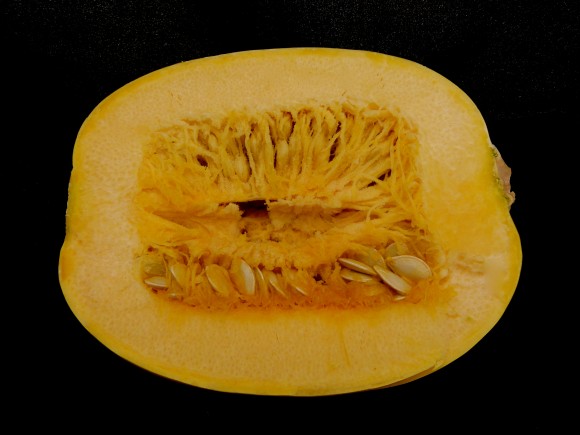 The good news is that at the core of this recipe is seasonal spaghetti squash and egg protein (I left the egg whites in). The less than good news is that there is a generous use of cheese but I do use pancetta (which has less fat than lardons or bacon) and I eliminated the cream all together. As carbonara goes, I believe it is as healthy as you can get…we took out the cream and the empty pasta carbohydrates and that is something, right?
Classic carbonara is an Italian, not French, pasta dish but it is also commonly considered a mode of preparation (by cooking the eggs and melting the cheese with the heat of the cooked spaghetti). What adds to the richness and memorableness of this dish is the enthusiastic embellishment of freshly ground black pepper and the bacon/pancetta (because you also use the rendered pork fat from cooking the product by add the pasta to it at the same time you add the egg/cheese mixture). Heavy cream is often used with complete abandon.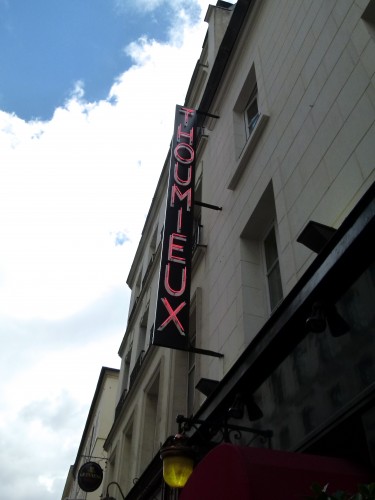 The French are not strangers to carbonara. One of the more inventive uses of the carbonara technique is by Chef Jean François Piège in his squid à la carborona at the Hôtel Thoumieux (a brasserie on rue Saint-Dominique in the 7th arrondissement of Paris see my July 20, 2011 post for more information). The dish has what some describe as a cult following. Chef Piege cuts squid into strips so they resemble spaghetti pasta and cooks the squid with sliced onions in generous amounts of egg yolks and heavy cream, topping it with an egg. It is divine, but I just could not use my peppered ewe's milk cheese with seafood nor did I want to give anyone the extra task of shopping, slicing or shredding during the holidays.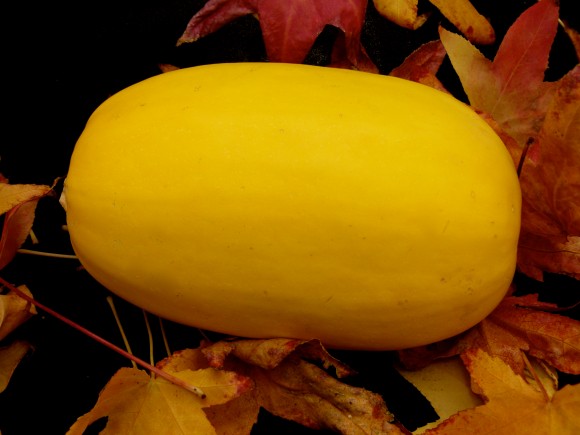 the season for spaghetti is now
'Tis the season for winter squash. Spaghetti squash is a surprise for many people. It is a fruit, commonly thought of as a vegetable, which looks like a yellow blimp. Once cooked, the starch granules absorb the moisture and due to the unique fibrous texture of the spaghetti squash, the yellow flesh separates into strands resembling spaghetti. Rich in beta carotene (the darker the yellow/orange, the more beta carotene), potassium, and vitamin A, spaghetti squash has about 42 calories per cup.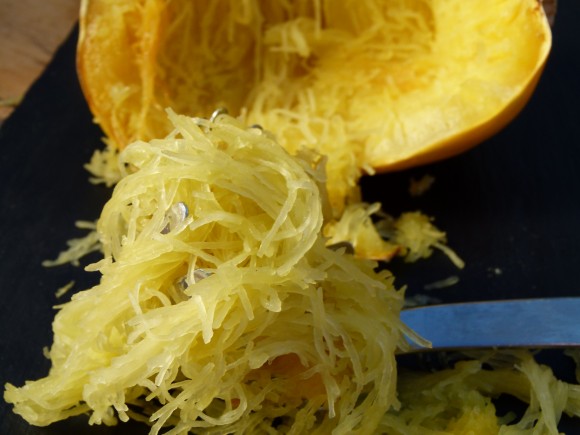 I first made this recipe for a friend visiting from out of town. Born in Paris, with a mother who routinely and easily makes pâté de foie gras during holidays, her food knowledge and appreciation for food is innate (like most French) and I value her food opinion and trust her "taste," in all things, especially food. She loved it. I have since made it for others and it has been a hit. French and American approved: gotta love a recipe like that. Be sure not to omit the fresh thyme when you are roasting the squash; it adds a fresh, subtle element to the dish. I like this recipe because it is simple, cold weather comfort food that tastes just as good (if not better) the second time around reheated as "leftovers."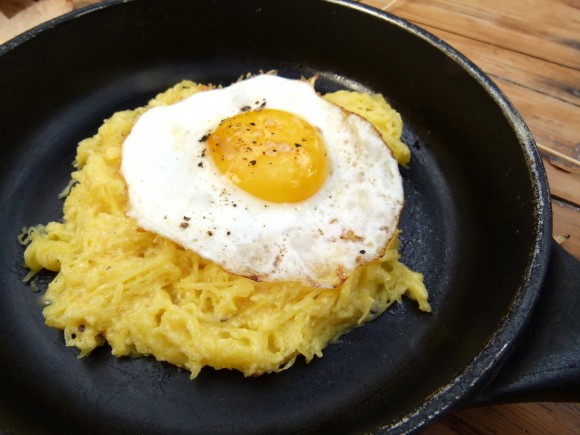 If you happen to live in Los Angeles, ask Norbert or any of the wonderful people working with him for Pecorino Rustico Pepato. If you do not live in Los Angeles, ask your local cheese shop or speciality grocery store for the cheese. As a substitute, you can use another Italian ewe's milk cheese (taste them first as a few Pecorinos can be a little too salty and you do not want that) or just use more parmesan.
mangez bien
vivez bien
bon appétit (eat well, live well, and enjoy)
spaghetti squash à la carbonara
LM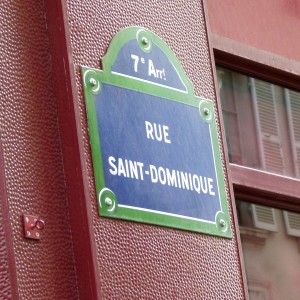 Tags: carbonara, egg, France, french cooking recipes, Paris (Paris), sparghetti squash