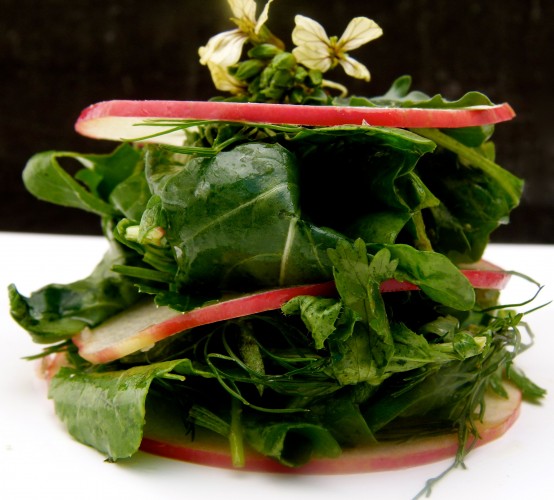 arugula, herb and apple mille-feuille
stats:
serves 4-6
what you need:
salad
1 crisp red apple, thinly sliced and seeds removed
1/2 cup fresh Italian parsley leaves
1 cup fresh coriander leaves
1 cup fresh tarragon leaves (stripped from the stems)
1 cup fresh dill (stripped from the stems)
4 cups wild arugula
fresh lime juice (as needed)
dressing
4 tablespoons olive oil
4 teaspoons lime juice
1 teaspoon sel de Guérande (or other quality sea salt)
2 teaspoons minced shallots
1 teaspoon dijon mustard
1/4 teaspoon ground cumin
how to:
Make Herb Salad.

Combine all greens in a bowl. Slice apples and rub flesh with lime juice to prevent discoloration.
Prepare Dressing.

Place mustard, lime juice, and cumin in a bowl. Whisk in oil. Add salt and shallots. Mix well. Adjust seasoning if necessary. Set aside until service (dress herb salad immediately before service or it will get soggy).
Dress Salad.

Slowly add the dressing to the herb salad, tossing the greens so that they are lightly coated.
Plate

. Place an apple slice on a plate. Add a small handful of greens on top of the apple slice. Add another apple slice on top of the greens. Add a second layer of greens followed by a third apple slice.
Serve

. Serve immediately on a chilled plate.
Tags: apples, arugula, french cooking recipes, herb salad, herbs, mille-feuille, sel de Guerande, simple pleasures