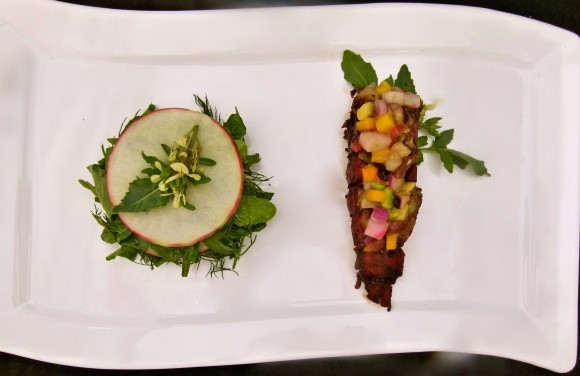 palate fatigue, heat stroke and a cool, new way to enjoy lobster
I recently dined with a friend of mine who is also a chef in a Los Angeles. Naturally, we discussed food and the subject of "palate fatigue" arose (his phrase, which I quickly latched onto). Palate fatigue is when you are tired of seeing the same food or food prepared the same way. It happens to everyone, not just chefs. Newness is necessary. Thoughts of "palate fatigue," lobster season, and trying to stay cool in this sweltering California heat resulted in this week's simple pleasure: chilled lobster farce in balsamic and muscat reduction served with an arugula, herb and apple mille-feuille. Something new. Something cool. Something simple. Something good.
Lobster is available throughout the year, but Summer and early Fall are generally considered lobster season because they are easier to trap when the water is warm. Maine has its annual lobster festival in August and September is lobster month in Los Angeles as both Redondo Beach and the Port of Los Angeles host two separate lobster festivals. The is September 16-18, 2011 in San Pedro California (http://lobsterfest.com), and the Redondo Beach Lobster Festival is September 23-25 (www.lobsterfestival.com).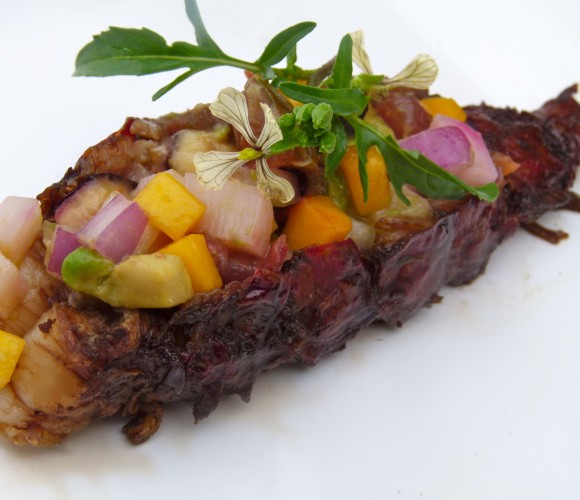 Lobster is traditionally served with a fat: drawn (melted) butter, a butter or mayonnaise based sauce (i.e., lobster à l'américaine and lobster en chemise), or combined with mayonnaise and served in a roll. All of them delicious. However, the thought of hot food served with loads of butter or mayonnaise ? Palate fatigue not to mention the empty calorie intake (butter is 102 calories per tablespoon and a usual side of drawn butter is 4-6 tablespoons). Additionally, the starchy side dishes that often accompany lobster (steamed corn or potatoes) seem heavy for this hot weather.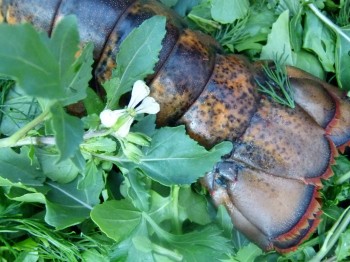 When I was recently in Colmar, France, Chef Jean-Yves Schillinger served lobster stuffed with ratatouille (the vegetable braise not the movie), a herb-based mayonnaise sauce on the side and a green salad. It was inventive and delicious. In this heatwave I was reminded of Jy's stuffed lobster but wanted to take advantage of the seasonal produce (crisp apples, sweet figs, and cherry tomatoes, to name a few) and create a recipe that you could easily do at home.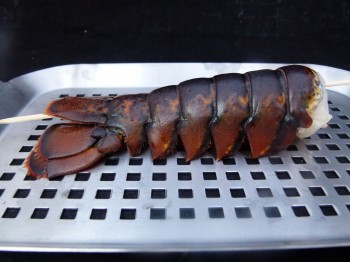 This recipe uses lobster tails as I know many of you will not want to mess with a whole live lobster. However, if you do I recommend killing the lobster with your knife. Hold the tail with your left hand and with a chef's knife in your right hand, plunge the knife in top of the lobster's skull and bring the blade straight down toward its eyes and ending in between the eyes. There are several reasons for this: (1) it is more humane than freezing them or boiling them live, (2) it is necessary to kill the lobster first because you need to keep the tail straight by placing a skewer through the length of the tail before you cook it, and (3) if the lobster is tense (if it was just caught or you have been handling it a lot), the meat will be tough. You will know the lobster is dead when its eyes have retracted and liquid has run from its head.
This recipe involves 30-40 minutes active time, the majority of which is chopping. The farce (the stuffing) is a simple fruit salad which can be prepared in advance and stored in the refrigerator. The lobster takes about 6-8 minutes to cook and can be made in advance as well. It takes only a few minutes to reduce the balsamic glaze to coat the lobster tail. If you are cooking a whole lobster, make sure to coat the claws with the glaze as well. The legs can be added to the fruit salad.
Mille-feuille, which means a thousand sheets, is a French dessert alternating layers of puff pastry with pastry cream. This is a healthy alternative. Instead of puff pastry we are using crisp apples. Rather than pastry cream, we use fresh herbs and arugula. The dressing is light and does not detract from the greens. The spicy arugula goes well with the fruit salad as well as the balsamic reduction. The mille-feuille takes no time at all to make and is posted here.
Je vous souhaite un bon appétit !
LM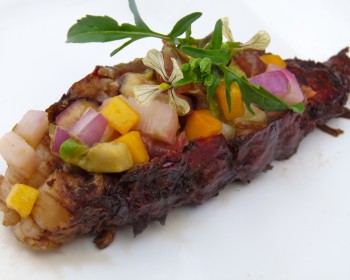 lobster farce in balsamic and muscat reduction
stats:
serves 4
what you need:
lobster
4 fresh lobster tails
1 cup seafood or fish stock
1/2 cup dry white wine
1 sachet (1 bay leaf, fresh Italian parsley, fresh tarragon, black peppercorns, 1 strip lime peel)
1/8 cup muscat (or red wine)
1/4 cup balsamic vinegar
1 teaspoon light brown sugar
fruit salad farce
1/4 cup diced avocado
1/4 cup diced mango
1/4 cup diced cherry heirloom tomatoes
1/4 cup diced black mission figs
2 tablespoons diced red onions
1/4 diced hearts of palm
1 teaspoon Xérès (or other Spanish vinegar)
1/2 teaspoon salt
1 teaspoon fresh lime juice
1 teaspoon olive oil
how to:
Straighten Tai

l.

Place a skewer through the tail lengthwise to keep it straight when cooking. Set aside.
Cook Lobster

. Place wine, stock, and sachet in a large pot over medium heat and let it simmer for 15 minutes. Turn the heat up and bring the bouillon to a boil. Add tails. Cover pot with a lid and reduce heat. Cook lobster tails for about 6-8 minutes until the shells are bright red. Remove the tails from the pot and set aside to cool.
Make Fruit Salad.

Place diced avocado, mango, tomatoes, heart of palm, figs, and onions in a bowl. Add vinegar, salt, lime juice and olive oil. Toss to combine. Adjust seasoning if necessary. Place in the refrigerator for a few hours or overnight.
Remove from Shell.

When cool enough to touch, use kitchen shears to cut the underside of the tail and carefully remove lobster tails from their shell. Keep them in one piece. The tails can be cooked in advance and kept in the refrigerator for a couple of days (assuming the tails are fresh).
Reduce Balsamic.

When you are ready to serve the lobster, place the balsamic vinegar, muscat, and sugar in a sauté pan over medium heat. Reduce to a thick syrup. Add the lobster tails to the pan and coat the pink sides in the warm balsamic reduction. Tap off the excess syrup and set the tails on plates.
Stuff.

Use a sharp knife to cut a slit down the back of the lobster tail lengthwise. Use a spoon to place fruit salad in the incision.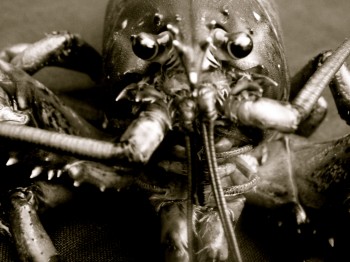 food for thought
A lobster is a chicken not when it is scared, but when it weighs only one pound.
Tags: basalmic muscat reduction, french cooking recipes, fruit salad, lobster farce, Lobster tail, mille-feuille, Muscat, Simple french recipes, simple pleasures, Spanish Vinger, Xérès