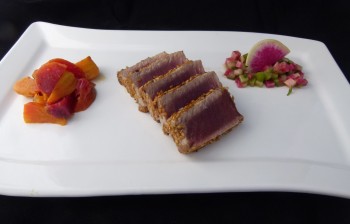 picnic weather, watermelon radishes, and keeping that New Year's resolution:
flaxseed and pepper crusted seared Ahi tuna served with
roasted golden beets and watermelon radishes with blood orange segments and
a cucumber, watermelon radish and celery cru
The most common New Year's resolution is to eat better, meaning healthier, lighter foods. The new year brings with it a renewed sense of determination and purpose but like all goals, our ambitions need inspiration and newness to keep them going.
Yesterday at farmer's market I overheard a father say to his child that the radishes she wanted looked good but "what do we do with them?" Inspired by his query, I bought some of those beautiful watermelon radishes (thank you Michael at McGrath Family Farm), and armed with a 2012 agenda of healthy habits and summer weather all around me, I thought this week we should take these watermelon (radishes) on a picnic so this week's simple pleasure is not one but three recipes which are not only good for you but taste great and, when combined, are an average of 350 calories. So grab your "pic-i-nic" basket, we are taking a picnic in January with our seasonal market treasures and keeping our New Year's resolution in tact all at the same time. This is going to be a good year.
Radishes are in abundance right now and there are a variety to choose from: Cherry Belle (the common red round ones you see all year), Easter Egg Radishes (round in a variety of Easter colors), Long Red Italian (they look like red carrots), French Breakfast Radishes (long red radishes with white tips on top and bottom, the French love these with salt and butter), White Icicle Radishes (similar in appearance to French Breakfast but all white); Black Radishes (black exterior with white interior, popular in Europe and pair well with foie gras and honey); and lastly, the Watermelon Radish. Radishes are extremely low in calories (only about 18 calories per cup), high in vitamin B and have no cholesterol.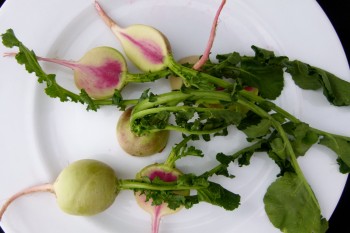 The Watermelon Radish does have a formal name but there seems to be some disagreement about what exactly that name is so most people call it simply "Watermelon Radish." The radish has a pale green exterior with white and pink interior. It resembles a watermelon.
Raw radishes are slightly peppery because their skins contain enzymes which create a mustard oil. In America, radishes are most commonly enjoyed raw and usually in a green salad. However, there is more than one way to enjoy a radish.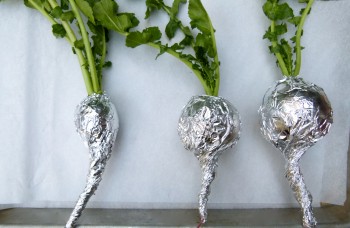 Radishes can be boiled, simmered, sautéed, roasted, and puréed. Radish tops are also edible and can be sliced into a salad, sautéed or puréed. When cooked, the peppery taste of radishes mellows and they become slightly sweet.
This week the two recipes we have for watermelon radishes result in completely opposite tastes and textures (due to their preparation) so your family is bound to like at least one. Both are incredibly simple.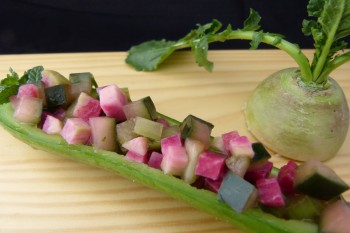 For the cru recipe (cru means raw), dice the radishes and combine them with celery and cucumbers. The combination is then macerated in citrus juice with a little salt and olive oil. It is crunchy, light, and refreshing. It stores for 1-2 days in the refrigerator, just drain off the excess water.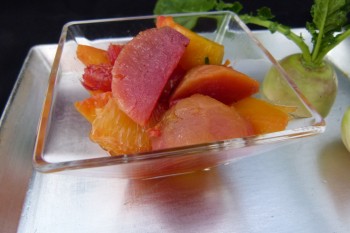 The second recipe, roasts the radishes with golden beet bulbs. Combined with fresh blood oranges (also in season and plentiful right now), this side dish (salad) is a little tangy and a little sweet. Both beets and the blood oranges are high in vitamin C. Beets also are high in vitamins A and B. I use fig-infused red wine vinegar which adds a wonderful depth to the dish. This vinegar can be found in specialty stores and many grocery stores. Raspberry red wine vinegar also will work. However, if you have neither, do not worry because regular red wine vinegar works just fine. This dish can be enjoyed hot or cold. It is just as good the second day as it is the first.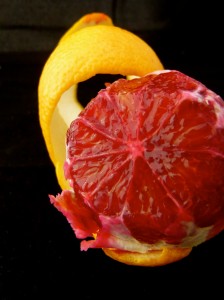 To go with your healthy, low calorie, vitamin-rich sides is seared tuna. Tuna, especially coated in a crust of flaxseeds, is a high source of Omega-3's. An oily fish, such as tuna (or halibut) is a natural choice to pair with slightly peppery, crunchy radishes. The tuna takes about 10 minutes to prepare.
The tuna recipe is below. The radish recipes are posted in companion posts for your printing ease.
The year is starting off well and the forecast for keeping your New Year's resolution is bright. Here is to a healthy and happy you and your winter picnic.
Je vous souhaite un bon appétit !
LM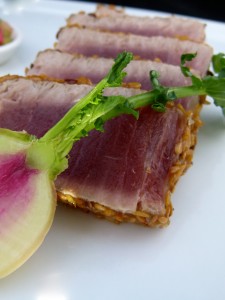 flaxseed and pepper crusted seared Ahi tuna
stats:
serves 4-6
approx. 226 calories for a 3 ounce serving)
what you need:
4 4-5 ounce fresh Ahi (or Bluefin) tuna filets
8 tablespoons flaxseeds, toasted
4 teaspoons sea salt
1 teaspoon freshly ground black pepper
olive oil (as needed)
how to:
Toast Flaxseeds

. Place a pan over medium-high heat. Once the pan is hot, add the flaxseeds. Toast the flaxseeds for just a couple of minutes. Remove pan from the stove and place the flaxseeds in a bowl. Add salt and pepper to toasted seeds and combine.
Trim And Coat Tuna.

Trim tuna filets so they are in a nice, rectangular shape.
Sear.

Place a cast iron skillet or fry pan over a medium-high flame. Once the pan is warm, add olive oil. When the oil is hot, add the tuna filets (1-2 at a time). Cook for a few minutes (NOTE: raw tuna flesh is dark red, when cooked it turns a whitish-grey color you want about ⅛" of the flesh to be cooked only). Turn the filet over and cook the bottom side as you did for the first side. Repeat for left side and right side. Do not sear the front and back sides (the eye of the filet). You should have a ⅛" "cooked" rectangle around the circumference of the front and back sides of the filets. Remove the filets from pan. Repeat process for the remaining filets. Wipe out the pan with a paper towel and add fresh oil if necessary.
Serve

.

Use a sharp carving knife to slice the filets into strips ¼ -½" in width. Filets can be served warm or room temperature
Tags: blood oranges, celery cru, cucumber, flaxseed, golden beets, seared ahí tuna, simple pleasures, watermelon radish