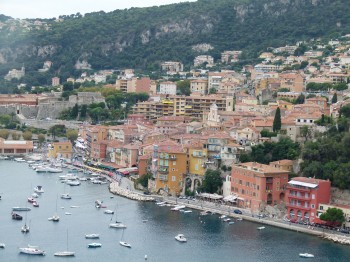 family traditions of easy summers in Provence:
Pissaladière à ma façon
Every summer I travel with my daughters to the southeast of France. We stay in the same quaint port village, about 15 minutes from Nice. Year after year we celebrate summer with the same families. The children catch little fish and crabs in the clear blue ocean and chase one another in the fields of wild herbs and lavender. The adults gather over a bottle of Provençal rosé produced nearby and discuss what has gone on throughout the last year. We pick up where we left off and not much changes except the height of the children. It has become a family tradition. Summer is just around the corner and we will be in back in France very soon. However, my head and palate are already there and as I was sitting in the never-ending Los Angeles traffic, I was whimsically thinking of Provence and that morning daydream inspired this week's simple pleasure: Pissaladière (à ma façon).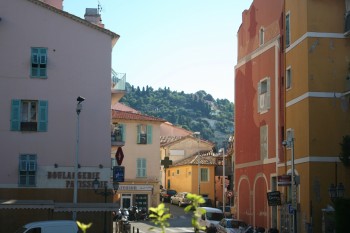 Nice is in the southeast region of France and not far (about 45 minutes) from the Italian border. It lies in between Monaco (about 20 minutes to the east) and Cannes and Saint Tropez to the west. The entire region is generally known as Provence.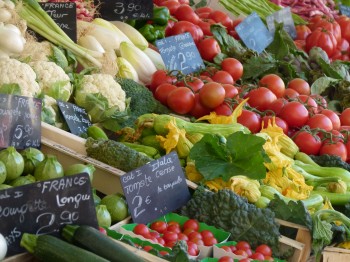 The food in Provence is easy and uncomplicated. Bright colors of green, red, and yellow. The flavors are sweet and fresh: zucchini, tomatoes, basil, thyme, onions, sweet peppers, fish, anchovies, eggplant, olives, olive oil, thyme, and lavender. My personal culinary routine naturally gravitates to dishes inspired by this region: summer vegetable gratins, braises, and purées, rataouillle, salade niçoise, pan bagnat, farcis niçois, and pissaladière.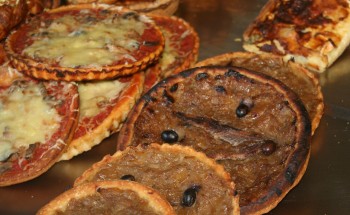 Pissaladière is a staple in Nice and throughout the south of France. Often tourists refer to it as a pizza, but the French consider it a savory onion tart with anchovy fillets and olives noires de Nice (special small black olives from this region). Pissaladières come in a variety of shapes and sizes. They can be enjoyed as an entrée or a full meal with a green salad on the side. I generally like to serve it as an appetizer with a Provençal rosé.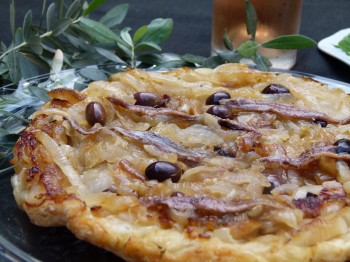 Slightly sweet and slightly salty, Pissaladière is in every boulangerie and an essential menu item in all restaurants from La Petite Mason in Old Nice to the small family-run cafés. It is light but filling at the same time. I love it (although the anchovy fillets, or anchovy paste as the case may be, is a deterrent for some but you can always omit the anchovies).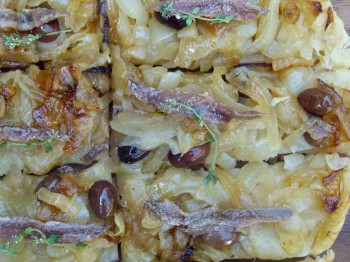 Typically, the tart is made with a pâte brisée (basically, pie crust without sugar). However, I like to make it with pâte feuilletée (puff pastry dough) and I teach it that way in my classes. The reason is simple. I find the frozen puff pastry sheets you buy in the grocery store much better than pre-made pie crust (and I know most of you do not have time to make dough). Also, the way I make it, will not lead to a soggy or under-baked crust (which sometimes happens).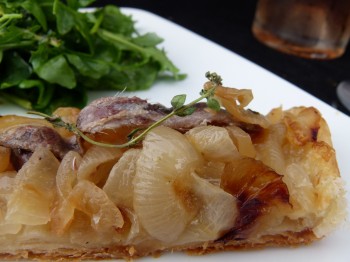 I prepare this tart in the same manner as a tarte tartin, minus the sugar and butter. First, cook the onions on the stove for a good 30 minutes. Second, add the olives and cover the onions and olives with a sheet of puff pasty, tucking the pastry edges inside the pan rim. Third, place the entire thing (pan and all) in a hot oven for about 20 minutes. Once done, remove the pan from the oven and let it cool. You then invert the Pissaladière as you would a tarte tartin on to a plate.
Pissaladière can be served warm or at room temperature and is equally delicious either way. This is an ideal snack or quick meal for guests because it can be partially (pre-cooking the onions only) or fully prepared in advance. Enjoy with a chilled bottle of Provençal rosé. Summer is here and a little bit of Nice is on your plate. It is good to be whimsical.
Je vous souhaite un bon appétit !
LM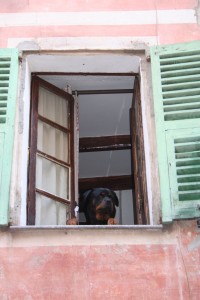 Tags: anchovies, french cooking recipes, french pizza, Nice, onions, Pissaladière, provence, savory tart, simple pleasures, south of France