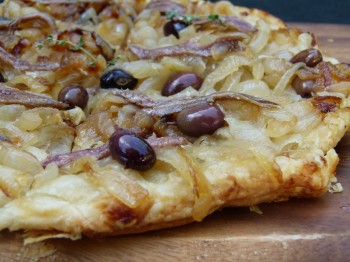 Pissaladière (à ma façon)
makes one 9" tart
what you need:
2 tablespoons olive oil
20 ounces sweet onions (i.e., Vidalia), sliced ¼" width
1 fresh sprig of thyme, stripped
2 pinches kosher salt
⅓ cup Muscat, Sauterine or Verjus
14 olives noires de Nice (or black oil-cured olives with the pits removed and olives halved)
12 anchovy fillets packed in oil (optional to rinse)
1 sheet puff pastry, defrosted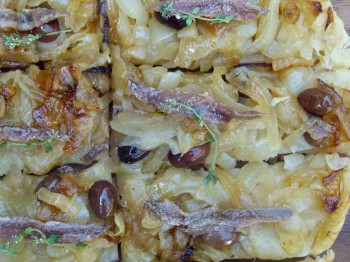 how to:
Cook Onions.

Place an ovenproof pan (sauté pan, frying pan, or cast-iron pan) over a medium-high flame. Once hot, add olive oil. Add onions. Cook onions, tossing occasionally, until they are translucent and begin to stick to the bottom of the pan. This takes about 25 minutes.
Deglaze.

Add Muscat (or other sweet wine) and cook until au sec (when all of the liquid has been cooked out of the pan). This take about 5 minutes. Remove pan from heat (this can be done in advance and cooled).
Add Puff Pastry.

Add olives to the onions and cover the olives with the onions. Make sure that the onions are spread evenly across the bottom of the pan. Cover the pan with the puff pastry sheet and cut the corners off of the puff pastry with kitchen scissors following the edge of the pan. Tuck in the edges of puff pastry into the inside of the pan.
Bake.

Place the pan in an oven

preheated to 400 degrees Fahrenheit.

Bake for about 20 minutes until dough is puffed, deep golden brown, and has pulled away from the edges of the pan.
Cool and Flip.

Carefully remove the pan from the oven and let it cool for 20 minutes. Take a spatula and run it along the inside of the pan edge, making sure that the pastry is not attached to the pan. Place a plate or other flat surface on the top of the pan and invert the pan and the tart, the tart should easily transfer to the plate.
Garnish And Serve.

Place anchovy fillets on the top of the tart in a visually attractive way. The tart can be served warm or at room temperature.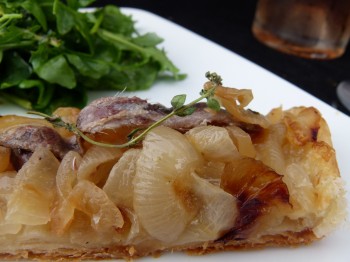 Tags: anchovies, french cooking recipes, Nice, olives, onions, Pissaladière, provence, puff pastry, savory tart, simple pleasures