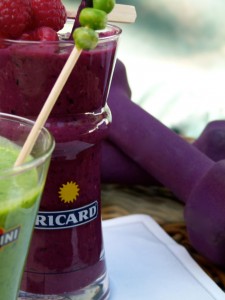 big resolution, solid steps: healthy snacks that will not send you back to 2011
part one: real protein shakes
 I run an average of 50 miles per week. As a runner, I can tell you that I am offered numerous food products that are supposed to improve my running and my nutrition. These man-made packages of protein wonder come in the form of powders, liquids, gels, gums, and even jelly beans. However, I was raised with the notion that if you want something, you go to the source. Drinking a protein shake with a lengthy ingredient list replete with names and processes that I do not understand, let alone pronounce, does not interest me. However, it is possible to have a super-fast protein shake that is good for you and tastes great without resorting to the powders and formulas so this week's simple pleasure is just that: real (tofu ) protein shakes.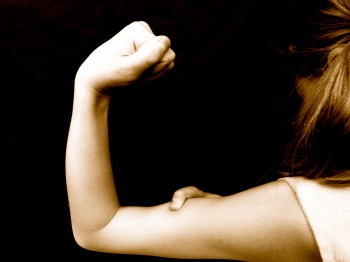 There are two shakes: one is made with fruit and the other is made with green vegetables. Both are dairy-free, vegetarian, gluten-free, all natural, and have no added sugar or sugar substitutes. If you have 5 minutes you can make these protein shakes. They store in the refrigerator. They can be frozen into popsicles for a hot day. They can be put in a thermos for your child's lunch or your lunch on the run. They are fabulous.
Rather than a dairy-base, these drinks use silken tofu (also referred to as soybean curd or bean curd) as their base. Tofu is the result of coagulating soy milk. It is very low in calories (84 calories for 3 ounces), high in protein, and cholesterol-free. Silken tofu has a custard-like consistency and is the perfect introduction to tofu for those of you who have never had it or have had a less than pleasant experience with it in the past. The taste is mild and so it takes on the attributes of whatever it is paired with.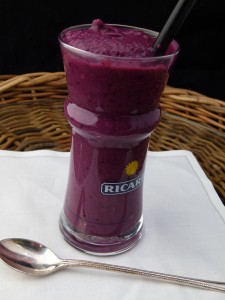 fruit shake
This fruit shake is perfect for flu season.  I use a combination of frozen raspberries, blueberries, strawberries, and blackberries. Berries are high antioxidants (blueberries are the highest and are also good for your memory and to avoid muscle fatigue). For blending, this drink uses elderberry juice. Elderberries are not only known for improving vision and your respiratory system but for giving your immune system a boost and is said to combat flus and colds. Elderberry juice can be found at Whole Foods and most grocery stores (however, if you cannot find it, use cherry juice).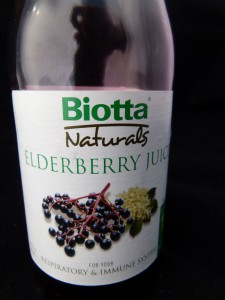 Using frozen berries makes this shake something you can make throughout the year. It also chills the shake without diluting it as ice would. Using frozen fruit is also less expensive than fresh fruit. You can use a fresh or a frozen banana (freezing bananas is an easy way to make the most of bananas that quickly ripen should they not make it into your banana bread in time). Bananas are high in potassium, vitamins and minerals and are known to give your body a power boost. Your recommended daily dose of 5 fruits in one complete serving with protein. Done.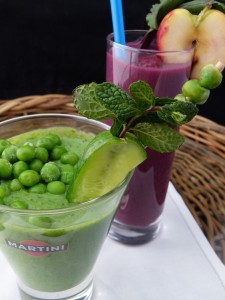 vegetable shake
In this shake, soy milk and tofu are combined with kale, raw spinach, avocado and frozen peas. This protein drink is packed full of antioxidants, lutein (protects eye health), calcium, folic acid, iron, and vitamins A, C, E, and K.  The avocado's "good fat" (monounsaturated fat) adds to the creamy texture.
Use frozen peas because they are sweeter then canned or fresh peas (unless you just picked them) and they chill the drink. Adding peas to this drink will make it an instant hit with children but peas skins do not break down in a blender so this drink will have some texture. To eliminate the pea texture, you would need to remove the pea skins by passing them though a vegetable mill or sieve and then re-freeze the pea flesh. However, if you like peas, you will like it as it is.
Each recipe makes enough for two serving (and after you have had a taste, you will know why).  More recipes for runners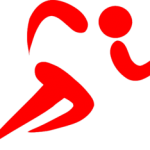 .
À votre santé !
LM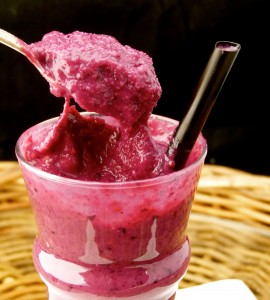 tofu fruit protein shake
makes 2 (8 ounce servings)
what you need:
4 ounces silken tofu
1 ripe banana, cut into chunks
8 ounces frozen berries (strawberries, blueberries, raspberries, blackberries)
½ cup (4 ounces) elderberry juice
how to: 
Combine.

Place all ingredients in a blender (or in a deep cylinder if using an immersion blender).
Blend.

Blend until smooth and the frozen fruit is well-blended.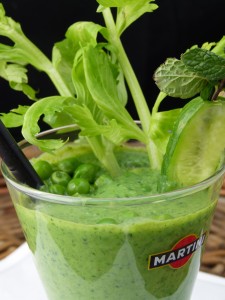 tofu veggie protein shake
makes 2 (6 ounce servings)
what you need:
4 ounces silky tofu
¾ cup (6 ounces) soy milk
2 handfuls fresh spinach leaves
½ cup chopped and blanched tuscan kale leaves
½ cup frozen peas
½ ounce fresh, ripe avocado 
how to: 
Blanch Kale

. Remove kale leaves from the ribs. Bring a saucepan of slightly salty water to a boil. Add kale. Boil kale leaves for 2-3 minutes. Drain and then place kale in an ice bath. Remove from the ice bath and dry kale well (you can lay it on paper towels.) Rough chop the kale leaves. Kale can be cooked in advance and stored in an airtight container in the refrigerator.
Combine. 

Place all ingredients in a blender (or in a deep cylinder if using an immersion blender).
Blend.

Blend until smooth and the frozen peas are well broken down.
Tags: all natural, elderberry juice, fruit, gluten free, green vegetables, no added sugar, non-dairy, protein shake, silken tofu, simple pleasures, tufu, vegetarian