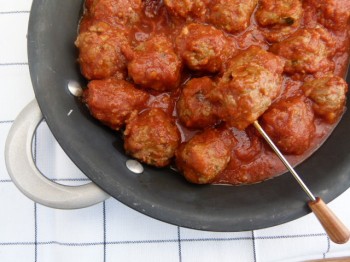 game on:
super snacks for Super Bowl
True, the extent of my involvement in the Super Bowl is feeding people. I may not know who is playing or what is the score, but I do know if the food is a hit; what passed appetizers are incomplete; and which ones made it home.
For the Super Bowl, people want meaty, substantial snacks that are easy to eat but will not detract from the game. Finger food. However, this year serve delicious finger foods that defy the parade of the ordinary (i.e., buffalo wings or nachos) and keep the theme and objective. This week's pleasure is just that two passed appetizers that your guests will want to sink their teeth into: (1) chicken drumettes (small chicken legs simmered in beer and smothered in a slightly spicy/tangy mustard sauce); and (2) spicy, juicy veal meatballs with dates, cheese, and bacon.
Although there is no Super Bowl in France, both dishes are French-inspired. The meatballs are similar to a French "boulettes" recipe I saw which combined chorizo with the dates. I liked the small meatball idea and thought it would be a perfect accompaniment to a sporting event but I did not like the chorizo with the dates either in taste or texture (although I am just mad about cooking with dates). This recipe combines veal, cheese, bacon, and dates. The result is meatballs which are juicy, spicy, and slightly sweet. Shaped into small one inch balls, they are easy to eat with a skewer or toothpick.
Similarly, "poulet à la bière" (chicken with beer) is a cut-up chicken cooked in butter and then simmered in beer. I modified the traditional approach by turning the fricassée into a sauté and rather than adding a liaison of egg yolks and cream, reducing the beer cooking liquid and adding a honey-mustard sauce, with a slight spice (mustard is a common staple in French cooking as well). Both dishes are not difficult to make and take 30-40 minutes active time. They can be made game day and kept warm or made the day before and reheated on game day.
A couple of ingredient and production notes. If you do not want to use veal, you can use ground beef instead. If you prefer to use chicken or turkey, use dark meat or the meatballs may be dry. If you do not have rendered duck fat (it can be purchased online or in specialty stores and some grocery stores), then do not trim the excess fat from the bacon and add another date. The meatballs are small and cook quickly. Do not overcook the meatballs (when you brown them or simmer them) or they will be hard and unappetizing. Also, make sure you taste the sauce when reducing it and adjust the seasoning accordingly. The recipe is written for minimal salt and spice to accommodate the differences in the bacon. Also, these meatballs are spicy but suitable for children. If you want it hotter, add a little more cayenne to the mixture.
For the chicken drumettes, use a common pilsner or light amber colored beer. The fancy ales and dark beers from Belgium, Holland, etcetera, tend to be overwhelming and some give a bitter aftertaste in the sauce when cooked.
Spicy…Meat…Football…Meatball…Spicy Meatballs.
Beer…Chicken…Finger Food…Chicken Drumettes Cooked in Beer.
Score!
Je vous souhaite un bon appétit !
LM
p.s. try these other recipes fit for a Superbowl party.
crunchy chocolate and espresso almond cookies
chocolate covered toasted hazelnuts with a praliné crunch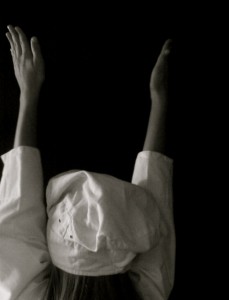 Tags: boulettes, chicken drumettes, snacks, spicy and sweet veal meatballs, superbowl