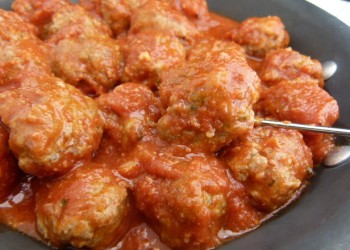 spicy veal meatballs with dates and bacon
yield:
makes approximately 50 meatballs (1/2 ounce each)
what you need:
1 tablespoon olive oil
3 garlic cloves, minced
2/3 cup onion, diced brunoise
1 tablespoon rendered duck fat
4 bacon slices, chopped and trimmed
1 pound ground veal (or beef)
3 Medjool dates, pits removed and chopped
1 egg, mixed
2 tablespoon finely grated Parmesan
4 tablespoons fresh Italian parsley, minced
1/2 teaspoon piment d'espelette
1 teaspoon cayenne pepper
1/2 teaspoon ground cumin
2 teaspoons kosher salt (and as needed)
1 teaspoon freshly ground pepper (and as needed)
1-2 tablespoon olive oil
1/4 cup dry white wine
2 cups of Pomi strained tomato sauce
3/4 cup chicken stock
how to:
Sweat Garlic and Onio

n

s.

Place a cast-iron skillet or an ovenproof fry pan over medium-high heat. Add olive oil. Once oil is hot, add garlic. When garlic is fragrant, add the onions and cook until translucent. Remove from heat.
Make Meatballs

.

Place ground veal, garlic, onions, duck fat, dates, egg, parsley, cheese, and seasoning in a food processor. Pulse until incorporated and the mixture begins to form a ball.
Shape Meatballs.

Take a scoop of meat mixture and roll into a ball about one inch in size (1/2 ounce in weight). Repeat until all the meat has been shaped. Place meatballs on a plate or tray.
Fry Meatballs.

Use the same skillet you cooked the onions in and place it over medium heat. Add 1-2 tablespoons of olive oil to pan (just so meatballs do not stick). Slightly sear the meatballs for 1-2 minutes until lightly browned (they do not have to brown on all sides you just want them to hold their shape). It is best to work in batches so you do not overcook them.
Set Aside.

As they are browned, remove the meatballs with tongs or a slotted spoon. Place meatballs on a paper towel.
Degrease And Deglaze.

When all of the meatballs have been seared, remove excess grease from the skillet and place skillet back on the stove. Add the white wine, scraping off the fond from the bottom with a wooden spoon or heat resistant spatula. Reduce au sec (until the wine has all been cooked out).
Simmer

.

Add tomato sauce and chicken stock to the skillet. Bring to a boil and then turn down the heat. Add meatballs. Cover skillet with a lid. Simmer over a low flame about 15- 20 minutes until meatballs are cooked. Use a spoon to skim off any grease and foam from the top of the sauce.
Reduce.

Once meatballs are done, remove them from the skillet with a slotted spoon and set aside on a plate (cover with foil to keep warm). Reduce sauce until it is thick.
Adjust Seasoning

.

Season with salt and pepper to taste. Return meatballs to the skillet and toss to coat in the sauce.
Tags: appetizer, bacon, dates, meatballs, spicy, sweet, veal