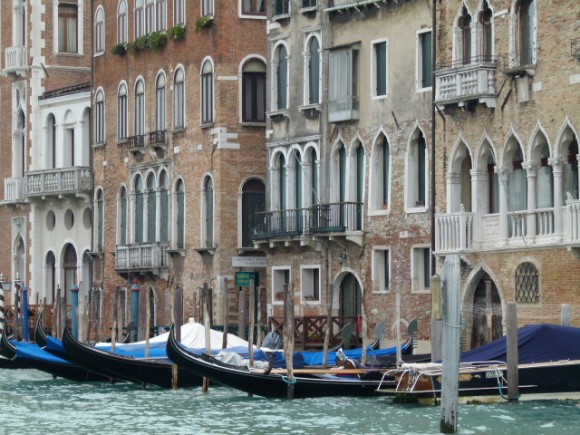 "Big" Venice with a little sole (à la menuière)
I had an inside tip. It was an inside tip on a Paris apartment and not just any apartment, an apartment in a beautiful building on avenue Georges Mandel. My friend's mother told her that if I acted fast, I could preview the apartment before it was officially on the market. Was I interested? Bien sûr ! (of course). Good apartments in Paris are far and few in between and they are taken immediately. The tip was better than chocolate praline from Patrick Roger.
As luck would have it I registered to run a marathon in Venice, Italy in a week. Everything seems to be a quick plane ride from Paris so I made an appointment to preview the apartment before I headed to Venice. It would be a tight schedule: three countries; four days. This week I want to take you there. Venez avec moi (come with me) à Venice, Italy with a Paris stop, a marathon detour, and a favorite fish recipe: sole à la meuienere.
Allez y (let's go) !!!
LM
Los Angeles
It is Thursday morning. I drop my daughters off at school and organize everything for a group fish class I am teaching on Tuesday morning. I take my preferred afternoon flight from LA to Paris. I work with French movies playing in the background. Sleep avoided and so is the airplane food.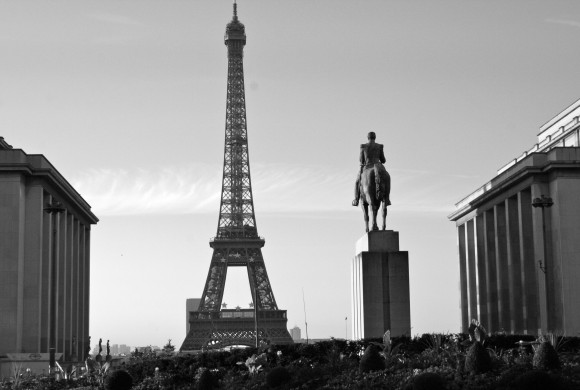 Paris
I arrive in Paris on Friday afternoon. It is Toussaint, the beginning of a two week holiday in the French school system which makes the taxi ride twice as long and expensive.
I arrive at Georges Mandel pulling my carry-on and over-stuffed sac au main (purse) which weighs a ton. The gardienne buzzes me in. A gardienne is the on-site property manager or concierge. The gardienne keeps track of the comings and goings of the residents, delivers the mail, maintains the common areas, et cetera. I am 15 minutes late for my rendez vous (my appointment).
As the gardienne walks me to the apartment my French cell screams at me from my purse: "cocorico" (cock-a-doodle-doo in French).  As I reach for my phone with the rooster ring, the gardienne looks at me as if I am a nut case or at a minimum a severely immature adult. I explain that I am a chef du cuisine which is the reason for the rooster ring on my phone (my American cell quacks like a duck just so I can keep track of the two). She politely smiles as if the explanation is enough. I don't say anymore. Americans always say more than Parisiens need or want to hear. It is a cultural thing.
It is my friend JF. He is held up at work and cannot see the apartment with me, but will meet me later for a coffee.
The gardienne escorts me to the syndic member who will show me the "pocket listing." The syndic member is as put together as you would a imagine any Parisien woman to be. Modest heels with a tailored dress. Her hair is coiffed and her skin bright. She speaks only French and very quickly. My head remains is on LA time and I struggle to keep up in words and pace.
The apartment is on the first floor (which I do not like) but it is quiet, opening to the lush interior garden. It is small, but livable. I heard that the bathroom and kitchen needed some work; however, that was an optimistic understatement. It is a complete redo. The woman was polite and asked me questions while euro conversions of re-doing a Parisien place were calculating my head.
The biggest problem was not the upgrade; it was that the space seemed dark and a dark apartment in Paris with many cold, dreary and gray days in the colder months is a recipe for grouchy behavior, depression, and a whole lot of baking…leading to more depression.
I told her I was not up for such a large project at this time. However, hope was not lost. She is moving in 4 months and asked it I wanted to see her apartment several floors up. I do.
Her apartment is a large, bright parisien dream. Outfitted with an "American kitchen" it has split levels with beautiful stairs and many windows. It has the high ceiling and wall details that I think of when I dream of Paris apartments. The many closets are outfitted with hâute-couture and full-length fur coats, all of which are lined up perfectly as if in a boutique on rue du Faubourg St. Honoré. The apartment price, as you can imagine, was not in this chef's pantry. I thank her in my most polite, formal French and wish her bon week-end. 
Nothing ventured, nothing gained. It was only one of many Paris apartments I looked at over the years, but I felt was getting closer (at the time, I had no idea how close).
JF and I meet around the corner at café Trocadero. The café is popular with the tourists because of its large patio which is directly in front of the Eiffel Tower (it is also next to a taxi stop so it is perfect for me).
We chat over our espressos and the thought of staying in Paris for the weekend, forgetting that 26.2 mile run in Italy, crosses my mind. However,  thirty minutes later I am in a second taxi returning to CDG airport.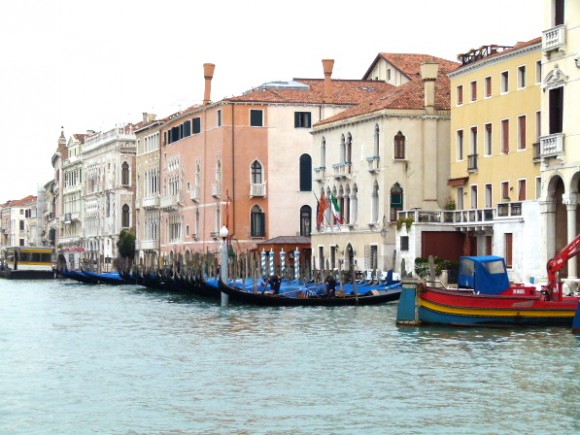 Venice, Italy
It is nearly midnight when I arrive in Venice. I do not know how I forgot this detail, but there is water everywhere. There are no roads. I realize that instead of writing recipes and researching restaurants and food, I should have re-familiarized myself with the water taxi and water boat system and been more precise about where this last minute hotel is. I am completely lost. Everything is in Italian and the only Italian I know would not be on a street sign (thank goodness).  I am not in Paris anymore.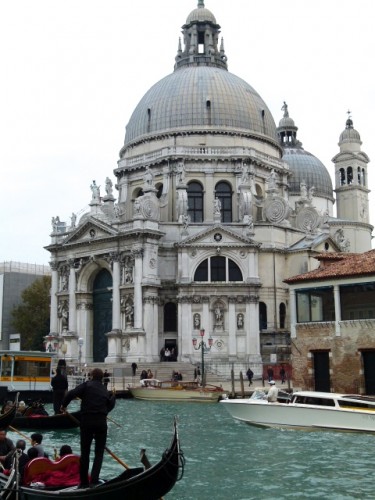 I consult posted maps. The six neighborhoods – San Marco, Santa Croce, San Polo, Cannaregio, Castello, Dorsoduro – vaguely ring a bell but I had forgotten how to get to San Marco. I solicit help from other travelers whom direct me to the correct water boat.
The boutique hotel is not easy to find. It is dark and I am disoriented by the various alleys and bridges. I wander aimlessly lugging my suitcase and "purse." Exhausted and annoyed I have been circling the same area for about an hour but every path seems new. A smooching couple, whom I have now passed three times, feel sorry for me (or perhaps believe I am an inconvenient stalker). They walk me within feet of my hotel which is at the far end of the neighborhood, hidden behind the La Fenice theater.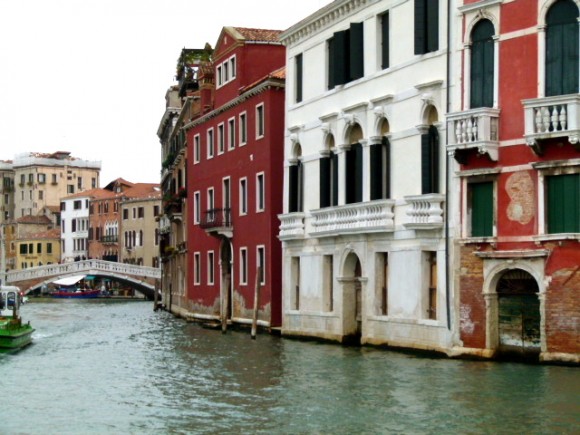 I drag my suitcase up several small staircases to my room. I open the door. It smells of smoke. The bed, which I think is actually smaller than a twin, is on my left side. It is shoved against the wall in between the front door and the bathroom door leaving about four feet on the right side of the bed. The "room" in reality is a closet. That does not phase me so much. It is Europe and it is not a fancy hotel. The deal-breaker is the bathroom because there is no bathtub as requested (for me it is a complete necessity after running 26.2 miles). Worse yet, the shower is the size of a broom closet with the equivalent of a plastic roller coaster seat in the shape of a lower case "h" stuffed inside.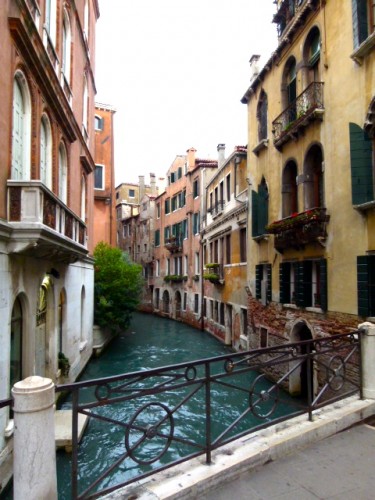 I go downstairs to switch the room but the hotel is full due to the race. I realize that I have not eaten for twenty hours so I eat some cold cuts in the common dining room which is the only place in the hotel with internet. The internet connection is less solid than the "room."
I return to walk the now familiar paths and bridges of San Marco to return to a row of hotels I saw earlier. Two hotels are booked, the third one has 2 rooms left. I take one. It will be available at 9 a.m. which is now 6 hours away.
Sleep eludes me after all it is difficult to sleep in your clothes with your head wrapped in a scarf. I check into my new hotel at 8 a.m. It is heaven.
I set out to pick up my runner's bib at Mestre's Parco San Giulinao (another unknown destination). On my way, I am distracted by Colussi bakery. The Colussi bakery is famous. It has been open for six generations in the Colussi family and it has over forty types of bread (but I think there are more). They also have the focaccia which is topped with sugar and almonds which I love and cannot resist!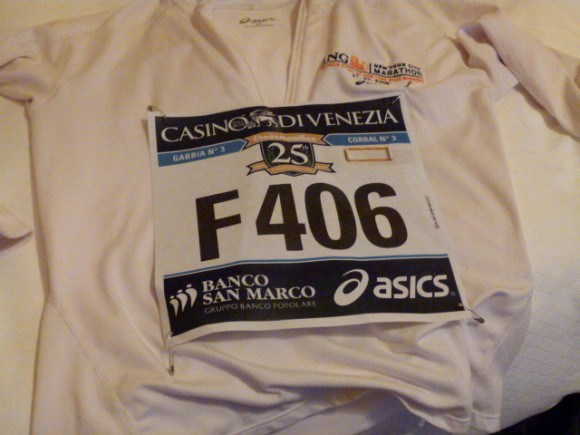 After I claim my bib (with the bonus of the best marathon shirt I have ever received…leave it to the Italians) it is still early morning. I have a list of fish and vegetable markets as well as restaurants I want to try. Good thing I am a runner or I would never be able to pull off my ambitious list before my dinner reservation.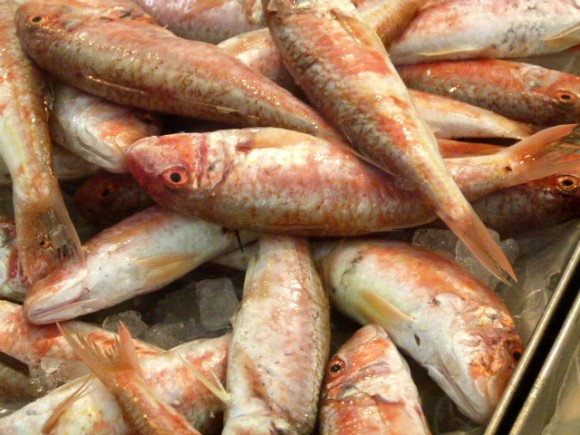 the flavors of Venice
I walk through the pathways and alleys once again. I pass nuns in habits, tourists, other runners, and street performers. Venice is filled with artisans and fresh food. In fact, I am in autumn Italian food heaven!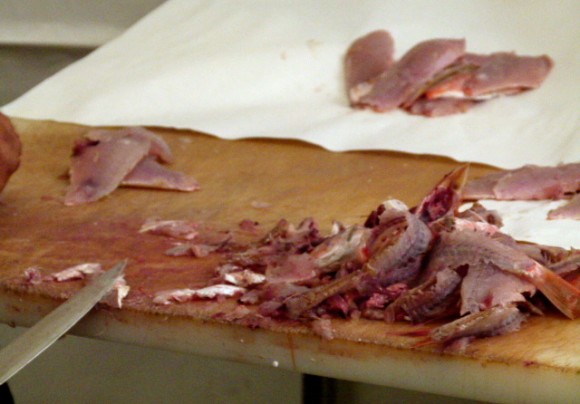 It comes as no surprise that for a city surrounded by water, fresh seafood is a staple. It prepared in many ways: grilled, steamed, sautéed, and fried. Seafood is incorporated into everything: shrimp in the risotto, shrimp with the ravioli, shrimp stuffed in the ravioli, shrimp in the soup. You get the idea. There seem to be beautiful fresh fish stands everywhere not just in the two weekly markets open on Saturday. Razor clams (which you rarely see in the States) are common place.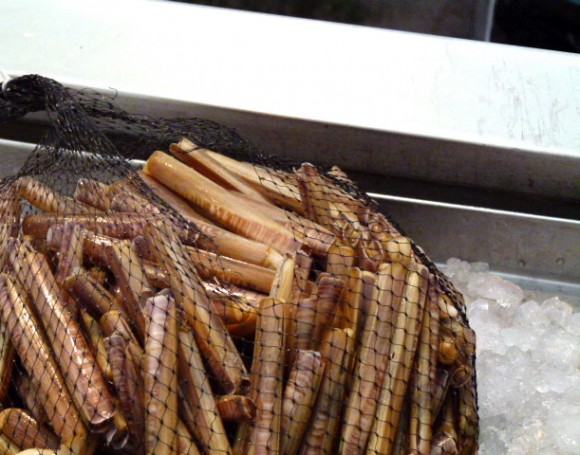 Treviso, radicchio, and Porcini mushrooms are prevalent. Rice is from nearby Verona. Squashes such as sugar pumpkins are in season and puréed for a ravioli or a soup. Asiago Cheese, cow's milk cheese from nearby regions, and ricotta are the preferred cheeses. Delicious Northern Italian wine is plentiful but Prosecco is popular due to the proximity of the Coneglino-Valdobbi region where it comes from (which is one hour north). There is also plenty of Grappa.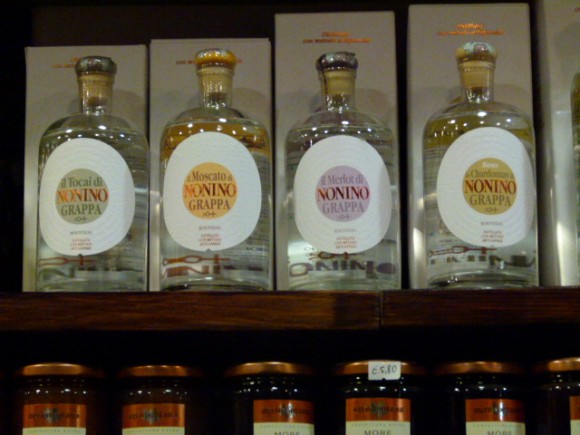 Venice has many good restaurants (my suggested list is below) as well as bàcaris. Bàcaris serve cicchetti (tapas) with small glasses of wine (ombra).
By 1 pm, looking at all of the fresh food and restaurants leaves me famished. I find a little place which is packed with Italians.
I start with gorgonzola, chopped eggplant and anchovies stuff inside strips of eggplant which has been dredged in flour, pan fried, covered with a fresh tomato sauce and then baked. A fun modification of eggplant parmesan. Next, seafood en papilotte. A little plastic packet of MIAM! The waiter cuts off the top and the plastic collapses exposing its contents which includes:  fresh rouget, clams, mussels, and shrimp with cherry tomatoes, fresh herbs and garlic. The owner is delightful and we talk about the marathon. He ran it a couple of years ago.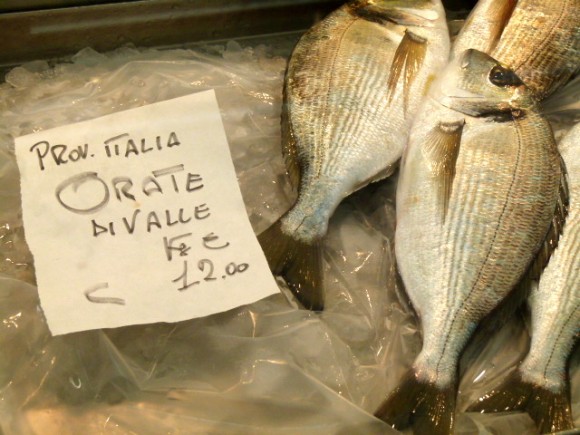 Lunch over. I am already looking forward to dinner. I separate my meals by walking the city, taking photos, buying Venetian masks and trinkets for my family.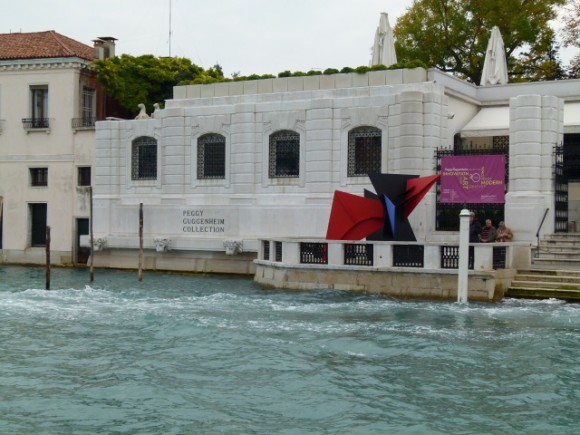 When you are not lost in the dark, Venice is a magical place. The architecture is gorgeous and the city is full of culture.  It is full of hand-made treasures: masks; linens; gloves; hats; and shoes.
My dinner is at La Caravello which is an Italian institution. The waitstaff is delightful. The atmosphere is comfortable and playing lounge music from the Hotel Costes in Paris (which I find amusing given the age of the majority of the waiters). The food delicious. I begin with saor, a traditional Venetian dish with red onions thinly sliced and cooked in a sweetened balsamic vinegar and served with raisins, steamed shrimp, polenta triangles, and grilled sardines. Afterward, I have my traditional marathon meal grilled steak with vegetables (not experimental but some things I cannot mess with although the creamy risottos which are slowly pouring across the plates at the next table are tempting).
I am hoping to get 7 hours of sleep tonight which will bring my grand total to 11 hours since Thursday.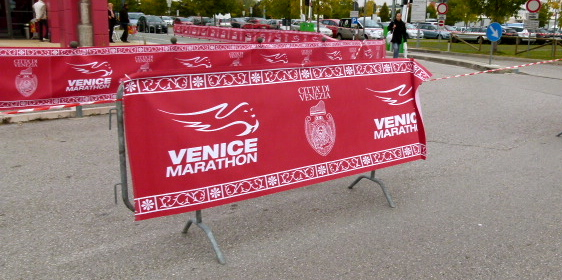 Sunday
It is dark and cold riding in the water taxi to a covered market which is closed. Here the buses will to take us out to the middle of the Italian country-side only so we can run 26.2 miles back into Venice.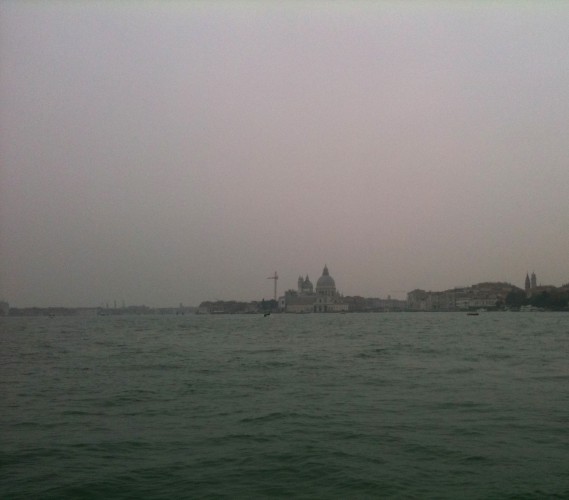 Wandering again in the dark, I befriend an American woman who ironically lives in Los Angeles.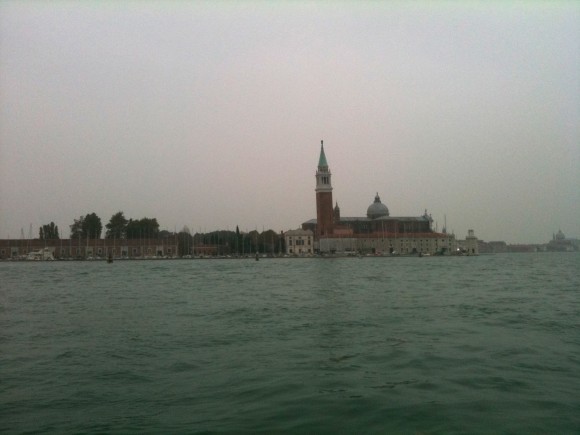 The race begins in the country town of Stra where Riveria del Brenta roughly begins. Stra is known for its 18th century villas.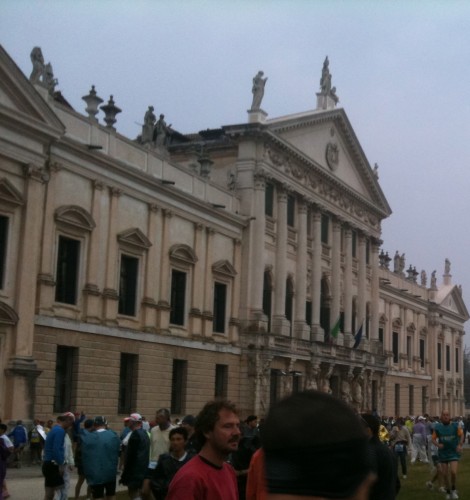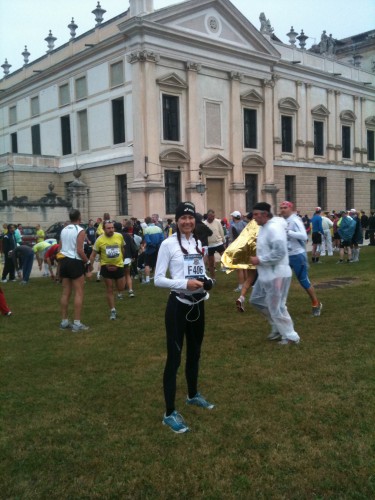 Once in the country, we wait on the grass. It is like all pre-marathons…stretching, the routine snacks and power bars, the strategic  layers of clothes and accessories. Ready to begin, we stand in corals. The race is predominately male.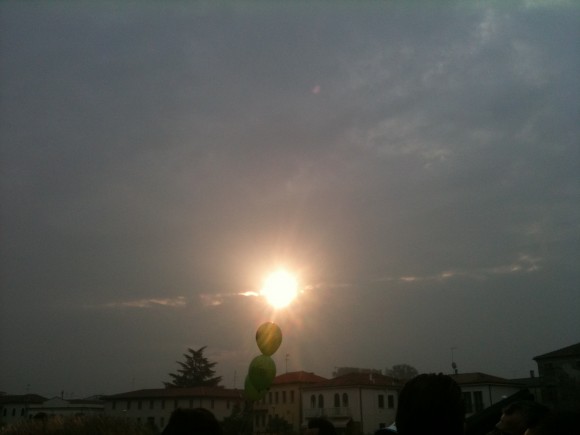 Anxious to start and happy to be here that I do not feel tired at all. The gun sounds. The countryside in Autumn is beautiful. My playlist begins with Hans Zimmer's song Now We Are Free (you can click to play) because that is how I feel. Free running in Stra with thousands of other people I do not know. Every time I hear the song I am transported to Stra where the Italian mansions stand proudly amongst the falling leaves and bare trees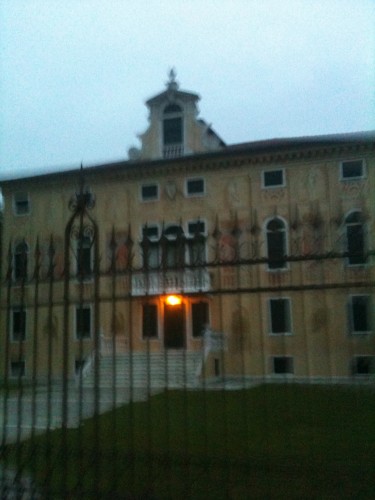 As we run the autumn chill is not so chilly and gloves, hats, and shirts are being removed and tossed to the side of the road. We run through Fiesso d'Artico, Dolo, Mira and Oriago.
The Italian people are as warm and generous as their food and Italians of all ages come to watch us run on the small street and cheer us on.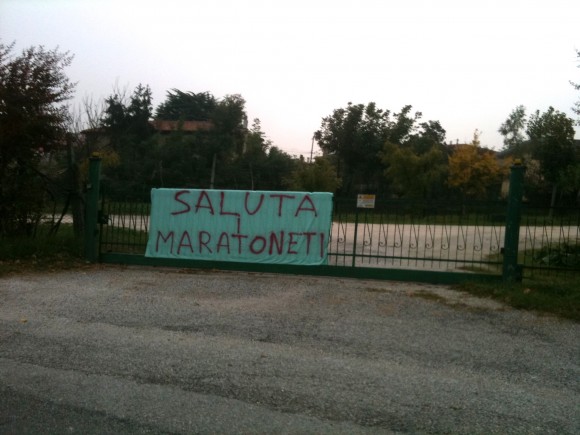 We run along the Giudecca Canal (which reminded of the Boston marathon where you also run by a river). There are children in boats on the Canal, learning to row.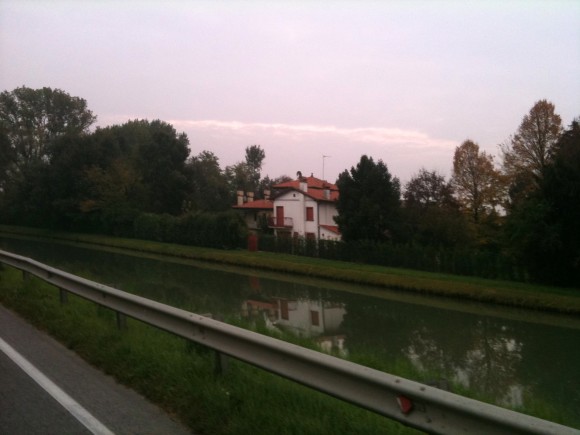 We run through fields of radicchio and treviso (treviso is longer and thinner version of radicchio and known as the "winter flower"). I write recipes in my head.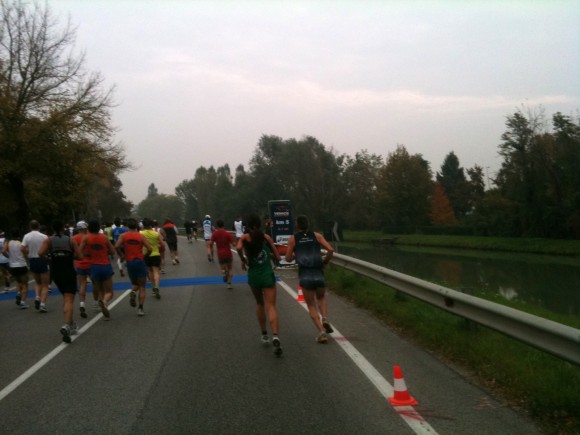 I am a marathon grazer. I eat throughout marathons. Unlike American marathons where people line the course handing out red vines, gummy bears, orange slices, and various treats, in Venice there are designated snack stations (I only recall 3) and the food is displayed and arranged as if if were a buffet table in fine hotel. There are baskets of fresh orange wedges, bananas halves, raisins, and lots of Italian biscuits (of which I happen to have a particular affection). I gobble biscuits through the Italian countryside, dreaming of winter dishes made with seasonal flavors of Venice.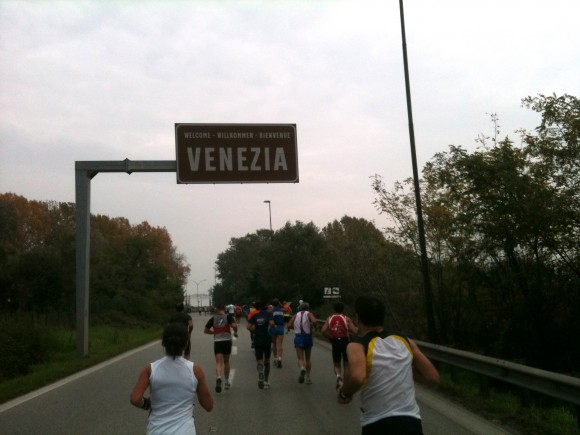 Venice is connected to the mainland by the Ponte della Libertà  (the Venice Liberty Bridge). We have to cross it to get to Venice.
Good mood gone south. We have run over 30 kilometers (about 19 miles) when we reach the bridge. The bridge is just shy of 4 kilometers but it feels like an eternity. It unkind to my feet and the weather is now cloudy and cool. Am I there yet?" Am I there yet?  I don't know if it was thinking about food, eating all those biscuits, the jet lag, or the general lack of sleep, but I had a terrible stomachache. I think it is that "wall" runners talk about. It was a first for me.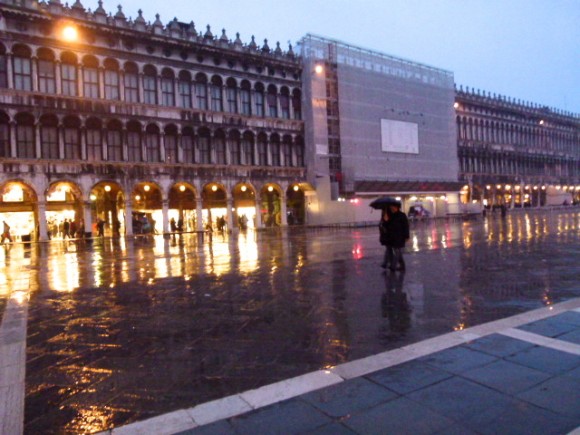 When we arrive in Venice it is slightly raining. We cross the Grand Canal via a pontoon bridge specifically built for the marathon. There are now fourteen little bridges which we have to cross to get to the finish. There are ramps built over the bridges but at this point I am so tired the ramps seem to require more work than the stairs. The inspirational signs on each bridge counting down how many more bridges until the finish line I do not find to be inspirational. I find the signs, and the constant up and down of these bridges, annoying. My shoes are soaked. I am running in inches of water. I am cold. We pass through Piazza San Marco (St Mark's square) which is experiences "high water" and is slippery. We pass the Palazzo Ducale.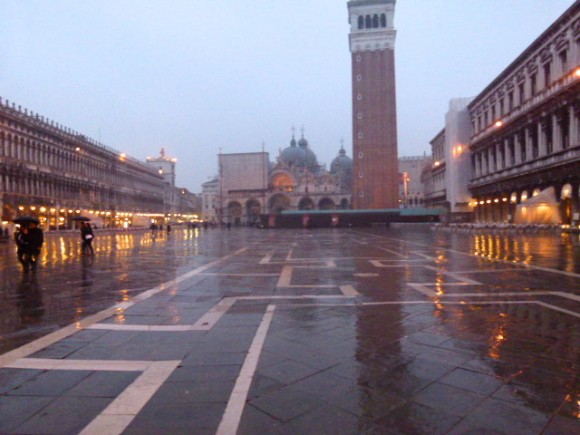 I cross the finish line which is at the Riva Sette Martiri by Saint Mark's Basin. The finish results in laughter because not far from the finish line Many Italian male runners are openly taking off their wet clothes to get into dry, clean clothes and these men in their undergarments are creating a some what of a traffic jam as people try to retrieve their bags. All I want is Spaghetti Bolognese (and a lot of it).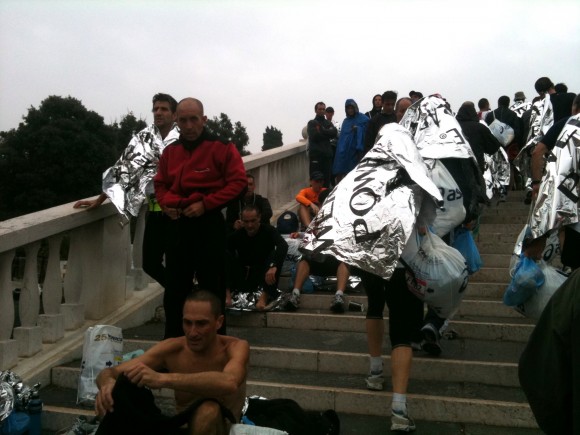 The hotel is warm and welcoming. There is a bathtub and the room does not smell. They send up the Bolognese immediately which I began obsessing on while on the Liberty Bridge. I do not leave a spot on my plate (I think I licked the plate but I conveniently do not remember that detail). I clean up and head out to tour Venice as I am leaving tomorrow morning before the sun arises to return to LA.
I am on a quest for Dittura which I read makes the famous red velvet scarpez (slippers) worn by gondoliers (the soles are made out of bicycles tires). The store is impossible to find as it is unmarked and when I do find it, it is closed for lunch (or an espresso break, I was not sure).
Despite the chilly weather, I have some pistachio gelato at lo Squero's. I return to Dittura and buy two pairs of velvet red slippers for my daughters.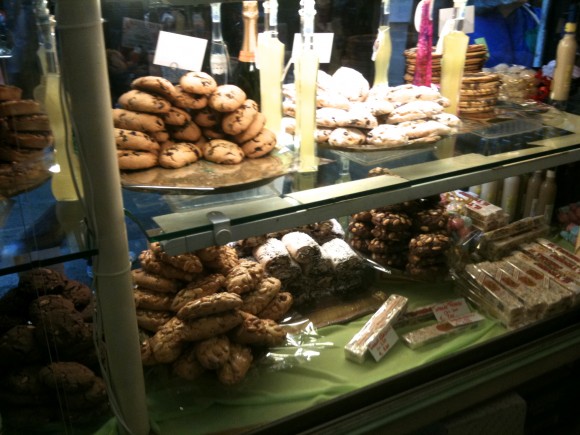 With the marathon over, I visit the bakeries with abandon. I am completely obsessed with Lingua di Sucera (almond cakes) and large cookies called fregolotta which I slowly erode away at on as I walk and try to save half of it for the plane.
A woman approaches me. She is selling tickets for a show that evening at the Scuola Grande di San Teodoro. It is Ventian opera singers in 18th century costumes with an orchestra.  It would be a perfect way to end my weekend.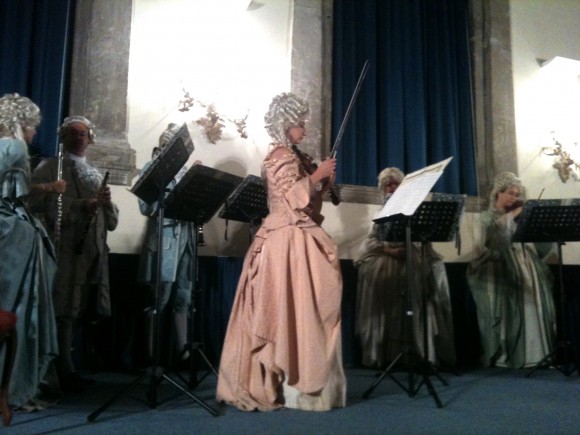 I sample Venetian tapas. I have some prosecco. I eat more cookies. I have a front row seat for a price that is less expensive than a meal. The performance is magnificent. Afterward, I try to squeeze in one last Italian meal and I do. John Dory with a northern Italian wine. I am now very full and very tired.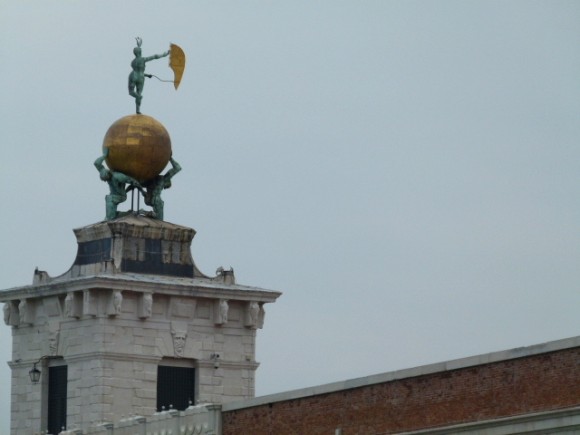 Monday
Once again I am in a water taxi before the sun comes up. If all goes according to plan, I will arrive in LA just in time for carpool and the usual Monday routine of musics lessons and homework.
On the plane I revise and outline my group fish class which I was teaching the next morning. The sole had been ordered. The other marketing had been done. I was thinking that perhaps I would not have had so much trouble on the bridge if I had my customary pretzels. My thoughts of the race and pretzels make me think of bretzels from the Alsace region of France. I heard there that in Colmar, the capital of the region, there is Petit Venise (Little Venice). I explored "Big Venice," perhaps I should visit "little Venice." The seed was planted…
As soon as I reach immigration in LA I realize that I left my iPad on my airplane seat. They search for it but it is already gone never to be recovered.   
Shortly I am reunited with my daughters. It is as if  I never left. However, I am armed with two pairs of red velvet slippers, another metal, and a new PR to prove that I actually was in Venice (that morning).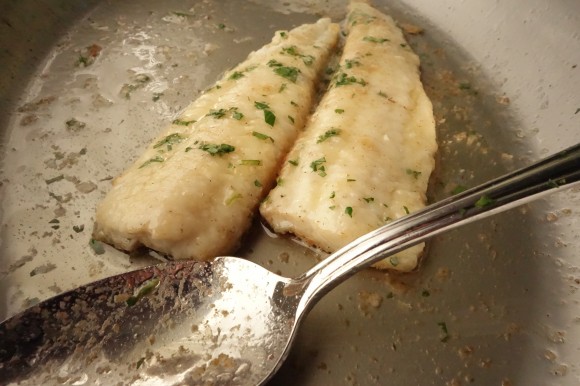 Tuesday
I teach a private group cooking class. The first thing we make is sole à la meuirere which the hostess said when she organized the class, "I really want to learn to make that."
Preparing fish à la meuirere is not difficult. You only need butter, lemon juice, and parsley. It takes a maximum of 8 -10 minutes to cook. In the end you will enjoy a flavorful fish with a meaty, delicate texture bathed in a buttery sauce that is a little nutty from the browned cold butter, slightly tangy due to the lemon juice, with a hit of grassy freshness due to the parsley. The simple combination really is divine.
This preparation uses more butter than my norm (although I cut it down a little), but some classics are just that: classic. Julia Child thought so too. You can find the sole à la meuirere recipe in the following post (or you can click here).
Hoping something in this post gives you something to take to your dinner table. Have a good week.
à table !
LM
**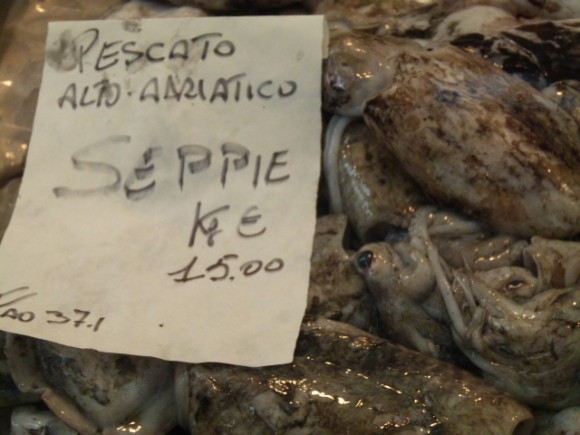 Here are some restaurant and suggestions should you visit Venice, Italy. Given that I was there for such a short time, I did not try all of them, but I have provided you with recommendations I received from trusted friends. The ones with the ❤ are my favorite. If you ever want to run the Venice marathon, it is always the fourth Sunday in October.
markets
In addition to the daily and weekly markets, Venice has several Farmer's Markets where produce from local Farmers is sold (they are not on the weekend). Look at  www.commune.venezia.it  and www.veniceconnected.com (the official tourism portal for Venice).
daily markets
Here are a few of the markets that are open every day (some are closed on Sunday).
Rialto Fruit and Vegetable Market❤
San Polo, Casaria
Campo de la Pescheria
open every day from 7 am to 8 pm
Rialto Fish Market❤
San Polo, Campo de le Becarie – Loggia Grande and Piccola
open every day from 7 am to 2 pm
Burano Market❤
Castello, via Garibaldi
Every day from 7 am to 8 pm
Rio Terà San Leonardo Market
Cannaregio, Rio Terà San Leonardo
Every day except Sunday. Beautiful vegetables and fruit. Beautiful setting.
Via Fapanni Market
Via Fapanni – Mestre
Every day except Sunday
weekly markets
There are at least seven other weekly markets in Venice. These two are open on the weekend.
Mestre
via Parco Ponci
Wednesday and Saturdays
7am to 1 pm
Marghera
Piazza Mercato- Piazzale Concordia – Pizzale Munipio
Tuesday and Saturday
7 am to 1 pm
 restaurants
(organized by neighborhood)
Neighborhood of San Marco
Colussi❤
4579 San Marco, Calle San Luca
30124 Venice, Italy
39 041 520 6194
www.colussilafocaccia.com
Bakery with over forty types of bread and my favorite sweet focaccia.
De Pisis
Bauer Hotel, 1413/D San Marco
Venice, Italy
39 041 520 7022
www.bauervenezia.com
Eat here under the tented deck overlooking the Grand Canal (but it comes at a price).
La Caravella❤
Marco 2399
via XXII Marzo
30123 Venice, Italy
39 041 520 8901
www.restaurantlacaravella.com
Traditional Venetian cuisine including Saor, Bigoli pasta with duck sauce, and seafood.
Harry's Bar
Calle Vallaresso, 1323
30124 Venice, Italy
39 041 528 5777
www.harrysbarvenezia.com
World-famous founded by Giuseppe Cipriani. Harry's Bar is a national landmark, the former hangout of Hemingway (among other notables) and the site of the famous white peach cocktail the Bellini!
Antico Martini❤
2007 San Marco, Campo Teatro Fenice
30124 Venice, Italy
39 041 522 4121
www.anticomartini.com
Elegant restaurant with a terrace in San Fantin square. More special occasion and romantic than every day. Delicious seafood. Loved the John Dory. Known for its Calves' liver (Venetian-style) with onions and white wine and polenta with quail.
Vino Vino❤
Ponte delle Veste 2007A
30124 Venice, Italy
39 041 241 7688
Wine bar next to Antico Martini (which it shares a kitchen) with cicchetti
Osteria Encoteca San Marco❤
Frezzeria San Marco 1610
30124 Venice, Itlay
39 041 5285242
Typical regional food that is delicious and reasonably priced
Do Forni
468 San Marco, Calle degli Specchieri
Venice, Italy
39 041 523 8880
www.doforni.it
Occasion restaurant (expensive) and elegant. Traditional Venetian preparations and seafood is their speciality.
Aimercanti
4346/A San Marco, Calle dei Fuseri
Venice, Italy
39 041 523 8269
www.aimercanti.com
Ca d'oro
Ramo Ca'D'Oro
3912 Cannaregio
Cicchetti (tapas)
Neighborhood of Castello
Osteria Olive Nera
3417 Castello salizada dei greci
30122 Venice, Italy
39 041 522 2170
www.osteria-olivanera.com
Two casual restaurants, small and quaint, next to one another. Traditional Venetian recipes (i.e., saor, bigoli in salsa).
Al Covo❤
3968 Castello, Campiliello della Pescaria
Venice, Italy
39 041 522 3812
www.ristorantealcovo.com
Really beautiful and delicious food with an emphasis on seafood (but the lamb is delicious too).Try the wholewheat spaghetti with anchovy and onion sauce.
Il Nuovo Galeon
via Garibaldi, 1309 Castello
30122 Venice, Italy
39 041 520 4656
www.veneziaristoranti.it
Known or its seafood, fried seafood dishes and Branzino carpaccio.
Alle Testiere
5801 Castello, Calle del Mondo Novo
30122 Venice, Italy
39 041 522 7220
www.osterialletestiere.it
Expensive but amazing seafood. Advance reservations required. Try the red mullet or ravioli with shrimp, pumpkin and ricotta.
Neighborhood of Cannaregio
Pasticceria Dal Mas❤
150A Cannaregio, Lista di Spagna
39 041 715 101
Love the espresso and the pastries!
Ristorante de Mario alla Fava
Call Stagneri 5242
30124 Venice, Italy
39 041 528 5147
www.ristorantemarioallafava.it
 neighborhood of San Polo
Cantina do Mori
419 San Polo, Calle do Mori
Venice, Italy
39 041 522 5401
Oldest and most famous bàcaro with cicchetti (apparently Casanova was a visitor)
Al Marcà
213 San Polo, Campo Cesare Battisti
Venice, Italy
39 041 992 4781
Bàcaro with cicchetti.
Naranzaria
130 San Polo, Erbaria di Rialto
Venice, Italy
39 041 724 1035
Bàcaro with cicchetti.
Antiche Carampane❤
Rio Tera de la Carampane, 1911 San Polo
30125 Venice, Italy 39 041 524 0165
www.antichecarampane.com
Very friendly and casual. Simple, delicious home-style food. Closed Sunday and Monday.
Da Fiore
2202/A San Polo, Calle del Scaleter
30125 Venice, Italy
39 041 721 308
www.dafiaore.net
Michelin-starred. Occasion restaurant (expensive) and elegant. Seafood is speciality. Try the scallops or Gratin of tagliolini with radicchio and shrimp. Chef Mara Martin occasionally gives cooking classes here too.
ProntoPesce Venezia
San Polo 319 (opposite the Loggia in Rialto fish market, off of Campo delle Beccarie)
30125 Venice, Italy
39 041 822 0298
Good for a quick lunch. Closed Sundays and Mondays.
Ostaria Al Garanghelo
1570-71 San Polo, Calle del Boteri
Venice, Italy
39 041 721 721
www.algaranghelo.it
Pasticcerria Rizzardini
Polo 1415 Campiello dei Meloni
30125 Venice, Italy
39 041 522 3835
Favorite pastries/place for brunch.
 Neighborhood of Dorsoduro
Gelateria lo Squero❤
990 Dorsoduro
Fondamenta Nani
Venice, Italy
This is where I had the Pistachio gelato.
Cantinone Gia' Schiavi
992 Dorsoduro
Fondamenta San Trovaso
30123 Venice, Italy
39 041 523 0744
Bàcaro with cicchetti. Wine shop with tapas.
Neighborhood of San Croce
Gelateria Alaska
1159 San Croce, Calle Larga dei Bari
30135 Venice, Italy
39 041 715 211
Gelato ! In addition to the usual, it also has celery, artichoke and ginger.
Tags: Big Venice, fish sole, Italy, Paris (Paris), recipes, sole à la meunière, sole meunière, venice, Venice markets, Venice weekly markets, Venise