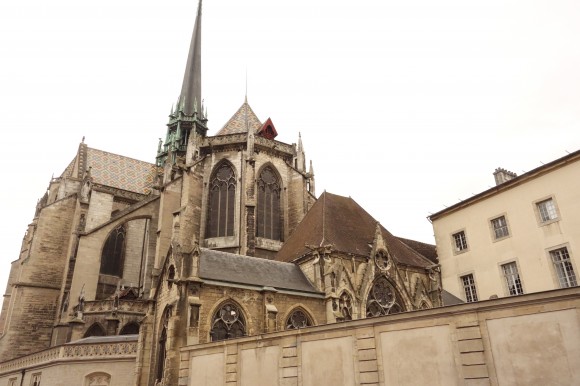 Paris Day Trip
venez avec moi à Dijon
This post is dedicated to Sandy Kiratsoulis and Barbara Bomes.
May the new chapters in your lives bring forth beautiful experiences filled with adventure. You will be missed. 
The desk sits in front of the window giving me a direct view of the stone apartments and Parisian rooftops across the way. Inspiring and distracting. I was supposed to sit at my desk and complete revisions on a manuscript. Deadlines. However, as I looked at the rooftops facing me my thoughts drifted to the lengthy list of places I have yet to discover and I found myself getting up and down from my desk for things like making a snack for which I was not really hungry.
On one such feigned snack break I discovered I was dangerously low on mustard. While I could have walked downstairs to re-stock my mustard supply with a wide selection of delicious varieties (or even made it, it is pretty simple make), I realized that it was my  sense for adventure that was hungry, not my stomach. I really did not need the mustard but the seeded was planted; the mustard seed that is.
I had conducted no research and I knew no one there. From a gastronomical perspective, it would have been more productive to to visit in the autumn when there is a huge gastronomical fair and vendage (when the grapes are harvested) but sometimes you just need to explore without an agenda or expectations.
I grabbed my manuscript and my camera and headed to Gare de Lyon texting a few friends on the metro for restaurant recommendations.
An hour and a half later, I arrived at my destination inspired by my snacks. I was in Dijon.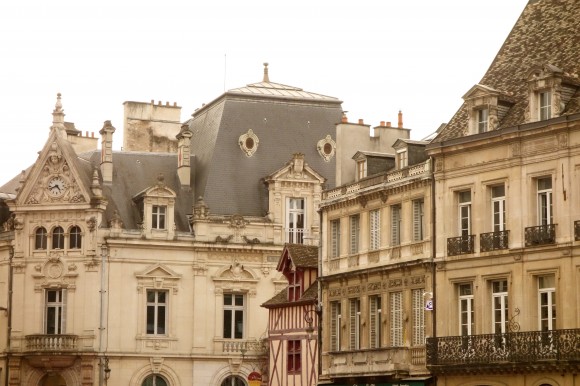 Dijon lies in between Lyon and Paris in eastern France in the Burgundy region. It was a Roman settlement and was the seat of power for the Burgundy region and the home to the Dukes of Burgundy from the 11th to 15th centuries.
As you probably guessed, Moutarde de Dijon was invented here when Jean Naigeon used verjuice instead of vinegar in a mustard recipe. It is my understanding that the mustard is no longer manufactured in Dijon even though some factories remain.
I arrived to grey skies with a slight drizzle. I should have checked the weather forecast for Dijon and not been misled but the (rare) Paris sun.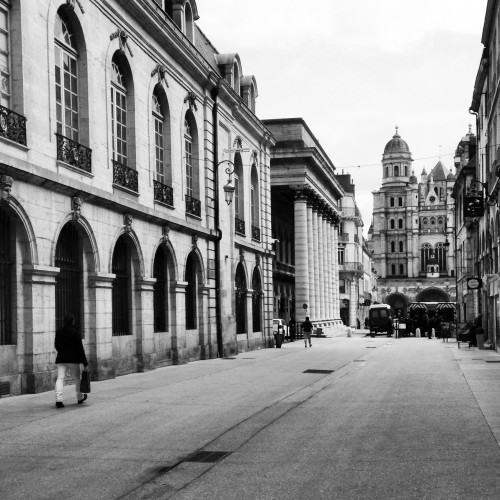 However, the weather added to the charm and presence of the Gothic architecture and sense of mystery.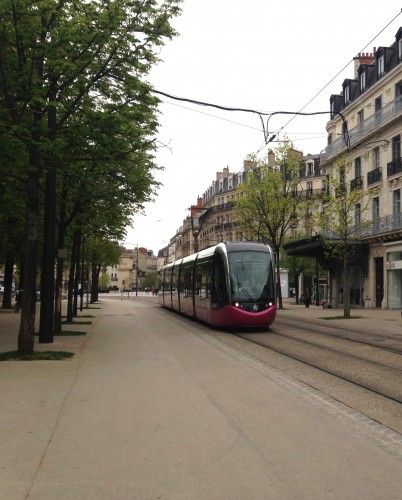 For going to a place not knowing anyone or anything about the city or how to get along, I could not have picked an easier place. The train station is next to the tourist information office. Greeted enthusiastically, I was given le plan (map) and some brochures on the recommended sites. Walking east about twenty feet is where central Dijon begins. While the Diviahiti (the free shuttle service) and buses were right there, I preferred to walk.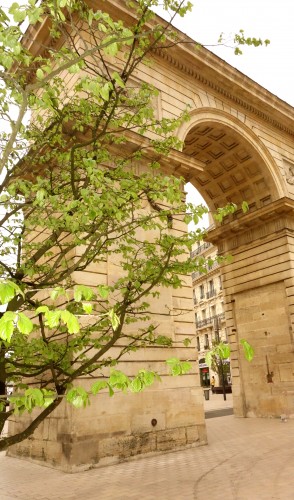 Porte Guillaume (Guillaume Gate) leads you to Place Darcy flanked on either side by shops and restaurants. I see a large hotel with a large clock at the top to my left and realize that that is where I would have lunch in a few hours. So far everything was shaping up nicely.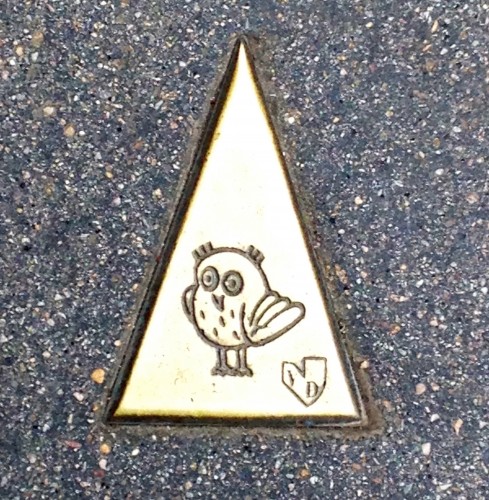 I stumble upon le Parcours de la Chouette. Again, this could not be any easier. Le parcours de la Chouette is the owl's trail which is a series of brass plaques placed in the sidewalk. In the middle of each plaque is an owl (very cute I might add). The trail will lead you to the major historical sites in Dijon. The reason for the owl in these brass plaques relates to la Chouette carved into the stone on the side of the Notre Dame de Dijon (yes, Dijon also has a Notre Dame). As well-worn as Saint Peter's foot in the Vatican, the owl is smoothed (and not really recognizable as an owl) due to fortune-seekers rubbing the night creature's stone figure with their left hand while making a wish.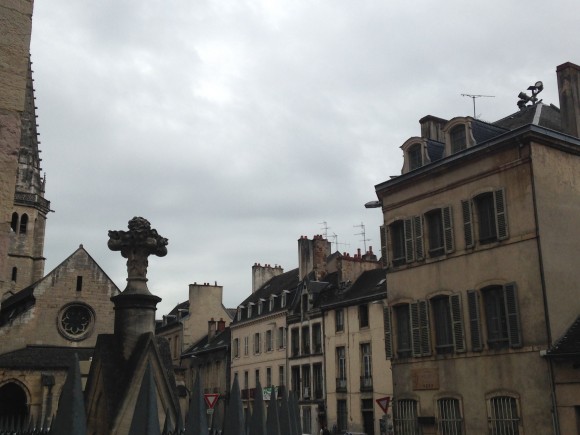 I was surprised by the high concentration of Gothic and Renaissance architecture in a seemingly small space.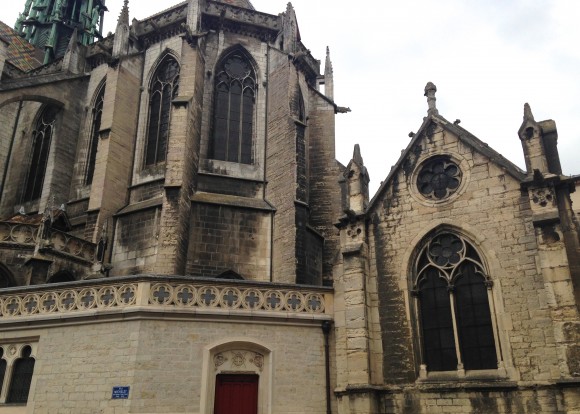 Gargoyles, crosses crowning gates and doorways, and buttresses; the architecture is really something to appreciate.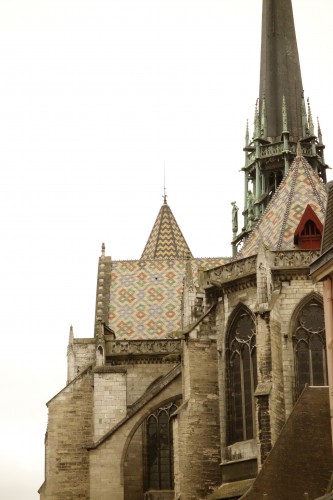 One of my favorite things was the discovery was the toits bourguignons which are glazed tile roofs in geometric patterns in colors of yellow, green, and black. I would turn a corner and find them in the most unexpected of places. The contrast with the heavy stone I found to be enchanting.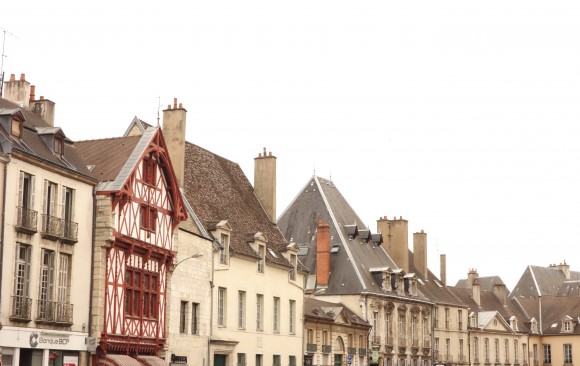 Then there were the pale blue domes and half-timbered houses interspersed throughout the stone buildings. Normally, half-timbered houses are something you see in the Northern regions of France (like Normandy and Alsace).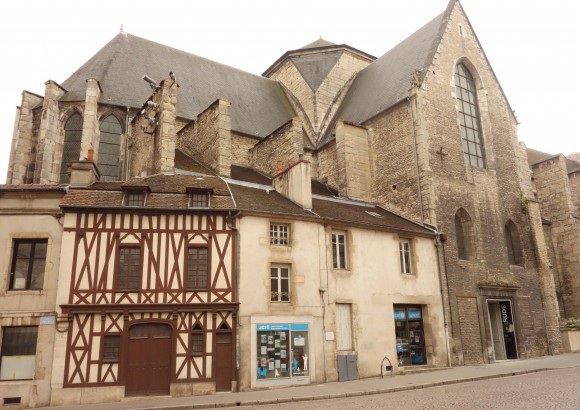 I scoured Dijon in a counter-clockwise sweep and (contrary to the owl's suggested order).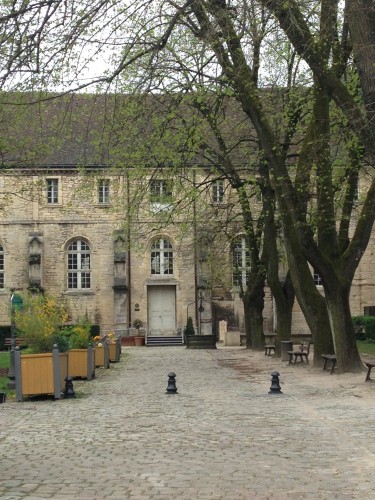 I first find L'Ancienne Abbaye Saint Bénigne which is the former abbey of Saint-Bénigne and an example of  Romanesque and Gothic architecture. It has a rotunda crypt and now houses le Musée Archeologique (archaeological museum).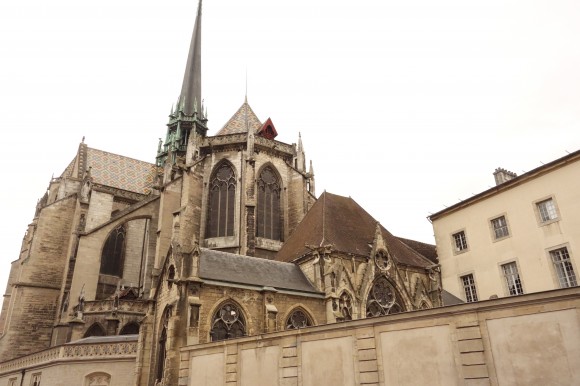 Immediately south is the Cathédrale Saint-Bénigne de Dijon which was built in 1007. It is a must see.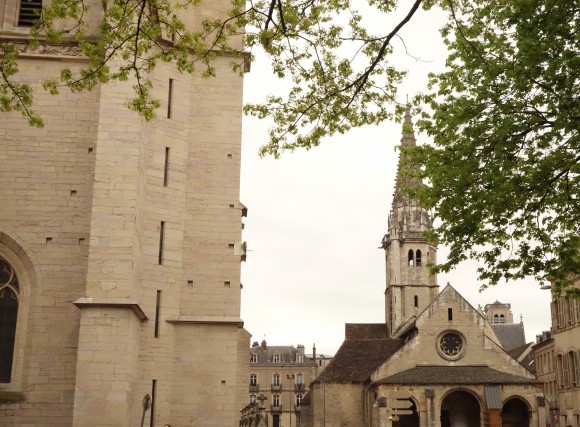 Across the street and a little south I come across L'Eglise Saint Philibert.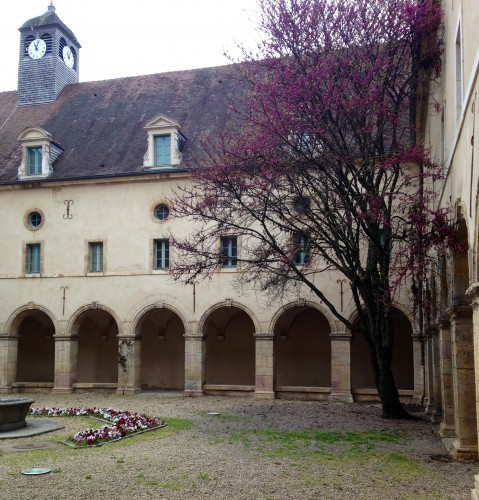 I continue and  find le musée de la Vie Bourguigone which has treasures of the past Dijon including everything from mustard jars and copper cooking vessels to life-sized recreations of life in Burgundy as it was back then.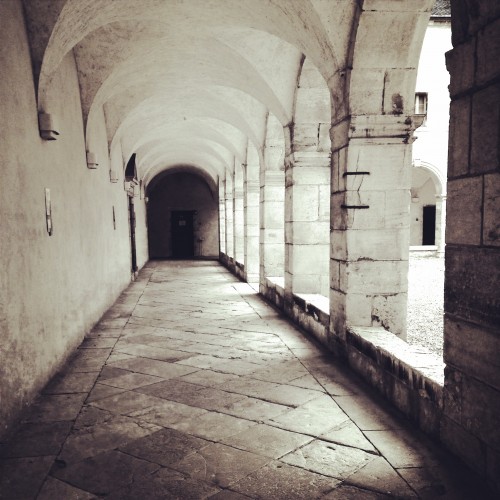 North is the Musée d'Art Sacre.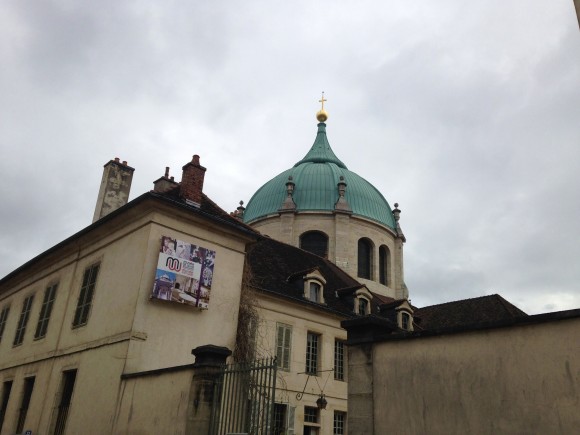 Heading north I find the Palais des Ducs de Bourgogone (Palace of the Dukes of Burgundy). This is where the Dukes resided until 1477 and it reminds you that Dijon was the captial of Burgundy. The Palace is now it is home to the Mayor of Dijon and houses other governmental offices.
It also houses the Musée des Beaux-Arts which is one of the oldest museums in France and another must see.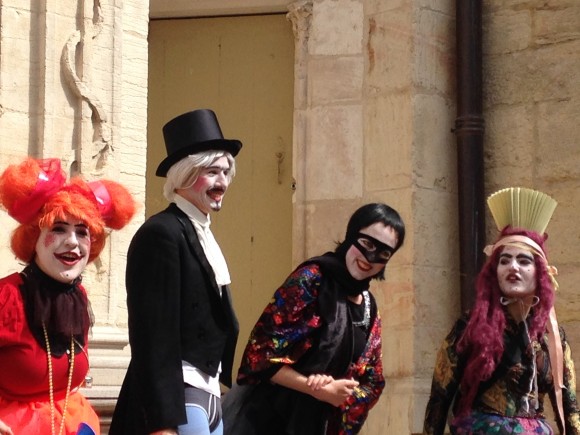 On the steps, actors give a 15 minute performance to a growing crowd.
Inside, the museum has an expansive art collection which includes Egyptian art to 20th century art in all mediums (drawings, sculptures, decorative arts).  The tombs of the dukes in the Guard Room (Salles des Gardes).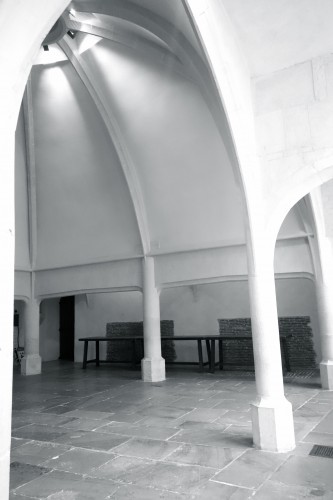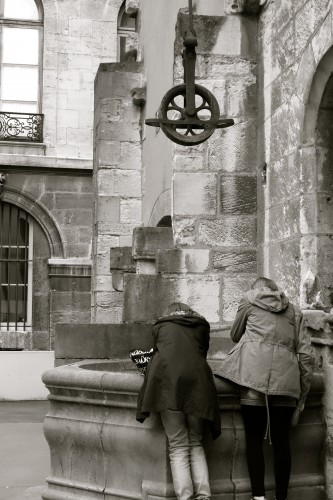 Of course one of my favorite things is looking at the large kitchen which had a well just outside the door. The kitchen has 6 fireplaces and the room has curved dome ceilng with a large hole in the center of the roof.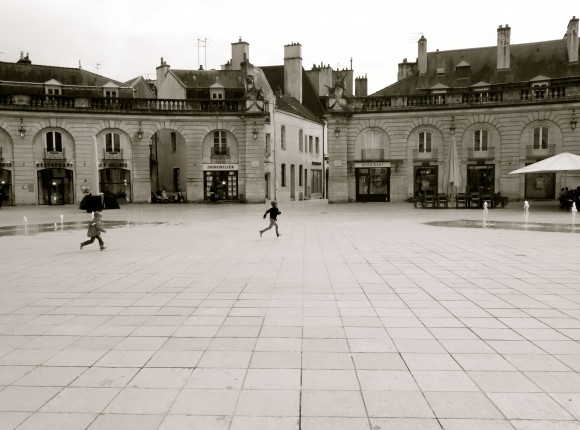 A little west of the Palace, where rue Rameu ends, Place de la Libération begins.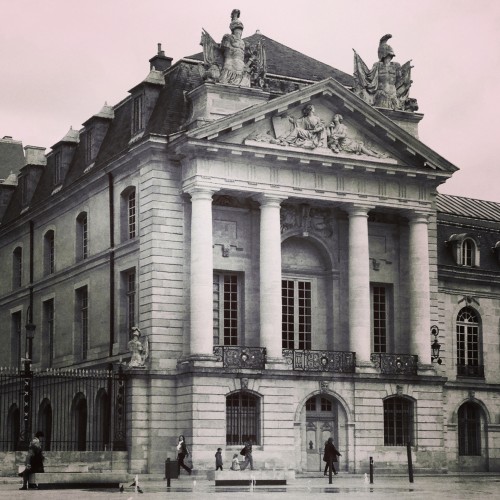 Place de Libération is a large area in the shape of a half moon with benches for sitting and spontaneous water fountains to distract the kids.  The south side of the Place is lined with restaurants and shops. After the Place the street becomes rue de la Libérte that is crowded with shops, a small Galleries Lafayette and the Maille bouquet for all your vinegar and mustard needs. If you want to buy some Cassis or pain d'épice for the road, you would find it here.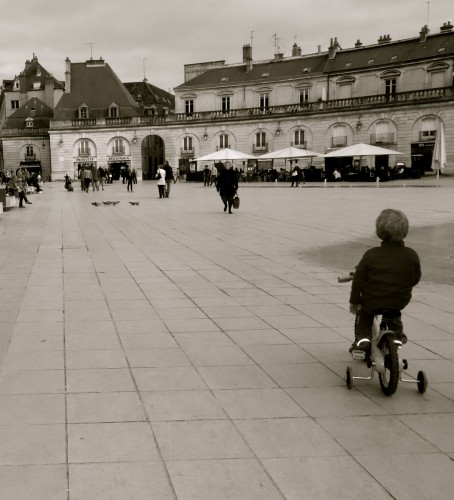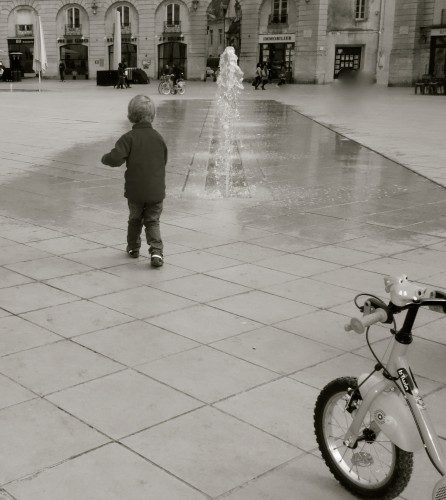 North of the museum is Église Notre-Dame de Dijon. Notre-Dame is an example of Burgundian Gothic style and another must see when visiting Dijon.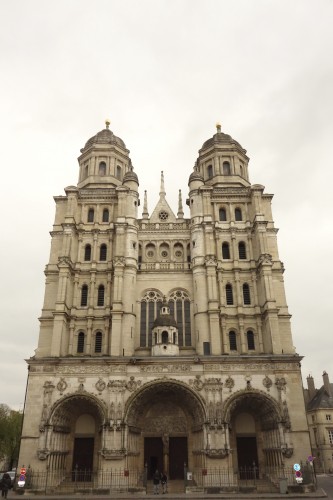 Although quite small, I enjoyed le musee Rude which houses the work of sculptor François Rude. In the choir substructure of the 11th century church you can see the Gallo-Roman Castrum which was built in the 3rd century.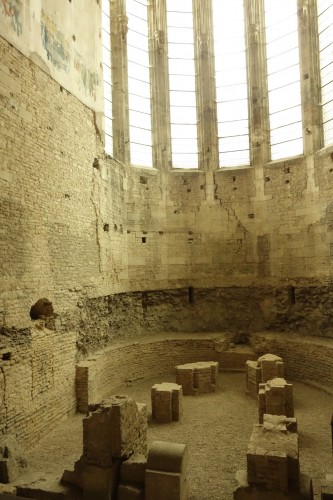 Since I also had a food agenda, I did not reach the 1614 Masion Hatel Vague or the Cour du Parc (dating to 1671) but I read that they were particularly noteworthy. Next time.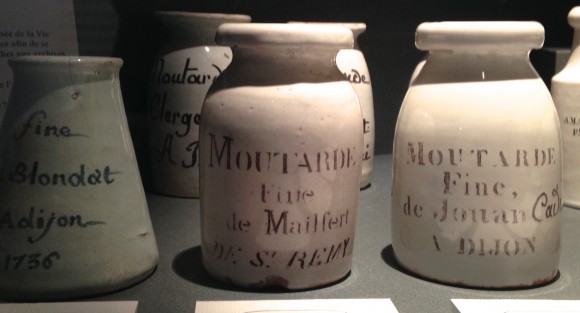 the tasty stuff
While the architecture was impressive, I am ruled my gastronomic curiosity.  Burgundy wine and regional specialities are on my agenda for my day trip.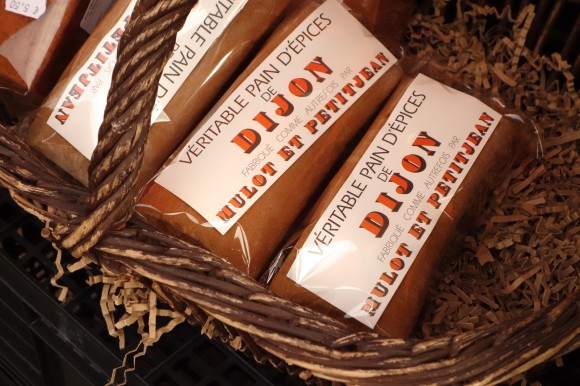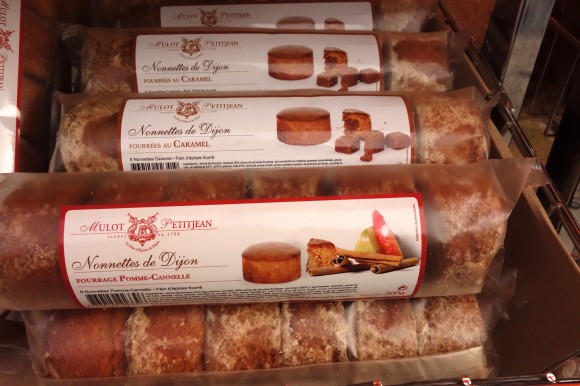 Flavors of Bourgogne, besides mustard, include Cassis a black currant liquor used in everyting from Kirs to desserts is popular (If you would like a recipe for a Kir or Kir Royale, you can find it here).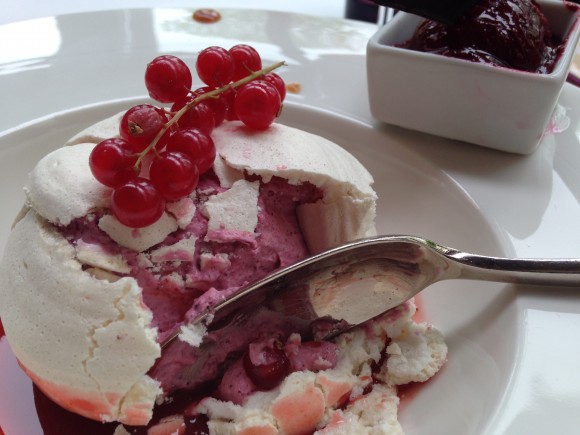 Another regional specialty is Escargots de Bourgogne, snails served in the shell stuffed and cooked in plenty of minced shallots, garlic, parsley, and butter. Les oeufs en Meurette (eggs poached in red wine and then the wine is used to make a rich sauce with vegetables and often served with croutons (toasted bread).  This was a perfect choice for a grey day.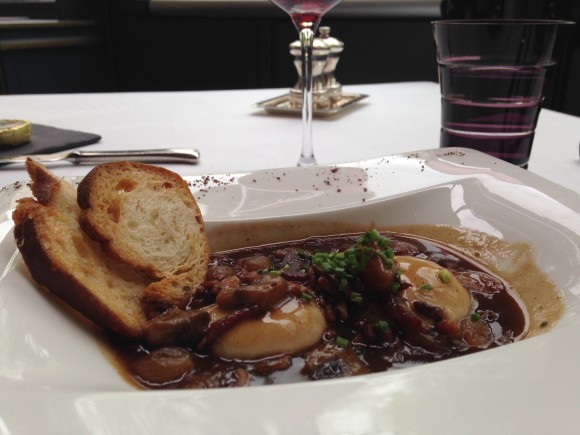 Le Persillé d'Or (or jambon persillé) is a terrine made with pork shoulder cut into chunks and bound with parsley-laden gelatin, flavored with herbs (originally it was made with various parts of the pork head, but not many people do that anymore). It is traditionally made for Easter. I decide to dine  at le cloque for its beautiful garden setting and reputation for food. It did not disappoint and the service was first-rate.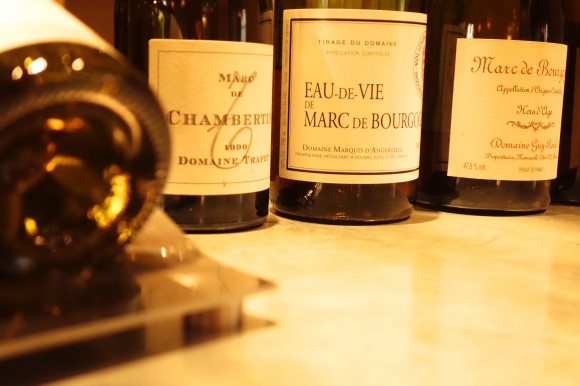 After lunch I visited more sites and went shopping for wine and mustard. Although I was still too stuffed from my lengthy lunch experimentation to eat anything else a Kir apéritif at Chapeau Rouge was perfect and I was able to learn about regional digestives of which I had never heard.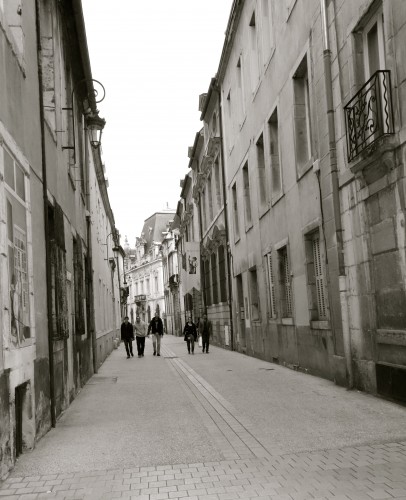 It was like that. A day trip sparked by my love of mustard. It is not whether I will go back to Dijon and further explore the Burgundy region, it is only a matter of when.
LM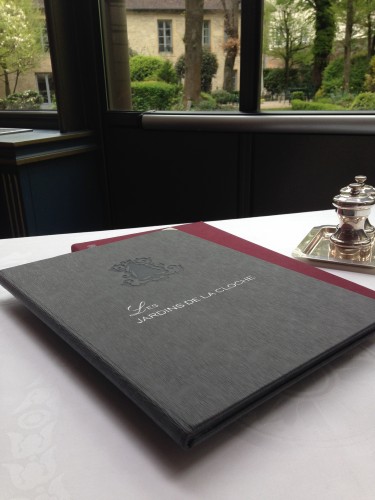 Le Pré aux Clercs
13 Place de la Libération
21000 Dijon
33 (0)3 80 38 05 05
One Michelin star. Beautiful interior dining or romantic terrace dining on Place de la Liberation.
Chef Jean-Pierre Billoux. The toasted lobster is a favorite.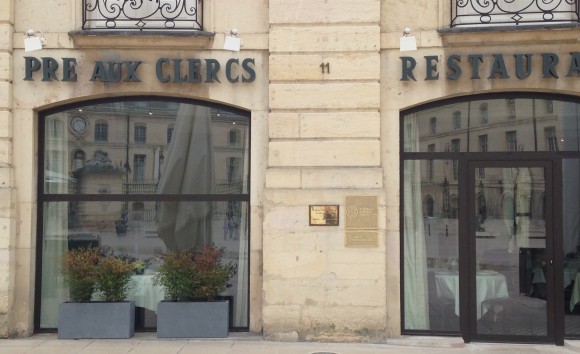 Les Jardins de la Cloche
14 place Darcy
21000 Dijon
33 (0)3 80 30 12 32
Indoor and outdoor seating next to beautiful gardens. Large wine tasting/dining room in the cellar. Awarded Le Petit Futé  by Michelin. Flavors of Burgundy as well as seasonal menu. Delicious.
Hostellerie du Chapeau Rouge-Restaurant William Frachot
5 rue Michelet
21000 Dijon
33 (0)3 80 50 88 88
The restaurant boasts a chic, clean decor where you can enjoy Chef Frachot's gastronomic take on Burgundy classics.
Awarded 2 michelin stars (2014) and Le Petit Futé. Set in the front room of a hotel.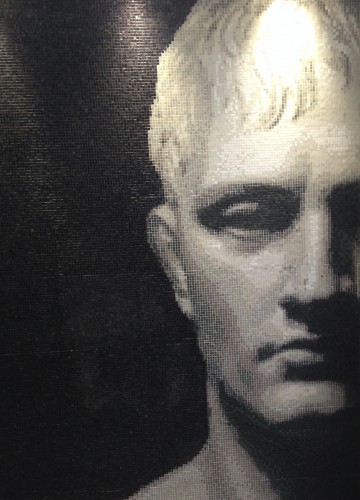 You can find the Maille Boutique on 32 rue de la Liberté.
For more informtion on Dijon, begin here
Tags: Burgundy, cassis, Cathédrale Saint-Bénigne de Dijon, Dijon, France, kir, le musée de la Vie Bourguigone, Le Pré aux Clercs, Les Jardins de la Cloche, moutarde, Musée Archeologique, mustard, Notre Dame de Dijon, Parcours de la Chouette, Paris (Paris), Place de la Libération, William Frachot