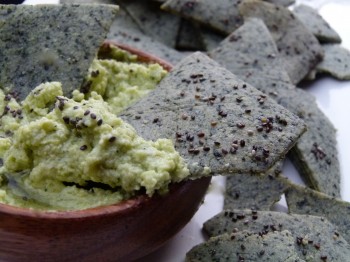 healthy snacks that will not send you back to 2011
part 2: chia chips and soybean hummus
"It's a chia…it's a pet…it's a chia pet." Rumor has it that chia seeds are le tendence (the "in" thing) in food right now. However, thanks to my brother, who sang that 70's jingle selling chia pets (sprouted chia seeds on an animal-shaped moss forms), when I think of chia seeds, I think of chia pets. Today is my brother's birthday. Thinking of him, trying to be trendy (save your laughter), and unable to escape the song he "planted" in my consciousness, I arrived at this week's simple pleasure: chia chips with soybean hummus.