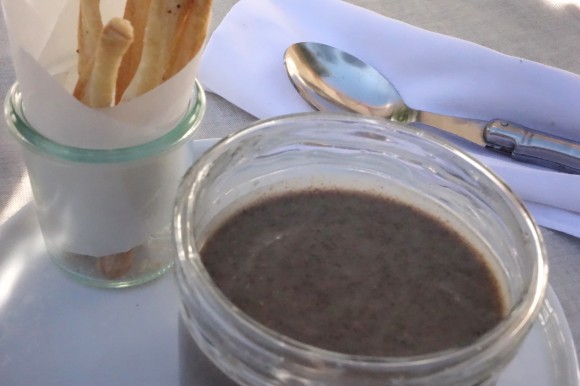 mushrooms, black truffles and terre à terre;
mushroom soup with truffled straws
It became our holy grail; a sort of "Da Vinci Code" chase by default. I am not talking about a religious relic or an art piece. I am talking about soup. Over the holidays, the daily soup special on every Parisian menu seemed to be velouté de champignons (cream of mushroom soup). Miam ! The problem was this: by the time we headed out to eat, the mushroom soup was gone. It happened a few times. Even twice in one evening. Frustrated, we became obsessed (and I vowed not to cook for the week, at least I tried). Finally, we managed to get our rumps in gear earlier and we finally had the sought-after mushroom soup. As I watched my friend, a Paris first-timer, enjoy his soup, made with French butter and fresh cream, I was inspired to recreate it (a bit healthier and vegetarian) and combine it with another one of his new favorite things and that thought inspired this week's simple pleasure: mushroom soup with truffled straws.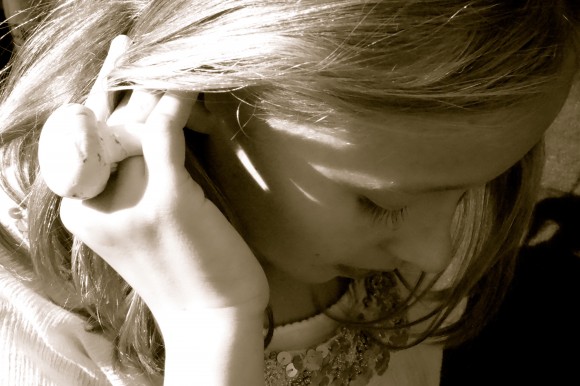 I did something I rarely have the opportunity to do, re-discover Paris through new eyes. For me, Paris was as it always this time of year: calmer, brighter, and endearing. The weather is chilly and rainy. The city is lit up even more with holiday chalets and ice skating rinks temporarily set up all over Paris. The city is relatively quiet (many places are closed in between Christmas and New Year's Day because the Parisians are in the Alps skiing). Tourists are buying umbrellas. The streets smell of vin chaud (mulled wine) and marrons chauds (roasted chestnuts). Truffles, mushrooms, fresh oysters, pâté de foie gras, and Champagne dominate the menus and markets. If you visit Paris over the holidays, you must try all of them. We had checked all of these off of the list, except the mushrooms. Defying the rain, we arrived at one of a my favorite casual spots early enough that the mushroom soup had not yet disappeared. As anticipated, it was delicious, sinfully rich and not light on the melted French butter and heavy cream.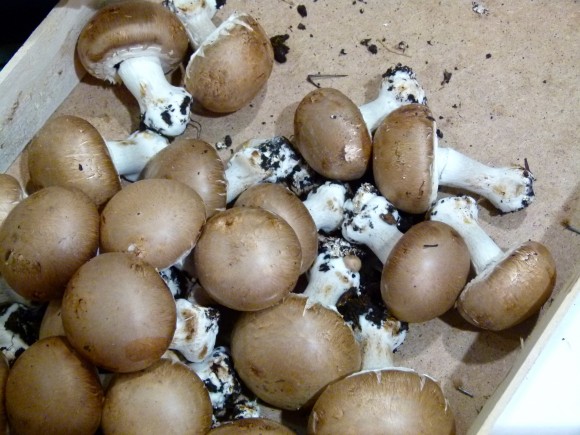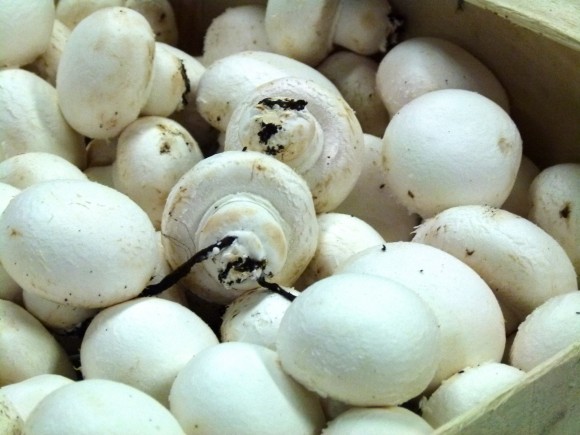 Mushrooms are fungi (not a plant), high in protein, vitamins B12 and D. According to Harold McGee (food expert extraordinaire), mushrooms are 80-90% water and full of air. They have a meaty texture and eaten raw they feel a little spongy. The reason why cream and butter is added to mushroom soup is due to mushrooms' high water and air content. Without the addition of fat, the consistency of the puréed mushrooms is a little choppy. The fat acts like a binder to create the rich, velvety soup that we think of. The problem is that the mushrooms can become secondary to the fat and as typically made, this soup would not be on anyone's New Year's resolution list. I wanted to recreate this classic in a way that excluded no one: no one feels gulity and everyone can enjoy it, anytime, anywhere.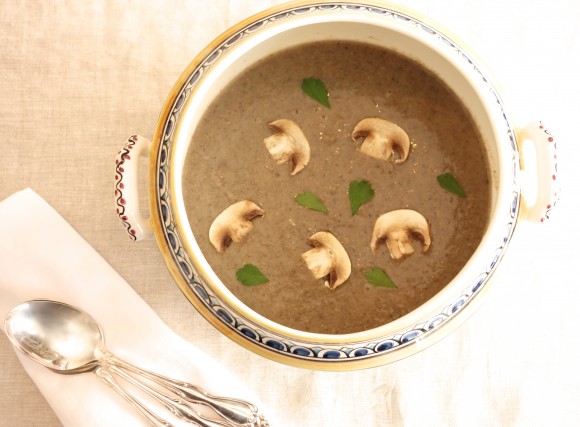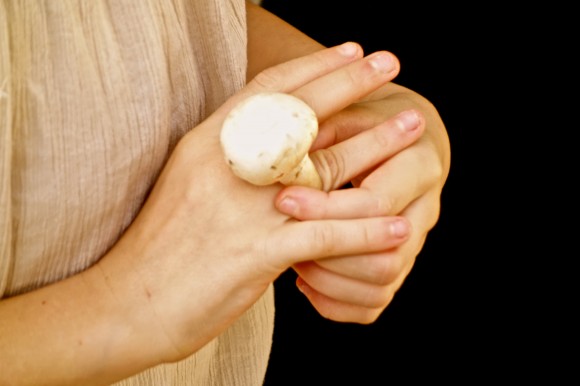 This week's recipe uses no cream, no butter, and is vegetarian. The core ingredient is mushrooms. Sautéing the mushrooms until most of the moisture has been cooked out of them, makes the mushrooms more flavorful. We then add a shot of brandy (which we largely cook out) to give the soup a rounder flavor. For a creamier texture (as well as to brighten the color…cooked mushrooms can look a little brown and drab), we add nonfat Greek yogurt (and I have recommended my favorite one).
To go with our soup, another treasure from the ground: truffles. Fresh truffles are more difficult to come by in the States than they are in France (and if you do find them, many times they are grown in China, not the Périgord region of France). However, we can use truffled salt as a good substitute for this purpose. Truffle salt you can find in stores, Williams Sonoma, speciality shops, and on the internet. Defrost a puff pastry sheet until it is pliable. Use a knife or pizza cutter and cut the sheet into strips and then slightly twist them. Sprinkle them with truffled salt and bake for about 10 minutes. So easy! Delicious by themselves but even better to dip in your mushroom soup. You can read more about truffles here (and here) and find some truffle salt resources as well.
Both the soup and the straws can be made in advance. Eat in or take out. Since everyone seems to be sick right now, give a jar of the soup to a friend under the weather, or, take it to work to re-heat and enjoy at lunch on a chilly day (just stir it well after it is re-heated).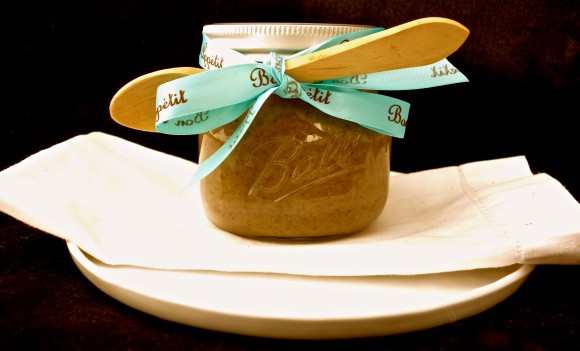 A quick note on buying and storing mushrooms. Buy mushrooms that are unblemished and firm. Mushrooms continue to grow and exhale moisture after they are picked, so you should store them in the refrigerator to slow their growth in a paper bag (the bag absorbs moisture opposed to plastic which will just trap the moisture and accelerate the mushroom's decline). You can wash mushrooms (trust me on this one) but if you do, cook them immediately afterward.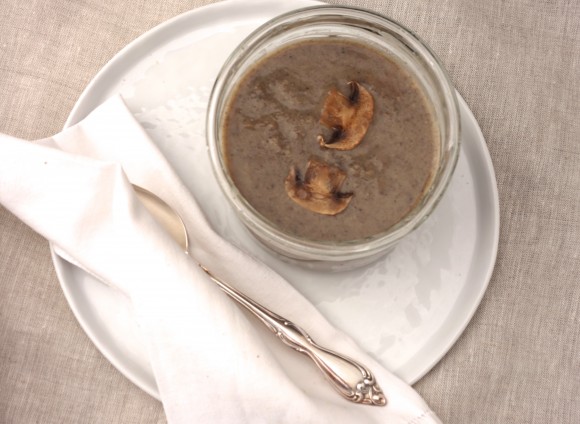 This week's combination of two culinary delights from the ground (terre) – mushrooms and truffles – can be enjoyed throughout the year, not just in Paris during the holidays. In case you are wondering why this piece is called "terre à terre", terre à terre is a French expression which means "down to earth." In today's world where that quality seems as rare as truffles, I cannot think of a nicer compliment for my friend who let me show him Paris and inspired this post, or, a more accurate desciption for this simple, yet satisfying meal.
mangez bien,
vivez bien,
et bon appétit !
LM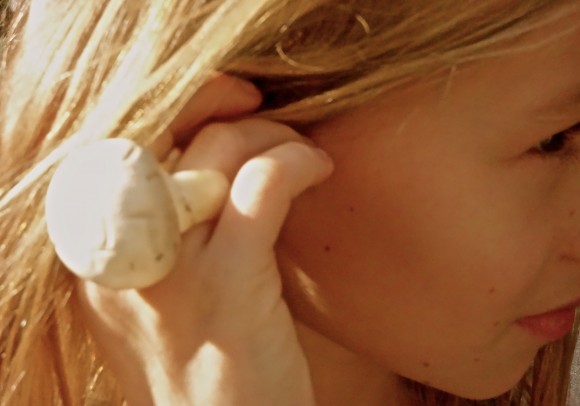 Tags: appetizer, easy mushroom soup, healthy snacks, mushrooms, no butter, no cream, simple pleasures, soup, truffles, vegetarian, vegetarian soup