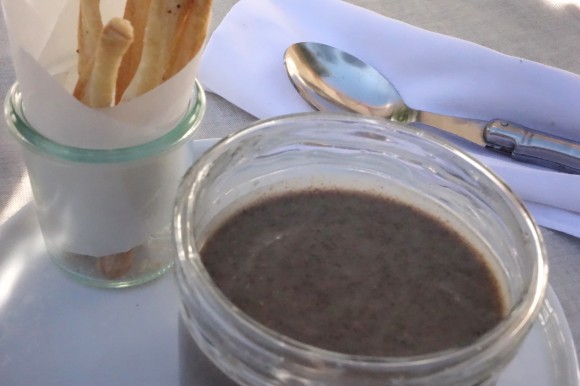 mushrooms, black truffles and terre à terre;
mushroom soup with truffled straws
It became our holy grail; a sort of "Da Vinci Code" chase by default. I am not talking about a religious relic or an art piece. I am talking about soup. Over the holidays, the daily soup special on every Parisian menu seemed to be velouté de champignons (cream of mushroom soup). Miam ! The problem was this: by the time we headed out to eat, the mushroom soup was gone. It happened a few times. Even twice in one evening. Frustrated, we became obsessed (and I vowed not to cook for the week, at least I tried). Finally, we managed to get our rumps in gear earlier and we finally had the sought-after mushroom soup. As I watched my friend, a Paris first-timer, enjoy his soup, made with French butter and fresh cream, I was inspired to recreate it (a bit healthier and vegetarian) and combine it with another one of his new favorite things and that thought inspired this week's simple pleasure: mushroom soup with truffled straws.