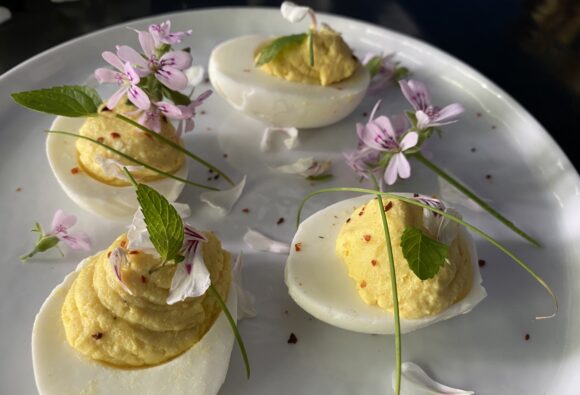 Turmeric eggs with crème fraîche and cumin

These eggs can be enjoyed alone as a healthy snack or served with a green salad, steamed asparagus,
or lentils. The most challenging thing in this easy recipe is peeling the boiled eggs.
The eggs will be easier to peel if they are cold. Fresh eggs are harder to peel.
Ingredients
6 eggs
4 tablespoons crème fraîche
1/4 teaspoon ground turmeric
1/8 teaspoon ground cumin
1/4 teaspoon kosher salt
1/4 teaspoon fresh lemon juice
A/N freshly (finely) ground black pepper
A/N fresh chives (for garish)
A/N fresh mint (for garnish)
Pages: 1 2
Tags: Mother's Day. Lisa baker morgan. chef Morgan. eggs. egg recipes. starters. snack. simple recipes.