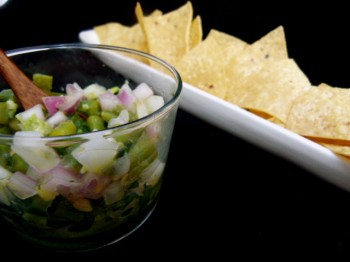 green (bean) salsa
salsa verte à ma façon
(green salsa my way)
Countdown to Super Bowl XLV.  Next week I will post a couple of meat dishes that you can serve and enjoy during the game which involve the things you typically think of when you think of Super Bowl food (meat, a little spice, a little sweet, and beer).  However, this week I wanted to give you something lighter so this week's simple pleasure is salsa (with a twist).
In anticipation of the game, stores everywhere are displaying game snacks, primarily corn tortilla chips and salsa. Admittedly, fresh tomato salsa is delicious and a perfect companion to tortilla chips but tomato season ended in September and salsa in a jar is more like a sauce or purée, neither fresh nor  chunky.  However, salsa does not have to be made only with tomatoes.   This green salsa, salsa verte (à ma façon), takes the idea of a salsa but uses haricots verts (green beans) instead of tomatoes or tomatillos (which are used in the "salsa verde" found in Mexican/Mexican-American cuisine).
There are many varieties of green beans and their peak season is late summer/fall. However, in California the season for green beans is relatively long and there remain delicious green beans at the farmer's markets and grocery stores (although I would consider this to be the very end of their season so buy them now).
Green beans, snap beans and string beans are all the same thing: green beans where both the pod and the small seeds inside are eaten.  Today we rarely see green beans with the string filament on them (which is where the name "sting bean" comes from) so the designation "string bean" is obsolete.  "Snap beans" is just another name given to green beans due to the snapping sound they make when broken.  Green beans varieties include Blue Lake, Green Daytona, and common snap beans.  What Americans know as "Haricots Verts" and identify as "French green beans" are simply beans picked early and thus, thinner and smaller in size than the common green bean varieties that this salsa calls for.
A couple of ingredient and production notes.  First, use a standard-size green bean that is round (not flat) and make sure it is green. The reason is visual as well as for taste.   The yellow varieties are pretty but they have less flavor than the green.  The purple varieties turn dark green when cooked and the bright green of the green varieties looks nicer in the salsa.
Second, you must use fresh, quality ingredients: fresh cilantro (coriander), fresh green beans (not frozen…they can be soggy), a tasteful, ripe avocado, a crisp red onion, and fresh lemon juice.  The benefit to this salsa is the light, fresh taste with the crunch of the onions and beans with the contrast of the creamy avocado.  If your ingredients are substandard or tasteless, so too will be your salsa.
Third, cook the green beans in salty water for no longer than 2-3 minutes and then immediately cease their cooking in an ice bath and drain them.  If  you overcook the beans or leave them to soak in water, they will not maintain the bright green color that you want and/or they will be mushy.
In addition to a tortilla chip companion, this salsa can stand on its own and pairs well with grilled, pan-fried, or roasted steaks, chicken, and seafood (shrimp, salmon, tuna, and sea bass, to name a few).  The salsa takes 10 minutes to make and tastes good the following day.  It is not only a delicious change from the usual routine, but the salsa is good for you too which makes salsa verte a touchdown for everyone.
Je vous souhaite un bon appétit !
LM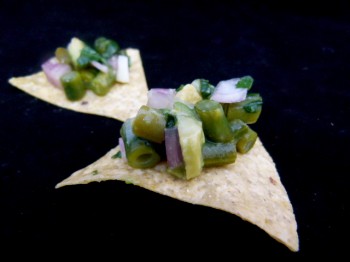 green (bean) salsa
stats:
yields approximately one pint
what you need:
1 cup diced red onions (about 1 onion)
1 pound fresh green beens, diced
2/3 cup fresh cilantro (coriander), minced
2/3 cup Haas avocado, diced (about 1 avocado)
juice from 2 lemons
2 teaspoons fleur de sel (or as needed)
how to:
Blanche Green Beans

.  Bring a large pot of salty water to a boil.  Add green beans and cook for 2-3 minutes. Pour green beans into a colander.
Shock and Drain

.  Place the green beans in an ice bath for 1-2 minutes until no longer hot.  Drain the beans and lay them on a paper towel to dry them.
Dice

.  Dice green beans, avocado, and onion (they should be cut all the same size).   When you dice the green beans, make sure to first remove the stem and discard.
Dress

.  Add cilantro and lemon juice to the diced beans, avocado, and onion and toss.
Season.

Season with fleur de sel to taste.
Chill

.  Let the salsa marinate in the refrigerator for one hour before service .