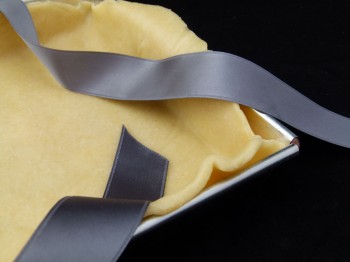 hungry in love: a Valentine's Day menu to make your heart skip a beat
 I often say that I know I am in love if the thought or sight of that person inspires moments of complete abandon of time and self. I use the example that if I were greeted at the airport by that person, even if the separation was brief, I would instinctively, and without hesitation, run to him, forgetting my surroundings, and the moment would only be interrupted by TSA asking me if the bags scattered twenty feet behind me, are mine. I tell my children that if you do not instinctively feel that way about the person with whom you have chosen to spend your time, then you did not choose correctly because anything less is existing; not living. I have done both. There is something to be said for following your instincts.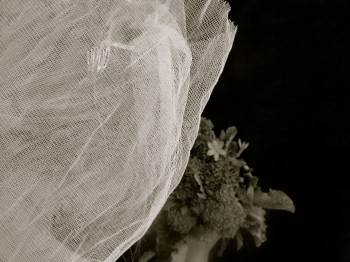 Harriet Van Horne wisely said that "cooking is like love [and that] [i]t should be entered into with abandon or not at all." I agree and Saint Valentine's Day is the perfect day to reinforce that notion. Inspired by thoughts of culinary seduction, the desire to spoil those we care for in a thoughtful, sincere way yet keeping in mind the practical demands of a mid-week busy schedule, this week's simple pleasure is a Valentine's Day menu that has a little something for everyone.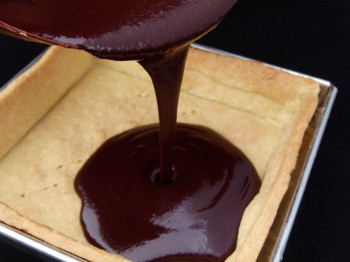 hungry for love
 "[O]ur three basic needs, for food and security and love, are so mixed and mingled and entwined that we cannot straightly think of one without the other. [W]hen I write of hunger, I am really writing about love and the hunger for it, and warmth and the love of it… and then the warmth and richness and fine reality of hunger satisfied… and it is all one." 
M.F.K. Fisher, The Art of Eating. It is so true. Popular culture is replete with visual images of examples of food and hunger intertwined with love and seduction. Remember the quail and rose dinner scene in Like Water For Chocolate?  The oyster eating scene in The Diving Bell and The Butterfly? How about a blindfolded Kim Basinger sampling the contents of the refrigerator in 9½ Weeks?  
If falling in love could be mimicked in a meal what would it taste like and how would it feel? What would it be? While the answer is unique to each individual, as a generalization it may be described as a deluge of luxurious textures. Flavors that are multi-layered but not overly fussy. It would make you comfortable but keep you interested. It would satisfy you, without weighing you down, and leave you wanting more. It would melt your heart and make it skip a beat at the same time. The smell would intoxicate you and remind you in later years of that culinary moment.
It is a tall order for food, but this week we have a menu with a little something for everyone . . . because we are hungry in love.
Valentine's Day Menu 2012
champagne apéritif with rose syrup and lychee purée
beet Napoleon with beets three ways
(beet purée, roasted beet melange, and a beet cru)
praline and bacon roulade tenderloin
mustard frill, watercress and pea tendril green salad
carrés de chocolat ("box of chocolate") tart
 Do not be put off by the descriptions as I can assure you they are not indicative of labor-intensive drama. Quite the contrary. However, if you chose to make all of these dishes, moderation is the key as this menu is a little richer and a little sweeter than my usual fare. Here are a few production notes to make your meal go off without complication.  
apéritif
An apéritif is a pre-dinner drink only. I like this combination because lychees are fragrant and smell like a tropical vacation, making you a little dreamy. Puréed lychees are silky smooth and when combined with rose syrup, it seems like a Valentine Day's bouquet in a glass. Do not exceed the stated quantities for the rose syrup as a little rose syrup goes a long way in cooking. Rose syrup can be purchased on the internet (click here), wine shops or speciality stores.
beet Napoleon
A Napoleon is a famous French pastry with alternating layers of pastry cream and puff pastry. This is a savory take on that dessert. Beets, naturally sweet with a lush texture and crimson color, are perfect for a Valentine's Day meal.
You can buy pre-roasted beets or roast them yourself. I suggestion doing all of the prep work (the roasting and the slicing or dicing) the day before and storing the prepared beets in containers in the refrigerator. Assemble the Napoleons while the tenderloin is roasting. 
roasted tenderloin
A 1½-2 pound tenderloin easily serves 4 people; however, the recipe for the praline-bacon stuffing will make enough for a 3 pound cut of meat if you want to make more.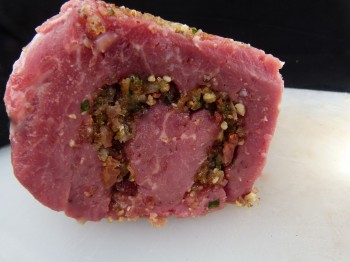 The praline-bacon stuffing can be prepared in advance and stored in the refrigerator. Duck bacon can be purchased online  and in speciality stores, however, if you cannot use it, do not worry, you can use pork bacon (applewood bacon is best and you can find it pre-cooked at Trader Joe's). Pork bacon is not as lean as duck bacon; however, trim it well (meaning, get rid of most of the fat or combined with the praline, it may be greasy).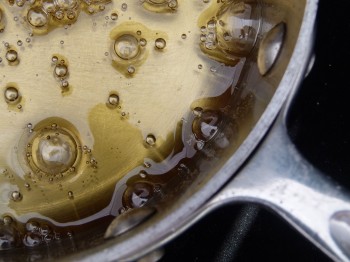 If you do not want the sweetness of the praline (or the extra step of cooking the sugar), again, do not stress it. Instead, toast the pecans, eliminate the praline part, and proceed with the recipe. Ask your butcher for a center-cut of tenderloin. This is a very tender (and expensive) cut of meat which is naturally flavorful and benefits from a simple a roasting preparation (which is also easy on your schedule).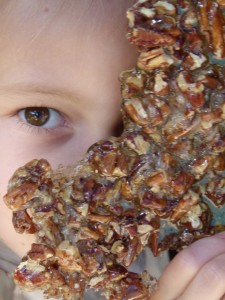 If you do not want to make a heart roulade, you can use the praline-bacon stuffing as a crust. After you brown the meat on the stove, press the mixture on top of the meat and then place it in the oven. Either way, stuffing or topping, it is delicious.
greens
This earthy green salad is necessary to balance the sweet, rich cut of meat. The salad uses a variety of greens you will find in your market right now, including red and green mustard frill which are a little peppery. If you cannot find the mustard frill, substitute dandelion greens, a little more watercress, or some wild arugula.
carrés de chocolat ("box of chocolate") tart
This tart is a playful spin on the customary Valentine box of chocolates. We use bittersweet chocolate for this square-shaped tart. It is cut into small squares (or rectangles) which you can individually decorate to resemble chocolates. The bite size portions are also the perfect size because bittersweet chocolate is not only rich, but has some caffeine (which may make your heart pound as fast as your date does). 
***
All of the dishes on this menu can be prepared in advance. You need only to roast the meat the night of your dinner. While the meat is roasting and resting, you can assemble the Napoleons and toss the salad. The chocolate tart can be made earlier in the day or the day before and the recipe is below. The recipes for the apéritif, the tenderloin, the beet Napoleon, and the salad are posted separately for your printing ease.
It is from the fond de mon cœur (the bottom of my heart) that I wish you all a very Happy Saint Valentine's Day filled with complete abandon in love and cooking and of course, 
je vous souhaite un bon appétit !
LM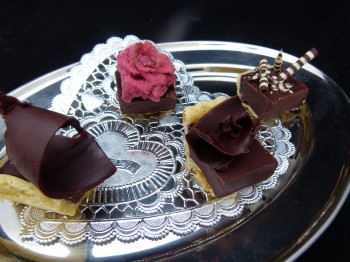 carrés de chocolat ("box of chocolate") tart
makes one tart 8 inch tart
what you need:
crust
6 ounces unbleached King Arthur all-purpose flour
½ teaspoon kosher salt
1 ½ teaspoon granulated sugar 
3½ ounces unsalted butter, cold and cubed
1 ounce egg , mixed
1 tablespoon ice cold water (as needed)
filling
4 ounces heavy whipping cream
1 ounce unsalted butter
11 ounces bittersweet Valrhona chocolate, finely chopped
1 teaspoon grated fèves Tonka (optional)
how to:
crust
Dry Ingredients

. Combine salt, sugar, and flour in a food processor. Pulse to combine.
Wet Ingredients

. Add egg. Pulse to combine. Add butter, piece by piece, pulsing after piece. Drizzle in cold water just until dough just comes together (do not over-process).
Chill

. Gather the dough into your hands and pat the dough into a disc-shaped square about ¾ of an inch thick. Wrap in plastic and place in the refrigerator for 30 minutes (although the dough can be prepared ahead and stored in the refrigerator for 1-2 days).
Roll

.  Using a rolling pin, roll the dough out on a lightly floured surface(or between two pieces of parchment paper) into crust about ⅛" thick.
Pan.

Place the rolled out dough into the tart pan, pressing against the sides and the bottom. Make sure that the shell is the same width on the sides as well as the bottom. Use the rolling pin to roll over the top of the tart pan to cut the dough on the pan edges.
Dock

. Use a fork to pierce holes in the bottom of the tart shell. Return the tart shell to the refrigerator until you are ready to bake it (but chill the dough for at least 15 minutes before you put it in the oven).
Blind Bake. Preheat the oven to

350 degrees Fahrenheit

.  Line the tart shell with a large piece of aluminum foil. Fill the foil with pie weights or dried beans. Place the tart shell on a rimmed baking sheet and bake in the oven for about 10 minutes until the shell holds its shape.
Bake.

Remove the foil and beans (or weights) and continue to bake the tart shell for another 5 minutes ot until the shell is golden brown. Let cool.
chocolate filling
Chop Chocolate

. Finely chop the chocolate and place it in a heat proof bowl with the grated Tonka beans.
Scald.

Place the butter and the cream in a saucepan over high heat and bring to a scald. Remove from the stove.
Melt Chocolate

. Place the chocolate in a heat proof bowl.  Pour the scalded cream and butter over the chocolate. 
Fill Tart

. Pour the chocolate mixture into the cooled tart shell and gently tap the tart pan a to make the chocolate filling is evenly spread.
Cool.

Place in the refrigerator for at least one hour to  set the chocolate.
Cut And Decorate.

Use a sharp serrated knife to cut the tart. Decorate the tart squares with chocolate curls, nuts, or other beautiful and delicious items.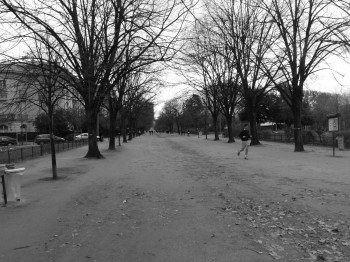 food for thought
 "Life without Love is like a tree without blossom and fruit."
Tags: box of chocolates, chocolate tart, dessert, Four course meal, french cooking recipes, simple pleasures, Valentine Day menu