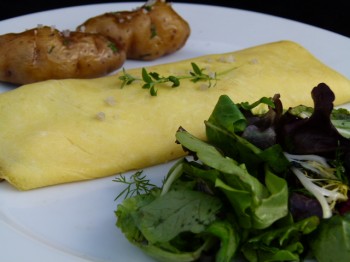 This recipe is another simple way to incorporate truffles into your cooking repertoire. The omelet can be made for breakfast, dinner, or something in-between. If you do not have truffles (fresh or canned), do not worry you can make this omelet with truffled butter and/or truffled salt.
Hen of the Woods mushrooms are my favorite mushrooms to use; however, I have listed some alternatives that are equally as nice. It is critical that you use fresh eggs. You can tell an egg is fresh if the yolk is firm and bright yellow and the white of the egg stays together. If the egg is old it will lose density and spread out thinly.
Serve the omelet with small, roasted potatoes (my favorites are ozette, Russian banana fingerling or red French fingerling) and/or a simple mixed green salad. Squeeze some fresh oranges and you have breakfast or brunch. Conversely, serve with red wine (or milk as the case may be as with my children) and the omelet is lunch or dinner. If you want a snack, you can scramble the eggs instead of making an omelet and serve it on toasted bread for a tartine. Versatile. Simple.
Je vous souhaite un bon appétit !
LM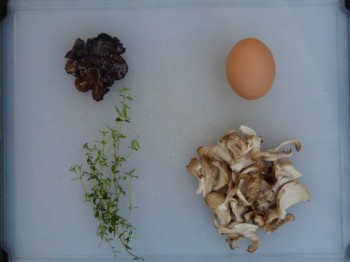 truffled omelet with Hen of the Woods mushrooms
stats:
Yield: 1 omelet
(approximately 323 calories total)
Serves: 1
what you need:
1 tablespoon unsalted butter (truffled butter)
1-2 sprigs fresh French thyme, stripped
1/2 cup sliced mushrooms (Hen of the Woods (Maitake), Chanterelles, and/or Porcini)
1 tablespoon Armagnac (optional)
1/4 cup grated or thinly sliced truffles (canned or fresh), peeled
Fleur de sel (as needed)
Freshly ground black pepper (as needed)
1 teaspoon unsalted butter
2 very fresh eggs
how to:
Prepare Truffles

. If using fresh Black or Burgundy truffles, peel and thinly slice the truffles. If using White Truffles, do not peel but largely grate.
Sauté Mushrooms

. Place a small sauté pan over medium/high heat. Once the pan is hot, add butter (if you have truffled butter, use it). Add thyme leaves. Add mushrooms. Add a pinch of salt. Sauté mushrooms until they achieve a light golden color. Add black truffles. Add Armagnac. Continue to sauté until mushrooms are a deep golden color and Armagnac has been absorbed. Remove mushrooms/truffles from the pan and set aside (cover with aluminum foil to keep warm).
Whisk Eggs

. Break the eggs into a bowl. Add a pinch of salt and whisk to blend the eggs (do not over-whisk or your omelet will have air holes in it).
Pan-Fry Omelet

. Use an omelet pan (or clean the sauté pan you used for the mushrooms). Place it on the stove over a high flame. Once the pan is hot, add butter. Once butter is melted, turn heat down to a medium flame. Add eggs. Shake the pan back and forth on the stove top (or use a fork to stir the eggs without disturbing the bottom).
Stuff Omelet

. When the eggs are set, but the top remains slightly shiny and moist, add the mushrooms and truffles. Do not overcook the eggs, an omelet should not have any brown color and should be very moist (towards undercooked) in the middle.
Plate

. Use a rubber spatula or fork to loosen the omelet from the pan edges. Use the fork to gently fold one side of the eggs over 2/3rd of the omelet and the mushrooms/truffles center. Tip the pan toward your plate and using the fork, roll the omelet onto the plate with the omelet seams underneath (directly on the plate).
Plan B

. Omelets can be tricky. If your omelet does not have the appearance you want, remove the center ingredients and make another. Alternatively, toss everything back in a hot sauté pan for a minute and use a fork or wooden spoon to mix it all together and make it a scramble (it will taste the same and you are the only one who will know the difference).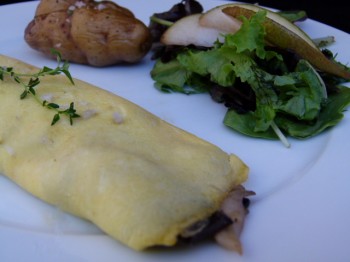 where to buy
*Truffled butter and truffles are available online at:
D'Artagnan, Inc.
www.dartagnan.com
If you live in Los Angeles, truffles may be purchased at:

The Cheese Store of Beverly Hills
419 North Beverly Drive
Beverly Hills, California
310.278.2855
www.cheesestorebh.com
LA FungHi
West Hollywood Farmer's Market (Monday)
Culver City Farmer's Market (Tuesday)
Calabasas Farmer's Market (Saturday)
Brentwood/Hollywood Farmers Markets (Sunday)
310.980.9900
www.LAFungHi.com
LAFungHi has a wonderful selection of mushrooms as well, including Hen of the Woods
Tags: french cooking recipes, mushrooms, omelet, simple pleasures, truffled omelet, truffles