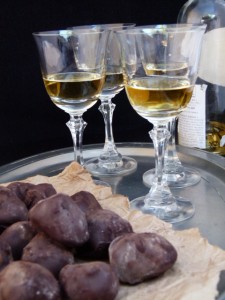 Take advantage of the truffle season and satisfy your sweet tooth at the same time. This recipe takes a few hours but that is only to let the chocolate interior set – so do not let the "few hours" scare you. In fact, because the truffles can be made ahead of time or spread out over a couple days (you can make the interior one day and temper the chocolate exterior the next day), they are a perfect dessert for a dinner party.
This recipe is designed to replicate the appearance and feel of an unearthed truffle. The interior is a soft ganache infused with truffle butter and fresh truffle pieces (fresh or canned if you have them). The outer layer is tempered chocolate creating a firm exterior. Because these are supposed to look like unearthed truffles, they should not be perfectly round, but irregular shapes (which makes this recipe very forgiving). Lastly, to further add to their appearance as unearthed truffles, they are garnished with cocoa powders of different shades.
For presentation, serve the truffles on a platter or a tray lined with a softened piece of brown paper (a lunch bag is perfect). You can also use a shallow basket instead of a tray. To create a worn appearance, simply crumple the paper in your hands and rub it back and forth against itself. You want the paper to be soft. Toss a few pinches of cocoa powder on the paper and tap off the excess.
When your guests ask you where you found these amazing delicacies, you can tell them that it was something you "just dug up" in your own kitchen.
Serve with a dessert wine or your favorite port in a simple, small glass.
Je vous souhaite un bon appétit !
LM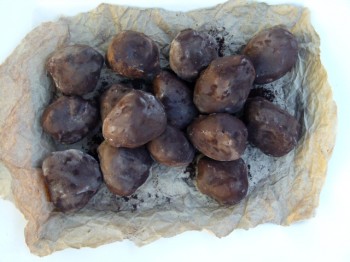 truffled truffles
stats:
Yield: approximately 4 dozen
Serves: 48 (1 truffle each)
Calories per serving: approximately 192
what you need:
truffle interior
2 tablespoons (4 ounces) truffled butter*
1/2 cup shaved truffles, small chop (fresh or preserved)*
1 pound (16 ounces) bittersweet chocolate (68 %-72 % cocoa solids), chopped
10 ounces heavy cream
truffle exterior
8 ounces bittersweet chocolate (66 %-72% cocoa solids), melted
Bittersweet chocolate (66 -72 % cocoa solids), room temperature (as needed)
garnish
Light sweetened cocoa powder (as needed)
Dark sweetened cocoa powder (as needed)
Black Oynx cocoa powder* (as needed)
Silver dust (optional)*
how to:
make truffle interior
Prepare Chocolate

. Chop chocolate into small pieces and place in a bowl.
Prepare Truffles

. If you only have truffled butter, go directly to the next step. Peel the truffles and grate or slice and chop them into small pieces. If you are using canned truffles, chop them into small pieces. Whether fresh or canned, warm a sauté pan over high heat. Add butter and melt. Add truffles and slightly warm and coat in the butter. Set aside. White truffles do not need to be warmed.
Heat Cream

. Warm cream in a double boiler or bain marie. Add butter and truffles. Add chocolate and whisk until smooth.
Chill

. Pour truffle mixture into a heat-proof container. Let it cool. Once cool, cover and place in refrigerator to set for at least a couple of hours.
shape interior/ temper chocolate exterior
Shape Interiors

. Remove chocolate from the refrigerator and let it naturally warm a little so you can work with it (conversely if too soft, put it back in the refrigerator to firm up a little). Using a small ice cream scooper or melon baller, scoop out the ganache and give it a truffle shape with your hands. Set aside on a plate.
Temper Chocolate – Take It High

. In a double boiler or bain marie, melt chocolate until temperature reads

115 degrees Fahrenheit

on a candy thermometer.
Temper Chocolate – Keep It Low

. Add room temperature chocolate to melted chocolate until chocolate temperature is

between 90 and 95 degrees Fahrenheit.

Maintain the chocolate at this temperature (you can move it on and off of the heat to control the temperature).
Dip Truffle

s

. Using a skewer or candy fork, dip shaped truffle interiors into the melted chocolate. Let the excess chocolate (the "legs") drip into the melted chocolate. Place truffle gently on the parchment paper to set.
Set

. Tempered chocolate will set at room temperature. However, if you are worried that your tempering did not go well, or if you find that there is excess chocolate which settled between the parchment paper and the truffle, put the truffles in the refrigerator for 30 minutes to harden further. Remove from the refrigerator and use a small knife to cut the excess chocolate off of the bottom.
garnish
Sprinkle And Rub

. Sprinkle and/or rub cocoa powders over the truffles to give the appearance of dirt.
Store

. Store in an airtight container in the refrigerator.
where to buy
*truffled butter and truffles are available online at
D'Artagnan, Inc.
www.dartagnan.com

Valrhona baking chocolate is available online at:
Valrhona
www.valrhona-chocolate.com
*silver dust (if you want to be a little fancy) is available online at
or, if you live in Los Angeles, Valrhona chocolate, all cocoa powders, and
silver dust may be purchased at:
Surfas
8777 W Washington Boulevard
Culver City, CA 90232
310. 559.4770
www.culinarydistrict.com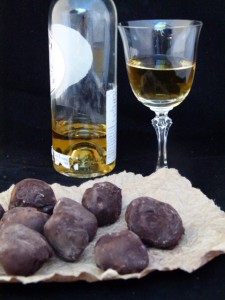 Tags: chocolate, dessert, french cooking recipes, simple pleasures, tempering, truffled truffles, truffles