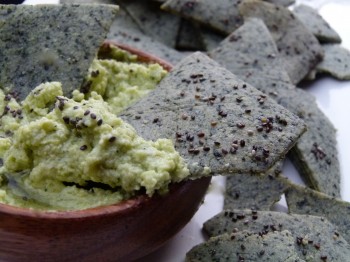 healthy snacks that will not send you back to 2011
part 2: chia chips and soybean hummus
"It's a chia…it's a pet…it's a chia pet." Rumor has it that chia seeds are le tendence (the "in" thing) in food right now. However, thanks to my brother, who sang that 70's jingle selling chia pets (sprouted chia seeds on an animal-shaped moss forms), when I think of chia seeds, I think of chia pets. Today is my brother's birthday. Thinking of him, trying to be trendy (save your laughter), and unable to escape the song he "planted" in my consciousness, I arrived at this week's simple pleasure: chia chips with soybean hummus.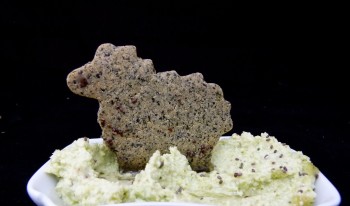 These baked chips are gluten-free and made with sweet rice flour, roasted seaweed, and matcha. Rice flour makes the chips crispy because rice flour does not absorb moisture as other flours do. When rolled and then baked, much of the olive oil is expelled from the chips which clings instead to the parchment paper and helps in the baking process.
Seaweed, extremely low in calories, is a good snack and children love it (you can buy it in small, hand-ready packages at Trader Joe's, Whole Foods and other stores). Seaweed contains vitamins A (beta carotene), B-12, and C, and has potassium, iron, calcium, iodine and magnesium (helpful in the absorption of calcium). It is high in soluble fiber and is rumored (but unproven) to possess anti-cancer and anti-inflammatory benefits.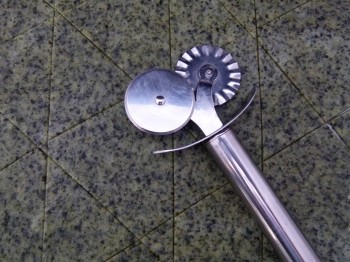 Matcha is a finely milled green tea powder which I use a lot in my cooking and baking. We have all heard of the health benefits of green tea, including everything from reducing stress and fighting bad breath to slowing the growth of leukemia, breast, prostate, kidney, skin and mouth cancer (according to Dr. David Servan-Schreiber in his book Anti-Cancer A New Way of Life).
Matcha is even better for us because the entire leaf is consumed, not just steeped in hot water. Matcha is high in chlorophyll and antioxidants and acts as a detoxifier for the body by causing the liver to eliminate cancerous toxins from the body more rapidly (I am simplifying this process, but that is the result).
Matcha can easily be ordered online or you can find it in tea stores such as The American Tea Room. The chips take 10 minutes to make and about 15 minutes to bake. Make sure you roll them thinly and evenly.
Although the chips are tasty on their own (the rice flour and seaweed actually taste a little like bacon when baked so you can get a healthy, vegetarian bacon-fix at the same time), we are dipping them in soybean hummus. Soybeans have "double the protein content of other legumes and a near ideal balance of amino acids" according to Harold McGee (in his book On Food and Cooking). Dr. Servan-Schreiber believes that green tea has particular anti-cancer benefits when combined with soy.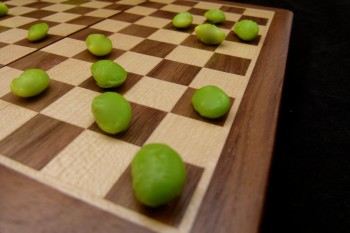 The hummus takes 10 minutes to make, it stores well, and it is delicious. The fact that it is good for us is an added bonus.
It's a chia…it's a chip...it's a chia chip. Feel free to sing while you bake (and eat).
Je vous souhaite un bon appétit !
LM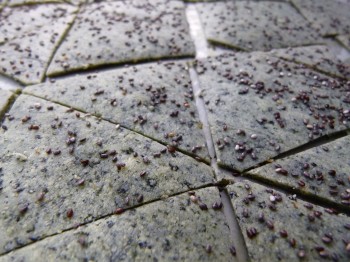 chia chips
makes 3-4 dozen triangular crackers
what you need:
1 ½ cup sweet rice flour (Bob's Red Mill)
1 package (about 11.3 grams) roasted seaweed
¼ teaspoon baking soda
1 teaspoon kosher salt
1 large egg white, room temperature
3 ounces olive oil
1 teaspoon matcha (optional) dissolved in 3 ounces water
black chia seeds (as needed)
how to:
Combine Dry Ingredients. Place flour, salt, baking soda, and seaweed in a food processor and pulse until all ingredients are combined.
Add Liquids. Add egg white to the dry ingredients and pulse to incorporate. Add olive oil and pulse until incorporated. Slowly pour matcha water in the top and pulse the mixture in the food processor until the mixture resembles wet sand. It will look much more dry than pastry dough but do not be tempted to add more oil
Roll. Carefully remove the blade from the food processor. Us your hands to squeeze the dough together and pat it into two squares (if it is not sticking together, put it back into the processor and add another tablespoon of water). Place squares in between two pieces of parchment paper. Use a rolling pin to roll the dough to the thickness of a chip in between the paper.
Shape And Garnish. Remove and discard the top layer of parchment. Use a pastry cutter (or knife) to cut rolled out dough into triangles (or use a cookie cutter to make particular shapes). If you want, you can leave it in one large piece (if evenly rolled) and break it into chips after baked. Whatever shape you choose, keep the chips, whether in a large piece or cut pieces, on the parchment paper on which it was rolled.
Add Chia Seeds. Use a pastry brush to brush a little water on top of the dough. Sprinkle chia seeds on top. Place the parchment paper (with the chip(s) on it) on a cookie sheet or rimmed baking sheet. You may need to use two baking sheets.
Bake. Bake in an oven preheated to 375 degrees Fahrenheit until lightly browned (about 14 minutes). Remove chips from the oven and let them cool slightly on the tray and then place them on a wire rack lined with paper towels. Chips can be stored in an airtight container for about a week (but they will be eaten before then).
Tags: bobs redmill, chia chips, chia seeds, french cooking recipes, gluten free, green tea, Harold Mcgee, health snacks, healthy snacks, matcha, passover chips, rice flour, roasted seaweed, seaweed, simple pleasures, unleavened