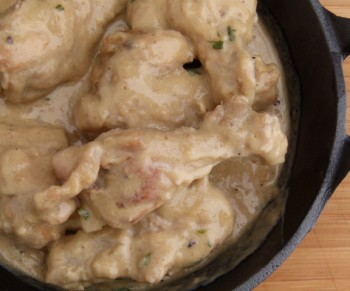 chicken drumettes simmered in beer with mustard sauce
yield:
serves 12-14
what you need:
chicken
18-20 chicken drumettes (or 12-14 chicken legs)
kosher salt (as needed)
freshly ground black pepper (as needed)
all purpose flour  (as needed)
2 tablespoons unsalted butter
1/4 cup shallots, minced
1/4 cup apple cider vinegar
1 can (12 ounces) pilsner beer
1 cup chicken stock
1 bouquet garni (with fresh Italian parsley and 1 fresh bay leaf)
sauce
2 tablespoons honey
1 egg yolk
1 tablespoon Dijon mustard
1/4 teaspoon Tabasco
1/4 cup heavy cream
1 cup reduced cooking liquid
2 tablespoons fresh Italian parsley, minced
how to:
Season Chicken

.  Season chicken with salt and pepper.  Dredge in flour and tap off excess flour.
Sauté Chicken

.  Place a cast-iron skillet or an oven-proof fry pan over medium-high heat.  Melt butter.  Add chicken and cook until chicken is golden brown.
Remove Chicken.

Remove chicken from the pan and place on a paper towel.  Degrease pan by pouring off excess grease.
Sweat Shallots.

Add shallots to pan (add a little fresh butter if pan is too dry).  Sweat shallots until translucent.
Deglaze With Vinegar.

Add the cider vinegar to the pan and reduce demi-sec (until the vinegar is almost gone from the pan).
Return Chicken To Pan

.  Add the chicken back into the pan
Add Liquid And Bouquet

.   Add beer, chicken stock, and bouquet garni to the pan.
Simmer

.   Cover pan with a lid.   Reduce flame to low and simmer stove-top or place in an oven preheated to 350 degrees Fahrenheit.  Cook  for about 20-30 minutes  (depending upon size of drumettes/legs) until chicken is tender and cooked through.   Remove from heat.
Make Mustard Sauce

.   While the chicken is simmering, make the sauce.  In a bowl, whisk together the cream, Tabasco, mustard, egg yolk, and honey.  Set aside.
Reduce Cooking Liquid.

Remove chicken from the pan (cover with foil to keep warm).  Discard bouquet garni.  With the cooking liquid in the pan, return the pan to the stove top over a high flame. Reduce the beer/stock cooking liquid to 1 cup.
Combine Sauce With Liquid.

Once reduced, turn down heat and add the mustard sauce to the reduced liquid.  Simmer for about 1-2 minutes to thicken.
Add Chicken

.  Return the chicken to the pan.  Add parsley. Toss the chicken and parsley in the sauce.
Serve.

Serve warm (with napkins).