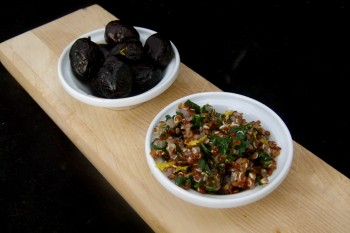 power down power food:
kale and quinoa tabbouleh
You cannot separate what you do as a profession from who you are as a person.  I am a chef, a mother of two, and I run fifty miles a week.   I am not only passionate about cooking but food in general.  I believe that healthy food habits have healing, preventative, and restorative power.  Unhealthy food habits deteriorate our bodies and starve our minds.
When I am training for a marathon I try to make what I eat count a little more: more protein, leafy greens, and healthy carbs, and less foie gras and Valentine chocolate.  As a mother I am always looking for inventive ways to incorporate protein and greens into my childrens' diet.  Two things in my "more" category are quinoa and kale; however, I have found that people often do not know what to do with either one when it comes to cooking.  It does not help that kale is usually stuffed on the bottom shelf in the produce aisle (hidden by other greens) and uncooked quinoa looks like bird seed.  To give you a little inspiration of how to use these two ingredients, this week's simple pleasure is the combination of the two in a simple and delicious salad: kale and red quinoa tabbouleh.